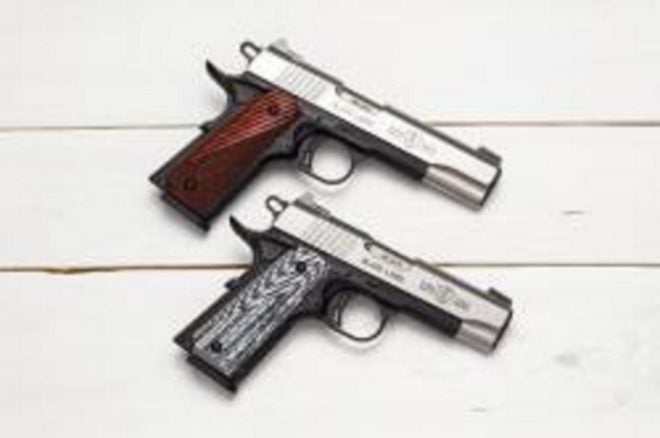 A few years ago the iconic gun company Browning Arms added a whole new series of mini-pistols that mirrored the classic 1911 handgun. In this case Browning's line was labeled the 1911-22 and then later they brought out a similar model but in .380 ACP called the 1911-380. These pistols were roughly designed to be about 75% in size of the original 1911s.
If you love the 1911 handgun, then handling the Browning 1911s in .22 and .380 will feel right at home in terms of controls and orientation, but in a smaller size. The ones I have had the chance to handle are really sweet pistols in all regards. Apparently this line of pistols has become very popular, enough so to encourage Browning to expand the line.
Accordingly, Browning is adding five new models of the 1911-380 for 2017. First, they are going to produce a Medallion Pro in full size (for this series) and a compact version. The frames will be based on an aluminum reinforced composite frame with a blackened finish with the slide flats coming in a brushed silver finish. Either will be available with 3-dot steel sights or steel night sights.
The full sized 1911-380 will have a 4.25 inch barrel while the compact model will have a 3 5/8 inch barrel. The suggested retail prices will be set at $799.99 to $879.99 for the night sights.
Browning is also adding three new versions to the standard 1911-380 line up. One will be a compact model with the 3 5/8 inch barrels in the Black Label name. This compact pistol will sport black composite grips with fixed combat sights retailing for $669.99.
Then, Browning is adding two compacts to the Black Label Pro tradename. One will be a Black Label Pro with Rail. The other is plain. Again, the barrels will be the shorter 3 5/8 inch with models offering the 3-dot sight or the night sights. Retail pricing depends on the exact model listed from $799.99 to $909.99 for the railed model with night sights.
Okay, this may all sound somewhat confusing to the consumer, but it is not. You just have to go to the Browning web site at www.browning.com to see all the details, then shop your local dealer to handle them. They are really neat pistols, lightweight, and easy to shoot, especially in the fun shooting .22LR model. Many accessories like holsters and cases are available, too.