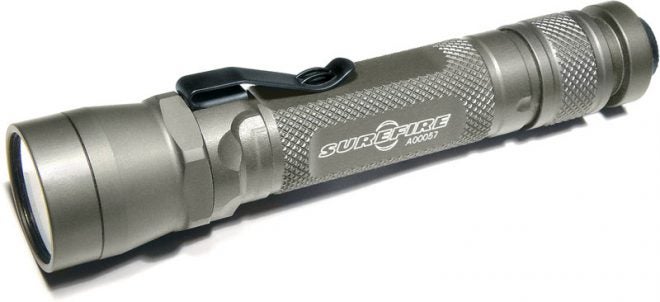 I am a grown man with dozens of flashlights. I own a lot of production lights and more than my share of custom ones. And all of this can be traced back to a single light–the Surefire Aviator A2. There have been three iterations of this light–the original, which ran a main incandescent bulb ringed by four LEDs, the next gen version that swapped the incan for a high powered LED and ringed it with four red LEDs, and this newest Aviator. But it was the A2 that sung the siren's song to me.
At the time, LEDs were new. Most lights ran incans and only a few weird brands tried to get by solely on the weaksauce LEDs of the time (Luxeon Star emitter anyone?). But LEDs could provide low powered light for days and so the idea of combining the two–a "high powered" incan and an array of low powered LEDs was, for me and many other hardcore flashaholics, the perfect light. The engineering seemed impossible until one day, when perusing the original "Flashlight Reviews" website, Doug (aka Quickbeam) dropped the A2 review. This was it. The Holy Grail of flashlights. It looked exotic and its price matched, nearly $300 at a time when few lights cracked $50. And the flood array of LEDs was not just an afterthought, it was a fully integrated feature. This was it. Alas, I was still a student at the time and I never scored one of those original A2s.


The next version, the all-LED version is still a pretty amazing light–night vision, flood, and spotlight thrown in a single light, but by the time it was released the market was more sophisticated. It didn't stand out as much as the original. It was good, but not car to horse level upgrade. It was more like Accord to Corvette.
So when the email dropped announcing a new Aviator from Surefire, I was instantly engaged. The Aviator has always been that light in the Surefire line up that pushes what's possible in a production light. As the page for the light loaded, I crossed my fingers.
I certainly wasn't disappointed.
First, lets get the obligatory stuff out of the way. It now runs on a single CR123a and puts out 250 lumens on high. It comes with the standard dual-direction pocket clip that Surefire has been using for a few years now (it's great). It also comes with a shrouded tail switch (DID YOU SEE THAT EDITOR!). It also has a TIR, because, you know, this is 2017 and why not use the superior reflector optic? But the Aviator wouldn't be the Aviator if that is all it had. (Though that's plenty. It's basically the EB1, an incredible light.) Nope, Surefire knows that if the light is going to earn the Aviator badge, it needs to bring the tech.
In addition to the white light output, the Aviator has a selector ring that allows the user to switch between four beam colors: blue, red, amber, and green. Each has a different application–tracking fluids, preserving night vision, using specialized maps, and working with aviation instrument panels. But here is where it gets crazy: all of the colored emitters have both a high and a low AND each color has its own specific high and its own low depending on what that color does (the red and green share outputs). So in the end you get a single pocket sized light that has five emitters each with its own high and its own low. And all are accessible via a selector ring on the head of the light. And finally, there is a switch to disable the colored emitters making this at its simplest an EB1 and at its most complex a light that earns the Aviator name.
Simple or complex, high or low, color or white, this little light can do just about anything you'd need. And don't worry about the "low" lumens counts. Surefires always outperform the numbers.
The Aviator is back. Maybe this time around I won't miss it. It's still $300.

SHOP NOW