Review: Wenzel Starlite One Person Tent
Kevin Felts 05.03.17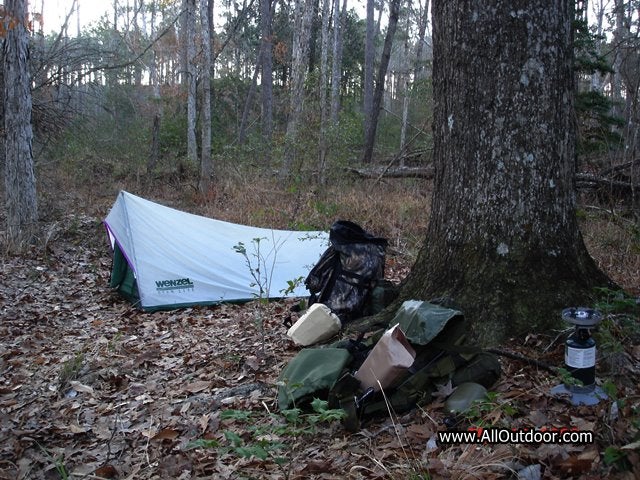 When I bought my Wenzel Starlite tent around 1993 or 1994, all I wanted was a one person tent to keep the bugs off at night.
My buddies and I were camping along the bayous and marshes of southeast Texas. Without a tent, you are a prime target for mosquitoes. Even if you douse yourself in mosquito repellent, those little blood suckers are buzzing your ears all night.
When I bought the Eureka Solitaire, my sons started using the Wenzel Starlite. I wanted them to experience using an expensive tent before they were bought a nice single person tent.


Wenzel Starlite Specifications
The Wenzel Starlite is a tube style tent. Meaning, you enter via a narrow front door and crawl into the tent. You enter feet first.
From the Amazon product page:
Floor Area: 21.8 square feet
Peak Height: 36 inches
Weight: 3 pounds, 5 ounces
Number of Doors: 1
Number of Windows: 1
The tent is held upright with three poles, two in the front and one in the rear.
This is a single wall tent.
Not free standing and requires guide wires to hold it up.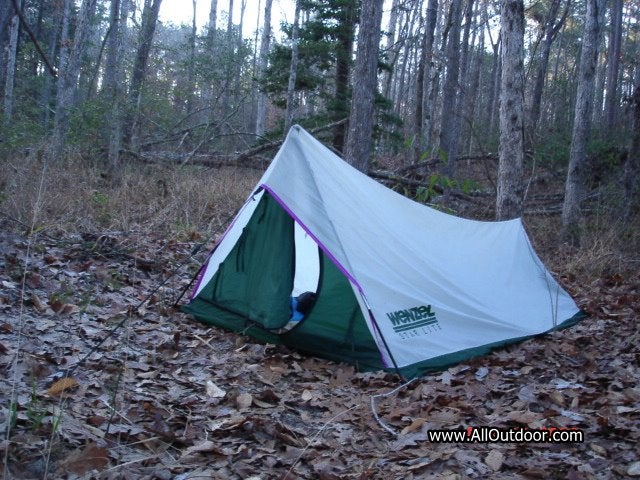 The Bad
Very little cross ventilation.
Fabric does not breath and builds up condensation. If you want to reduce condensation, leave the rain flap open.
Pole at the back of the tent is easy to knock loose. If this happens, which it has happened to me, the foot area will collapse on top of your legs.
Fabric is not waterproof, leaks slightly in the rain.
Not enough room to sit upright.
The Good
Lightweight.
Easy to set up.
Fits across the bottom of a large ALICE or MOLLE pack.
Inexpensive.
Door is two layer with a rain lap and mosquito net.
Keeps the bugs off.
Hands On Experience
For probably close to 15 years the Wenzel Starlite was my camping and backpacking tent. I accepted the limitations and compensated.
To keep rain off the tent, I carried two rain ponchos that I would snap together, then use them to build a shelter over the tent. Building a rain shelter over a tent may seem odd, I did it just as an extra layer of protection.
I have to give the Starlite credit for its durability. As of 2017 my tent is around 22 or 23 years old and does not have any tears or holes in it. The poles are still the originals.
Final Thoughts
In 1993 or 1994 I paid around $25 for my Wenzel Starlite. I feel I got what I paid for. If you want a three or four season tent, spend the extra money.
As of May 3, 2017, the Wenzel Starlite is selling for around $35. For that $35, you get a lightweight tent that will keep the bugs off, may leak rain, and will have condensation in the morning.
If you can not accept those limitations, spend the extra money and get something better. Sometimes you get what you pay for, and that is true with this tent.

SHOP NOW