Wild Turkey Populations Increase, Expand, in Northern Minnesota
Bob McNally 05.03.17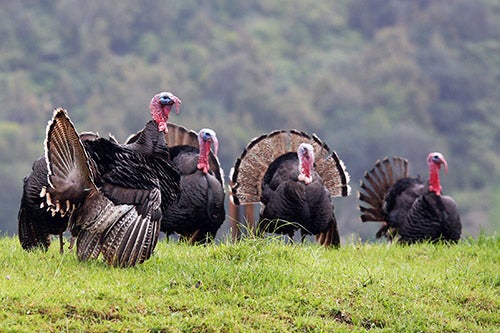 Wild turkey populations are on the rise in northeastern Minnesota, and the big birds are showing up in areas where they haven't normally been seen, according to a report from the Minnesota Department of Natural Resources.
Generally seen in the lower half of the state, wild turkeys have expanded their range by finding areas of suitable habitat as far north as Itasca and southern St. Louis counties, including areas along the blustery and cold North Shore, bordering Lake Superior.
Their presence in the area has now prompted questions about the bird's expanding numbers and potential opportunities for hunting.
In 2016, turkey hunting was expanded statewide, which added the northeastern portion of Minnesota to the existing permit area, 508. While the success rates of turkey hunting in the Arrowhead region are lower than southern areas, hunters do have the opportunity to pursue the birds.
The spring wild turkey hunt runs from April 12 to May 31 and is comprised of six separate time periods. Fall turkey season runs from September 30 to October 29.