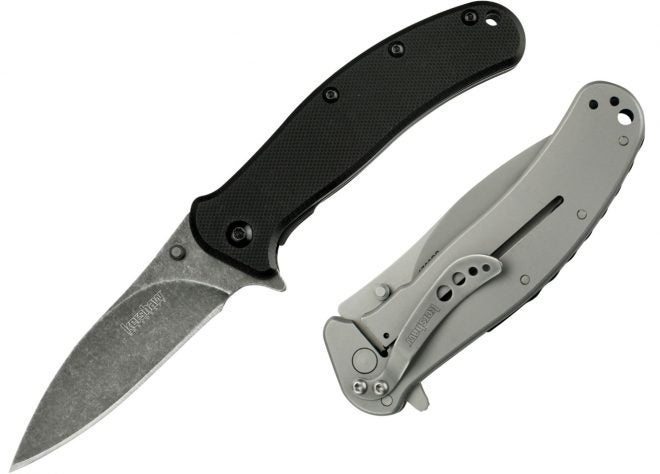 After taking a look at inexpensive fixed blade knives, the ideal beaters for the camp site or backwoods hike, I think we should take a look at rugged folding knives priced at $30 or below. This is pretty harsh price point and each of these knives has some sort of drawback or flaw. But the purpose here is to give you something you can use and learn on and won't shed a tear if it breaks or is lost.
If you decide to move up the price scale later on, these are all good enough to keep and rotate in as needed.
I have written about this before, but even years later I think CRKT Drifter is still the best value in folders. For right around $30 you get a 2.75-inch blade and a G10 handle (skip the framelock version; it's heavier, slipperier, and more expensive). The steel, 8Cr14MoV, is decent; a very mild step up from 8Cr13MoV. For me, the basics of this knife are great–the thumbstud is good, the blade shape is excellent, the grind (on the four different units I have had) is good, and the pivot fires like a rocket.
Every penny CRKT spent on design and materials was spent wisely. There is a bigger version, but for me the 2.75 inch blade is the sweet spot for folders. It's big enough to cut an apple, but not so big as to be scary.
The drawbacks are obvious: the clip can only be mounted one way (right hand, tip down), the steel is only okay, and the blade is actually a slight recurve. This recurve shape is just enough to make sharpening more difficult than it should be (especially on a stone) without the aggressive cutting advantages of a pronounced recurve.
Okay, you only have $10. Then just hop on the internet and pick up a San Ren Mu 605.
Like all of the knives here, it's made in China, and this company has made knives that many feel are too close to other designs. But if you ignore these issues, the 605 is a splendid blade. It's a pretty surprising package–real G10, amazingly fluid pivot, good handle design with a real finger choil, and 8Cr steel. And if you are careful you can find it for much less than $10, closer to $5.
It's an itty-bitty knife, smaller, than a Dragonfly 2, but for the size and price nothing else comes close. It even has a decent stamped-steel clip.
The drawbacks, aside from the size and steel, are hard to pinpoint. This might be the best knife in the world dollar-for-dollar. It is leagues better than the garbage sold on Black Friday. Maybe a Big Box will grab a ton of these one day and knife knuts can have a reason to wade out into the craziness. We can all give each other knowing head nods as we purchase three or four of these for stashing around the house, in the car, and at the office.
Kershaw G10 Zing
RJ Martin is one of the best knifemakers and designers on the planet. His custom tacticals are among the most-sought-after of the genre and are renowned for their hard-firing, powerful flipping action. But what most people don't know is that manufacturers love working with Martin because his production designs are delivered in an almost perfect state and can be taken from digital file to production knife in very little time.
The Chill is a slim, fast-firing flipper that is available for just a few pennies, but I like another budget RJ Martin Kershaw better: The Zing G10.
The Zing was a mid-priced knife with a truly unusual machined blade, which has long since been phased out. But if you have been paying attention, you might have noticed that the Zing was reborn a few years ago as a blackwash knife with G10 handles, an assisted flipper, and a much lower price tag. For $25 you can score this excellent budget design. One word of caution though–it's a Dick's Sporting Goods exclusive. If you don't have a Dick's near you, you can get it online. And even with shipping, it's still a good value.
The drawbacks are minimal. The pocket for the torsion bar is in the G10 and that makes the knife a bit fatter than it needs to be (assists, in my opinion, are never worth the hassle, regardless of their impact on the knife's dimensions) and the steel, like with all of these knives, is pretty meh. I still don't understand why some of these budget knives don't opt for 1095. Sure it's less stain-resistant than 8Cr, but not by much, and it is a vastly better steel for holding an edge.
There are real knives available for less than $30. If you know where to go and what to buy, you can get something that you like well enough to keep even after you have upgraded to something nicer.
Some of these blade require a bit of a scavenger hunt, but that will make it all the better when you get one.