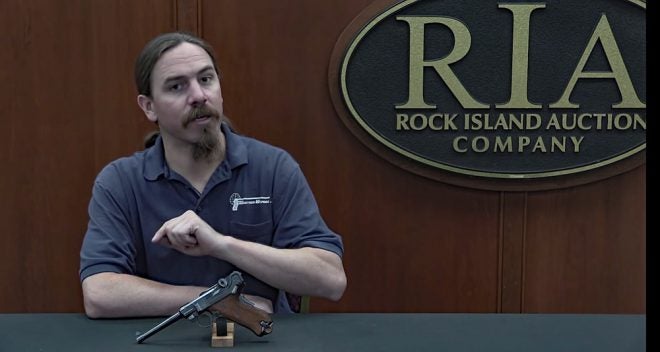 Lugers are cool, and I've wanted one ever since I was a young 'un. And rare variations of guns can be even cooler.
It's an Old Model Luger pistol, one of just a few purchased by the Mexican government for testing more than a century ago. And in case you're wondering, "Ejercito Mexicano" means "Mexican Army."
Mexico's President… Porfirio Diaz was very interested in modernizing the Mexican Army… Mexico tested the Luger pistol circa 1903-1905. They found it to be quite satisfactory… but never followed through… Mexican property Lugers are extremely rare, as only a small number were purchased for testing. They can be identified by an 'EJERCITO MEXICANO' mark engraved on the left side (done in Mexico, not by DWM).

They are otherwise standard Old Model Lugers, in 7.65mm, with the typical traits such as dished toggles and a flat leaf mainspring.


This particular gun isn't examined closely in the video as far as its action, but if you're interested in military history and/or military small arms, chances are good that you will enjoy it.
For more info on this pistol, visit the Rock Island Auction page.