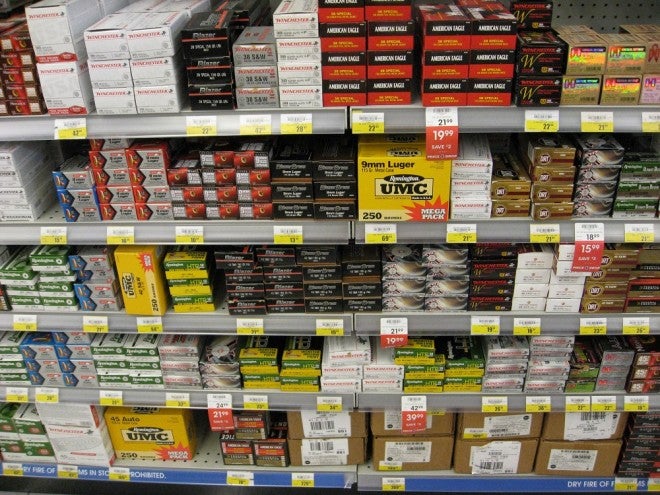 A recent inquiry from an outdoor writer in Wisconsin asked me about local ammo supplies and inventories so I did some checking. At the past few gun shows I did take note that while ammo stocks seemed to be widespread and comprehensive, their prices remained sky-high with all the usual excuses.
I thought once the foreign wars began to slow down and demand for ammunition declined on the part of the military, the ammo situation would begin to normalize again. But that reasoning doesn't seem to hold water. There also seems to be fewer reports of various government agencies buying huge quantities of ammunition, but perhaps those reports have just been squelched.
When I perused the shelves of several big box stores several months ago, I found their stocks lacking. I don't know who is in charge of ammo ordering in these stores store, but I never could understand how a Bass Pro Shops could be totally out of various calibers, brands, and types of ammo, but this was certainly the case in the local store here in Central Mississippi.
Back to the present: After a recent survey of local stores I can report good news on ammo inventories. I checked the local Bass Pro Shops, Academy Outdoors, and a Dick's Sporting Goods store. Two of the three had very good stocks with shelves more full than I have seen them in months. Academy has always maintained the best ammo inventory even during the ammo-buying rushes. Our local Dick's has never had much of an ammo stock, but it is respectable. Some Walmart stores have good ammo stocks, while others are dicey.
As I said, prices remain high. Some good ammo buys can be found at outlets like the Sportsman's Guide online, especially if you wait to buy when the offer free or minimum-purchase shipping deals.
Bottom line: You can save a little if you shop around, but ammo is just plain expensive these days. I suspect the manufacturers want it that way.
My recommendation is to start shopping now in advance of hunting seasons to get the selections you need or want.