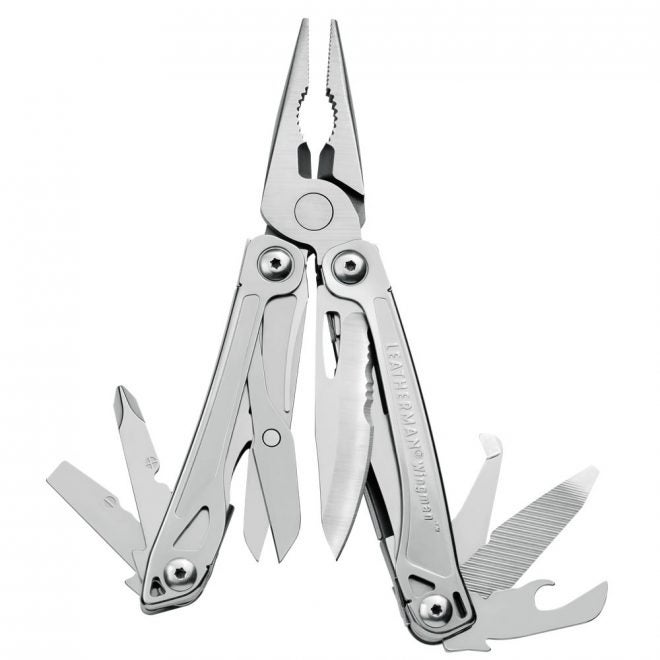 Fortunately, some of the best multitools are priced below $30 and one of the most recommended pieces of kit I can think of is a $30 multitool (the first entry below).
Why is it that there is so much value for so few dollars in this area? I think there are two reasons: 1) unlike the other items, multitools are more of a general use item; and 2) Victorinox.
You can find multitools everywhere; Sears, Home Depot, Wal-Mart, etc all have an impressive selection, especially compared to their knife selection. Pretty much everyone has a multitool shoved in a drawer somewhere. So that's the first thing: a greater demand leads to more producers and better value. Adam Smith would be happy.
But there's another reason, which is more of an historical accident than proof of macroeconomic theory: Victorinox has been making superb multitools for decades. They have refined the process and the designs to the point of perfection. They have amortized costs and tooling over nearly a century of production, until the fit and finish on a $30 Swiss Army Knife from Victorinox rivals the fit and finish on a $100 knife.


With Victorinox dominating the market, competitors had to be as good or better to gain a foothold, so when Leatherman broke into the scene, they did just that–they took a great design and relentlessly drove down the price. The original PST sold for around $50 in 1983 (about $70 in 2017's inflated dollars)m and today Leatherman makes tools today that are cheaper. With Victorinox setting the floor for everyone, they had to compete on price or go home. This is, I believe, why there are no true "premium" multitools, for which customers willingly shell out hundreds of dollars (as they often do with knives).
So, in the multitool category you get some real gems for cheap. Here are my three favorites:
Swiss Army Knife Alox Cadet (review)
Forget the red plastic handle scales. Alox is where it is at. The material looks great, takes a beating, offers a ton of grip, and has a timelessness that you won't find anywhere else. I am huge fan of Alox, but that is only one portion of the Cadet's greatness.
This tool is smaller than a pack of gum, yet eminently capable. It can slice and dice with ease. It does great at food prep. It is a sweet piece of kit for an urban dude on a Friday night–popping open brews with aplomb. There is no one on earth that couldn't use this as something to drop in their pocket and go.
I can't even think of a drawback. I would have originally complained about the soft steel, 1.4116, but after years of use I've found that it's perfect for the role and easy as pie to sharpen. If you have opposable thumbs, you should have an Alox Cadet.
Leatherman Wingman (review)
The Wingman is the best of the full sized budget multitools from Leatherman. There is one that is cheaper, the Rev, but it lacks spring-loaded pliers. There is also a Wingman that swaps out the scissors for a saw, the Sidekick, but for general use, the Wingman offers a great array of tools at a very decent price.
These street right at $30 and you get a good set of pliers, a nice knife blade (with decent-for-multitools 420HC steel), and an array of other usual-suspect implements. The big deal for me, and why I like the Wingman over other cheap multitools, is that most of the commonly-used tools are external, so you do not have to open up the pliers to access them. The blade opens with one hand (another difference between the Wingman and the Rev).
The handles are stamped, which makes them feel and look a bit cheap, but that has no real impact on performance. I was surprised how little wiggle and wobble there was in the pivots and joints on the Wingman. In all, there is little to complain about. The unbeatable 25-year warranty from Leatherman and the great price tag combine to make this the go-to pliers-based multitool on the market (I like the Skeletool more, but it is $20-$30 more).
Gerber Shard (review)
You may have been around when the Atwood trend took over the gear world. People were paying $500 or more for pieces of metal with no moving parts and cuts and corners around the edges. The idea was that they were simple one-piece tools that could get you out of a jam if necessary, so you just stuck one on your keychain. In reality, they were Pokemon for knife knuts.
These days, the number of one-piece multitool makers has exploded and they are, with a few exceptions, passe. As the hype dies down, so do prices; and none perform, in my opinion, than the lowly $8 Shard.
The Shard is one of the only OPMTs (one-piece multitools) with a true 3D Philips driver. It de-cap-itates a bottle like a French guillotine. And the pry tip is pretty useful. Finally, unlike some more exotic tools, this one is so cheap it won't really matter if you lose it. I've had mine for years and it still works well.  Just don't mistake it for its Sloth-from-Goonies facsimile, the Artifact. That happens to be one of the worst tools known to man, and it is more expensive.
Conclusion
Multitools are the best value in the gear world. In terms of fit and finish, performance, and design you won't find better. And even at under $30 you can find true top-tier stuff. If you only have a few bucks, this is place to spend your money.