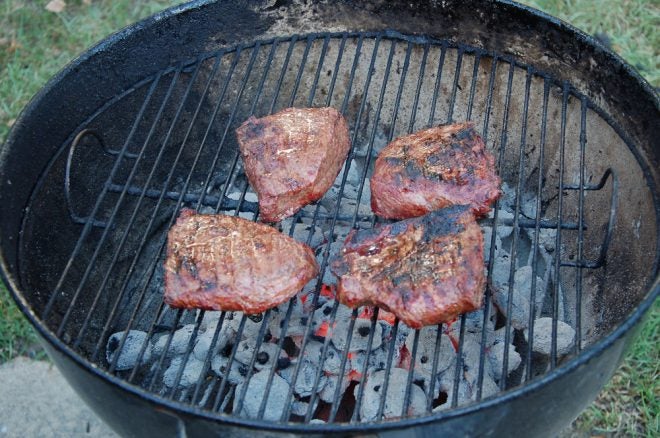 "Vegetarians are cool. All I eat are vegetarians, except for the occasional mountain lion steak." That quote is attributed to none other than the Motor City Madman rocker, the one and only Ted "The Nooge" Nugent, the undisputed king of backstraps. Incidentally, Nooge is also a board member of the National Rifle Association, so we know his politics as well as what he eats.
Since the ripe age of about five, I have hunted. We lived in a small rural town in Missouri, but across the back fence was the country. Small game was abundant, but big game like deer and turkey were not then available as they are today. My dad was a big duck hunter. We hunted quail and dove. We boys chased squirrels and rabbits. We ate some of the game, but not others.
During these sixty some odd years of hunting, I have always believed that some animals roaming the earth were simply not meant to be eaten. More plainly and honestly, I meant, to be eaten by me anyway. I know others eat a far wider palate of wild game that I do, but sometimes I have to believe that some "game" could just not be that tasty regardless of how it's prepared.
Again, this is just me, but on that list I put opossum, raccoon, snakes, goose, armadillos, beaver, nutria, crow, blackbirds, and a few others. I know lots of people eat squirrel and rabbits, but I don't particularly care for them, but would eat them if pressed by starvation in a dire SHTF situation.


The best all time wild game meat is elk. I fed neighbors elk burgers for a year or more before I ran out. When I was asked when I was cooking my famous burgers again, I had to tell them I was out of elk meat. A few of them turned purple, but most of them just laughed. They had no idea.
Whitetail venison is excellent if cooked right. When I started deer hunting in 1970, my college roommate's mom made the finest fried venison steak ever. I wish I had copied her recipe. Venison makes great burger for many uses. Hardly anything beats fried quail, too.
The thing I appreciate most about the majority of hunters is their use of the game they harvest. Shooting a deer is not just sport, it is sustenance. It's a valued resource that preppers, and survivalists have come to rely on, just like hunters do every season.