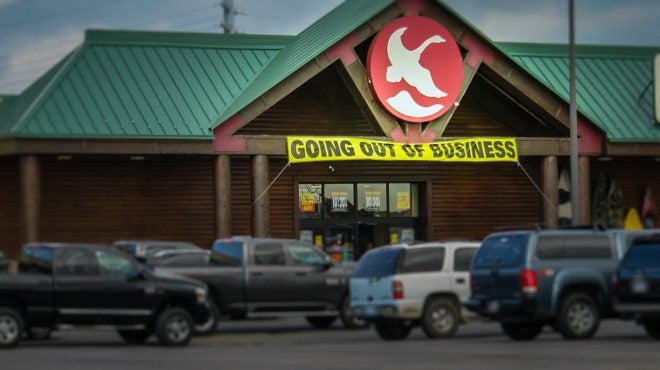 Our buddies over at The Firearm Blog posted an article talking about why big box retailers are failing.
Are Big Box Retailers Failing Shooters? I Think So | Gun Guy Thoughts
With Gander Mountian going out of business and rebranding to Gander Outdoors as well as sporting goods giant Cabela's being sold recently, one has to stop and ask, what are they doing wrong?

I think they are failing shooters and not because of price, but selection.
Patrick R., I respectfully disagree.
I can not speak for other cities, but let's take Beaumont, Texas, for example. Beaumont has a Gander Mountain and just down the road an Academy. Every time I walked into either store, the Gander Mountain was empty while the Academy was packed.
Why was that? I suspect it boiled down to price, and I think I can prove it.
Let's take the Colt 6920 for example. I did not take pictures, nor did I write down prices. This is strictly from memory and what I can find on the Internet, so the "exact" prices are going to be a little off.
Can we see the problem yet?
Companies have yet to realize customers have smart phones and can price check while standing at the counter.
Picture someone at Gander Mountain looking at an AR-15. Pulls out their phone, does a price check online, sees Academy has the same rifle for at least $100 less. What is that customer going to do?  They are going to drive around the corner and buy it at the other store.
A few weeks ago I was at Academy in Beaumont, Texas looking for a Beretta 92F. Without me asking, the salesperson told me about their price match guarantee. No salesperson at Gander Mountain ever mentioned price match while I was in the store.
Even Wal-mart and Best Buy are having problems competing against Amazon. What is Wal-mart and Best Buy doing? They are price matching Amazon.
What did Gander Mountain not advertise? Price matching. In all the years that Gander Mountain has been in Beaumont, I think I saw just one or two price match promotions? Only one time did I do price matching at Gander Mountain, and that was for a live trap.
Gander Mountain website is down for redesign, so I am having to use quotes posted on other websites.
Gander Mountain price match question
Local is defined as a retailer within a one-hour drive of the store. Exclusions include rebates, financing offers, misprints, discontinued, clearance, or closeout prices or prices on used, damaged, returned, open box or display merchandise. For buy-one get-one offers and coupons we will meet the competitor's price. This price guarantee does not extend to dealers, resellers or internet pricing. Proof of a lower price must be provided at the time of purchase to receive a price match. GanderMountain.com/Overtons.com prices may differ slightly from Gander Mountain retail store prices on some items. If it does, let us know and we will match the posted price.

GanderMountain.com Policy We will match any competitor's printed catalog or internet price within 14 days of your purchase! This offer applies to all in stock, regular priced merchandise.

We do not price match online only retailers.

This offer excludes firearms, ammunition, special orders, advertised specials or sale prices, misprints, and closeouts. We reserve the right to not sell any product below our cost.
Emphasis by the author.
It appears Gander Mountain only price matched local businesses and refused to price match online-only companies. That is like Best Buy or Wal-Mart refusing to price match Amazon.
Even an enormous company like Wal-Mart will price match.
Online retailers are limited to: Academy.com, Amazon.com, Autozone.com, Babiesrus.com, Basspro.com, Bedbathandbeyond.com, Bestbuy.com, Cabelas.com, Dickssportinggoods.com, Dollargeneral.com, Familydollar.com, Homedepot.com, Jcpenney.com, Kmart.com, Kohls.com, Lowes.com, Michaels.com, Newegg.com, Officedepot.com, Oreillyauto.com, Pepboys.com, Petco.com, Petsmart.com, Sears.com, SportsAuthority.com, Staples.com, Target.com, Tigerdirect.com, Toysrus.com, Walgreens.com, Walmart.com
Yet, Gander Mountain refused to price match online-only stores, and stores more than one hour away.  That type of price match is outdated and archaic.
While companies like Wal-Mart and Best Buy are gaining business with price matching, companies like Gander Mountain are failing.  Best Buy was able to turn the company around with ship from store and price matching – Best Buy's Turnaround Is One for the Ages.
As long as big box stores continue to limit price matching and no free shipping, customers will continue to use the store as a showroom. Meaning, customers will go to the store, look at the product, and then buy online.