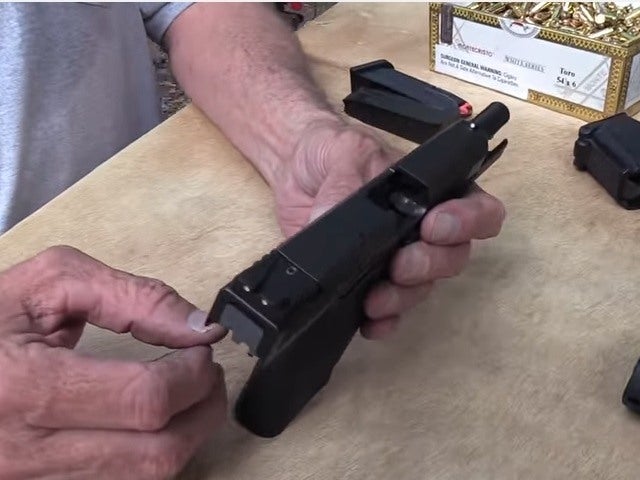 Hickok45 takes a CZ P-10C out to the range. Since its introduction, the CZ P-10C has been called the "Glock killer."  In the video, Hickok45 does a nice job of doing a side-by-side comparison with the Glock 19 and Glock 17.
Glock 19 barrel length: 4.01 inches
CZ P-10C barrel length: 4.02 inches
Glock 17 barrel length: 4.48 inches
CZ P-10C Specifications:
Product Name CZ P-10 C 9mm
SKU 91520
MSRP $499
Chambering 9mm Luger
Magazine Capacity 15+1
Frame Fiber-reinforced polymer
Trigger Mech Striker
Sights Metal Three-Dot
Barrel Cold Hammer Forged
Barrel Length 4.02 in
Height 5.2 in
Width 1.26 in
Weight 26 oz
Overall Length 7.3 in
Safety Firing Pin Block Safety, Trigger Safety
Now for the video.
On a personal note, I like the serrations on the slide.
At 16:40 in the video, Hickok45 talks about how difficult it is to release the slide. Is it just me, or does this seem to happen on handguns that have an ambidextrous slide release?
As of May 31, 2017 the CZ P-10C has a retail price of around $495. At that price, it is difficult for me to justify buying a CZ P-10C over a Glock 19. The G19 has a proven record with military and police service. Then, there are all the aftermarket parts for the G19. Why not price the CZ P-10C so that it cost slightly less than the Glock 19? This would give the penny pinchers a reason to consider the P-10C.
The CZ P-10C has been called "the Glock klller," but I just do not see it. The P-10C seems like a good handgun, but still has a long way to go before it will overtake the Glock 19.