Review: Federal "Range Pack" Bulk-Packed 22 Ammo
Russ Chastain 06.01.17

A few months back, I wrote about two new 22 LR loads from Federal Cartridge Co, which were being offered in bulk packs of 275 rounds. Well, I managed to get my hands on some and take it to the range with a few select firearms to see how it does.
The ammo comes in two flavors: 40-grain lead round nose rated at 1200 FPS muzzle velocity, and 38-grain copper-plated hollow point rated at 1260 FPS. Naturally, the HP stuff is being marketed for hunting and the plain lead bullets are intended more for target work.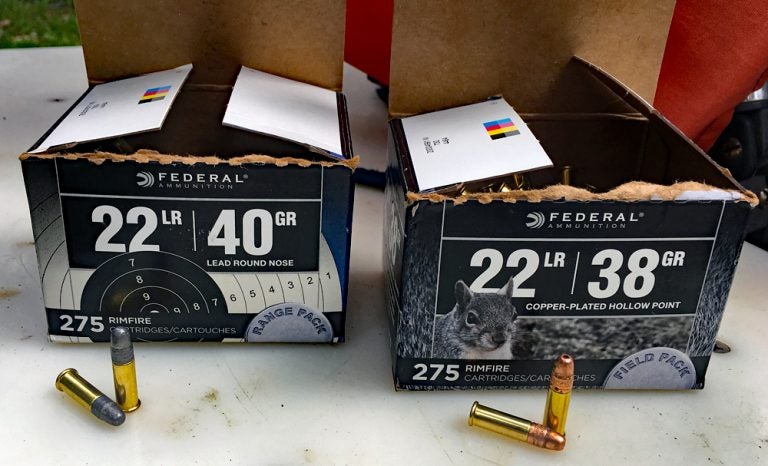 I decided to try both loads in two handguns and two rifles, all equipped with open sights. For this chore, I selected the following:
GSG-5PK semi-auto pistol, 4.75″ barrel
Remington Nylon 66 semi-auto rifle, 19.5″ barrel
Ruger semi-auto pistol, 6″ barrel
Winchester Model 62A pump rifle, 23 1/8″ barrel
I began by firing the rifles at 25 yards. I shot 15-round groups with each load in each rifle, resting at a bench but nothing fancy (just propped up the forend on a gun rest).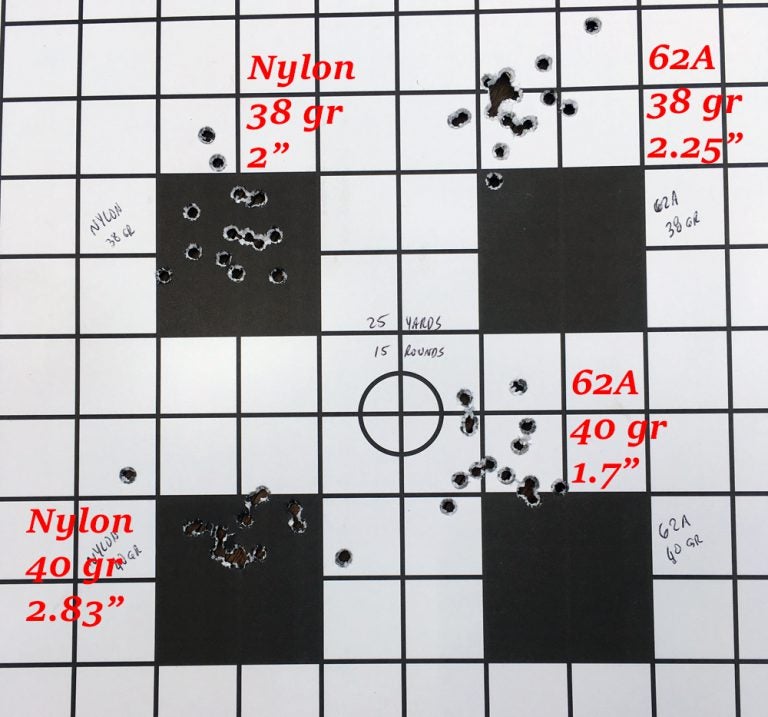 I wasn't bam-bamming away, but I wasn't striving for super-tight groups, either. I'd say it was more of an average sit-down-and-see-what-I-can-do informal shooting session, which is what most folks are likely to do with bulk 22 ammo.
As you can see, there's not much difference between loads, although the 40-grain rounds arguably did a little better, especially if you disregard one or both of the flyers from the bottom left group.
As expected, I had no functioning problems with the rifles. The Remington Nylon 66 is an excellent little rifle and is the most reliable 22 semi-auto rifle I have ever fired (with any ammo), and the old Winchester is a pump gun, about as reliable an action as you can get.
Next, I moved on to the handguns.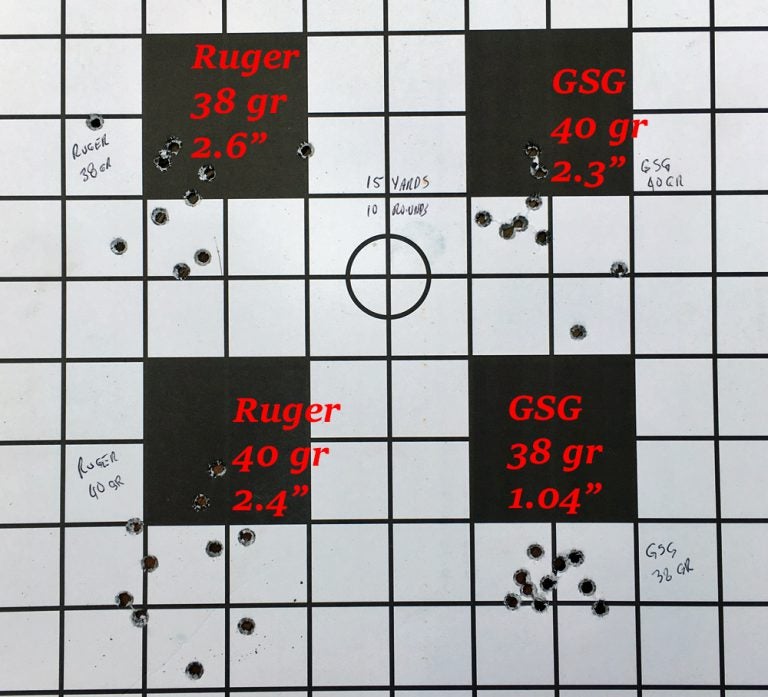 I fired four 10-round groups at 15 yards, again resting but not to any extreme. Accuracy was perfectly acceptable with the GSG giving my the tightest group, with the 38 grain HP bullets.
While firing these groups, the GSG did fine, but the Ruger hiccuped with the 40-grain ammo. Here's a pic of the jam.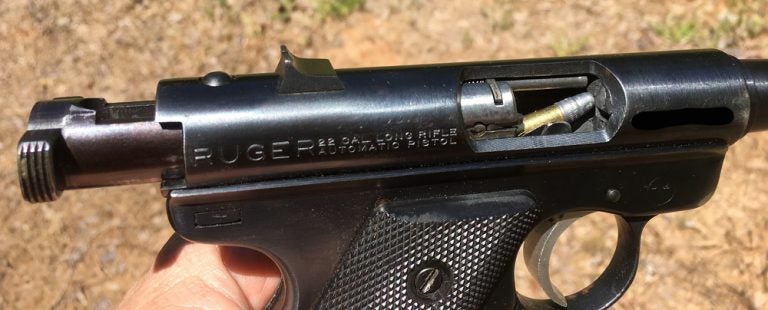 After firing at the paper target, I decided to fire sets of 10 aimed shots at a small steel flipper target.
The GSG did well with the 40-grain ammo, but the 38-grain groceries gave me some static. The gun failed to fire the second round, and later on I experienced this stovepipe: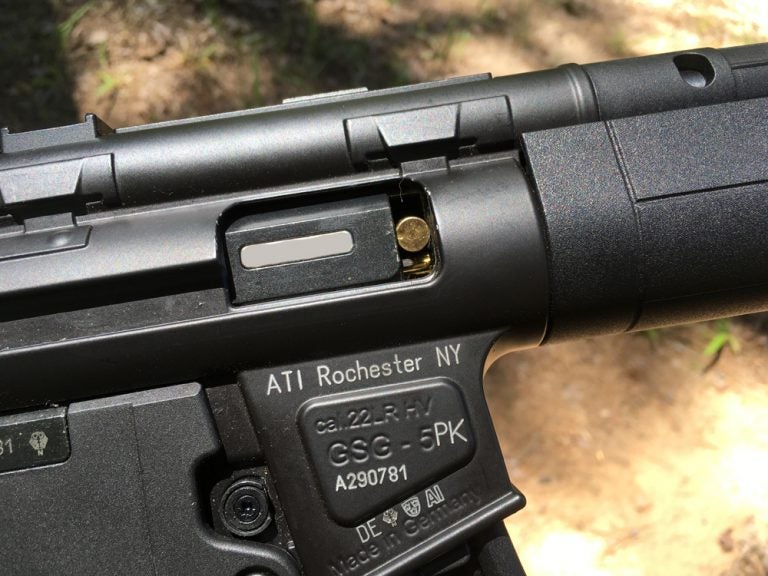 After this, I stoked up the GSG mag with 38-grain rounds and fired it rapidly. No problems. I repeated this test with 40-grain ammo in the same gun, and again had no trouble.
I went back to the Ruger, firing aimed 10-shot strings. While I had no trouble with the 38-grain ammo, I did have two stovepipes with the 40-grain ammo. Both looked identical: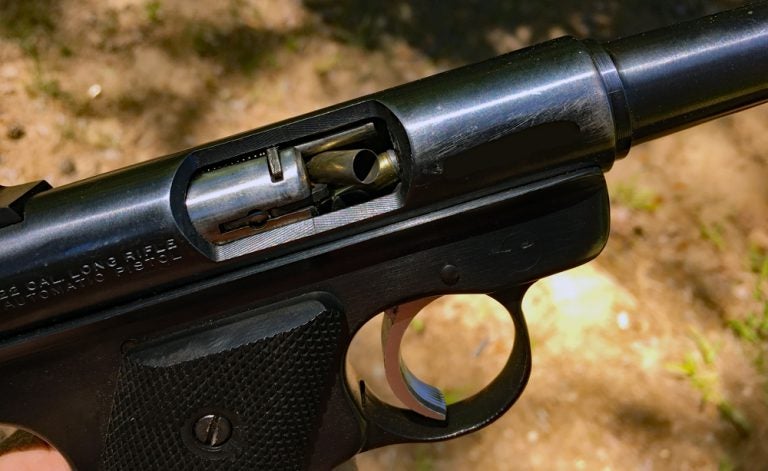 A rapid-fire test with the Ruger proved that while it likes the 38-grain ammo fine, the 40-grain loads cause indigestion. The third 40-grain round pulled this trick:
Conclusion
I like this ammo, but as we have learned, not all of my poppers do. The rifles I chose for this test will digest just about any 22 LR ammo, and I've never seen either one malfunction. The pistols also usually do well, but they didn't love this ammo, especially the Ruger with the 40-grain stuff.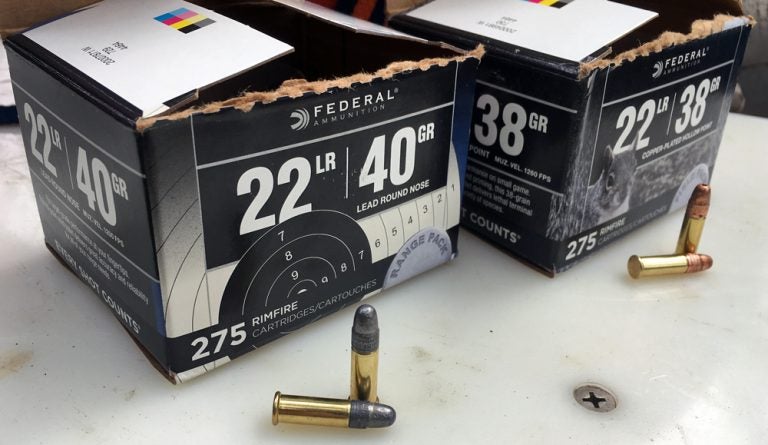 What to make of all this? Well, it's bulk-packed 22 rimfire ammo, so it's not going to be the best ever. Referring to their claims as stated in my earlier post, is it more accurate than their older bulk-packed ammo? I don't know, but it did fine for me, and I certainly found it more reliable than Federal bulk-packed ammo used to be.
Federal also says the loads are ballistically matched so you can zero your rifle with the Range load and expect the same point of impact when hunting with the Field load. And comparing the centers of the groups I fired (38 vs 40 grain for each individual gun), the point of impact thing is more or less true.
The ballistic data on the boxes states that although muzzle velocity is rated differently (1200 for 40, 1260 for 38, the velocity, drop, and energy at 100 yards is identical.
But what caused the 40-grain groceries to disagree with the Ruger while the 38-grain stuff functioned perfectly? There's really no way to know, but if I had to guess I'd surmise that either the ammo is perhaps a bit "less hot" than the ballistic data indicates, and/or the copper plating on the 38-grain bullets made the difference.
Either way, this ammo represents a step forward in quality of bulk-pack 22 ammo, and that's a good thing.