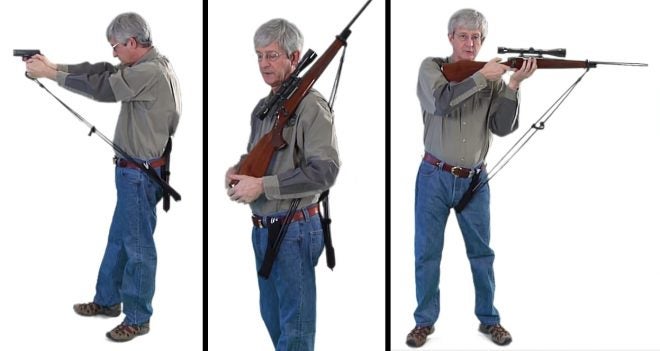 I've been using Bipod Shooting sticks for more than a decade, and although I sometimes use fancier or more deluxe methods of propping up my gun while hunting, I continue to appreciate the simplicity and versatility of this handy little product.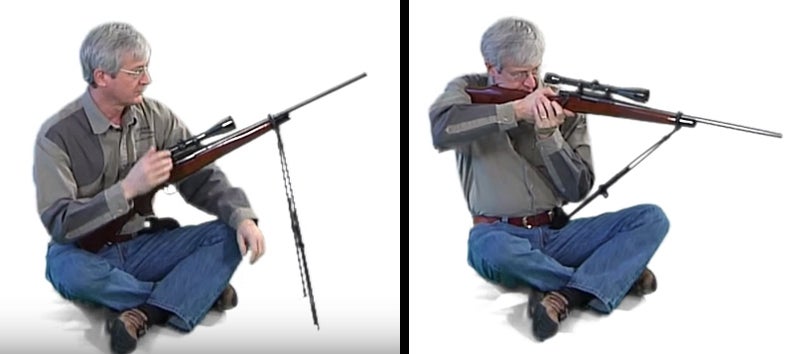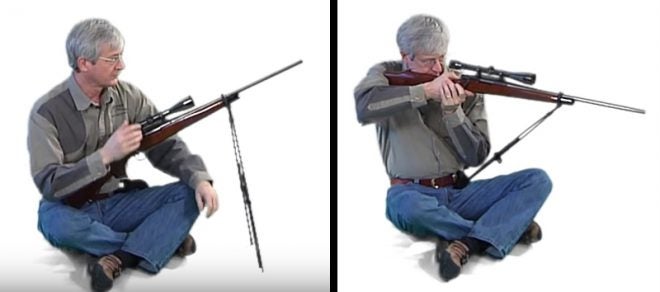 It's made of two three-section hollow black fiberglass sticks, each stick shock-corded together like a tent pole. A short length of rubber tubing is used to hinge the two together, and their top ends are joined by a longer length of rubber tubing. A hook-and-loop strap is used to hold them open or shut. Fully deployed, the sticks and rubber are about 40 inches long, and when set up, they'll place the bore of your gun about 36″ off the ground. Since there are three sections, you can also use it at 2/3 or 1/3 length (1/3 is probably only useful at a bench or similar setup).
The rubber tubing that connects the two sticks can fully surround a gun forend and barrel, or cradle a rifle, handgun, or rifle barrel. I've used it on numerous rifles and it's never caused any damage.
I first met the inventor of Bipod Shooting Sticks at a SHOT Show many moons ago, and watching him demonstrate the product was worth more than a millions words could express. Use it as a typical bipod that you can set right on the forest floor while you glass or wait in ambush, hook it to your belt to provide stability in a tree stand, or just use it to help steady a handgun at the range. There are numerous other ways to use it, too, as you can see in the video below.


Even the neoprene case has multiple functions and can help out a lot. And no, it's not a nut-cracker, even though the case does lie dangerously close to the ol' japonicals.
I can attest that this simple product works as advertised with the caveat that I have never been able to use the end caps that are meant to protect the elastic shock cord when you shorten the sticks. The caps were just too tight a fit and too easy to lose, so I don't use them. So far that hasn't hurt me, as my original set of Bipod Shooting Sticks is more than a decade old.
When sitting down low with the legs folded, I do like to place the bottom ends of the legs into the pockets on the carrying case. This protects the cord and helps keep the legs properly spread.
One method I didn't see demonstrated in the video was laying the case crosswise over your thigh while seated, with one stick in each pocket of the case.
Shotguns Too (No Hardware Required)
You can use it on a shotgun as well, since it just sort of pops onto the barrel from below. Pretty sweet for ambushing turkeys.
I have used it most often while deer hunting, especially when I'm watching a narrow trail or gap which requires fast action when a deer shows up. I can keep the rifle's forend propped up and even support the butt by placing its toe into my right shirt pocket; this allows me to get the gun in position and my eye behind the scope in short order.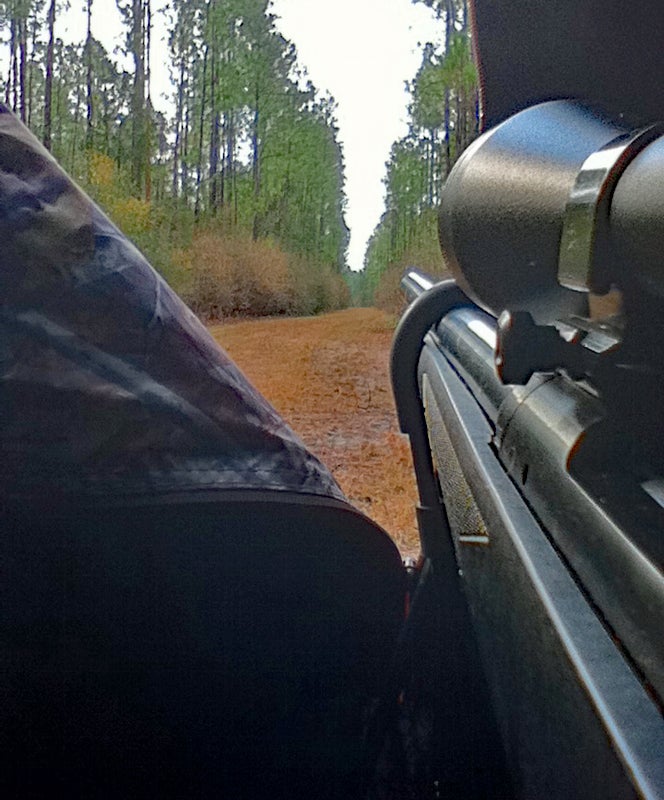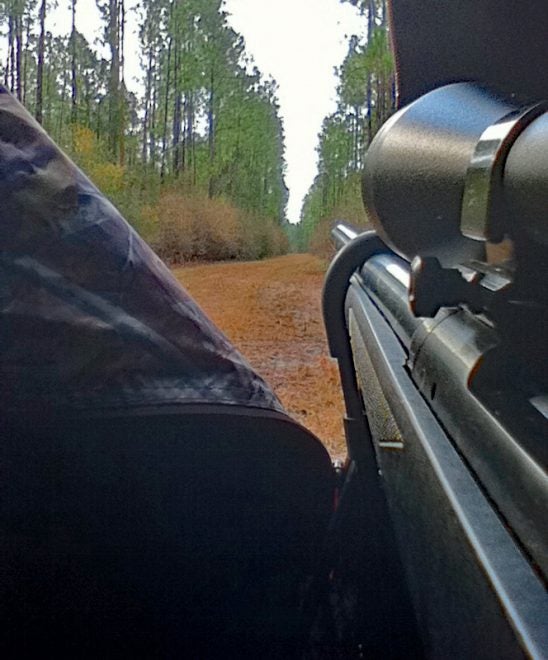 It's easy to keep in my hunting pack, as it's about 15″ long when closed and weighs about 7.5 ounces.
Even Archery
Heck, you can use it for archery.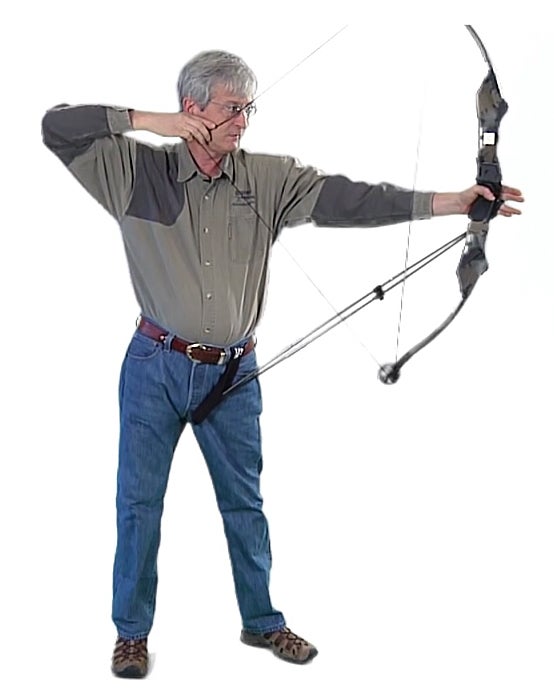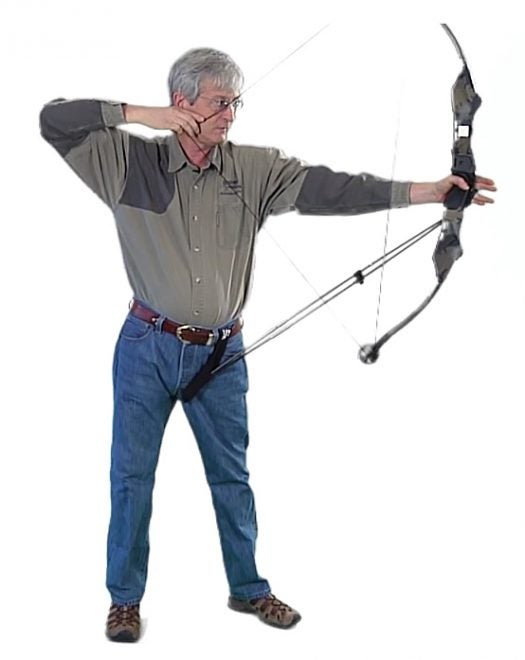 Conclusion
Is this product perfect? No, but it's the simplest, most flexible solution I've ever tried. You can use it to support just about anything that needs to be steadied: Camera, binocular, gun, bow, etc.
If I had to find something to complain about, it would be that sometimes my rifle will tend to roll over by rotating inside of the rubber loop, but usually only when I set the rifle butt in the seat of my chair or on the ground and leave the front propped up, say for instance when I stand up to stretch my legs.
As my father used to say, that's a minor detail. All in all, this is a good simple product that works, and it won't break the bank at $39.95 plus shipping.