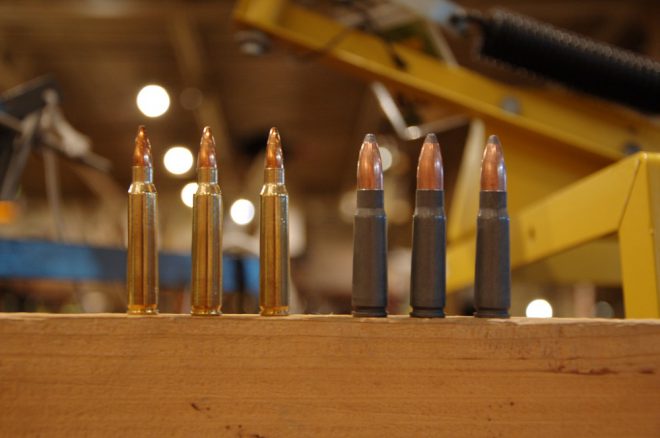 One of the many long standing campfire and shooting range debates has been over the use of brass casings versus those ammunition cases made from steel. For Americans, it has always been our native ammunition that has used brass for ammo cases. In Russia, China and other Eastern European countries, their cases have most often been formed of steel.
Brass is an alloy made of copper and zinc. Steel is made from an alloy of iron. On a Mohs Hardness Scale, brass rates a 3-4 hardness. Steel is harder on the scale at 5-8.5 depending on its composition. Steel is much cheaper to manufacture than brass, hence the main reason Russian ammo for example is made of steel. For them it is a cost factor.
Brass functions well in American chambered guns. Brass is more malleable in that when the primer ignites the powder, the brass case expands in the chamber pressing against the chamber walls. Its pressure is held by the steel chamber, allowing the bullet to exit the case to move down the bore's rifling to the muzzle.
The classic Russian AK-47 was manufactured specifically to handle steel casings. Their cases are coated with a lacquer type spray that makes them slicker, thus allowing them to release from the chamber upon extraction.
Steel cases have been known to hang up or stick in the chambers of American guns such as the AR-15. It has been reported that a steel casing sticking the chamber and failed to be extracted can cause damage to the chamber as well as the extractor mechanism. In general, steel cased ammo is not recommended for use in American guns because of the potential for the failure to extract. It seems even the lacquer coating does not help much.
Steel cased ammo is cheap(er). Those Russian brands of steel cased ammo one can see for sale by the case at gun shows or gun shops is a good example. However, word has started to circulate about not using this ammo in our guns. The issue has been addressed by these same Russian ammo makers which are not advertising to offer brass cased ammo.
The chamber tolerances of an AK rifle are much looser than those of an AR-15. Steel cases function in those guns, because the chamber is simply not as tight. For same reason, American chambers have closer tolerances making steel ammo reliability iffy.
Therefore, if you shoot an American or European firearm designed to use brass cased ammo, avoid using steel. Likewise, if you run an AK-47, then using steel cases is fine.