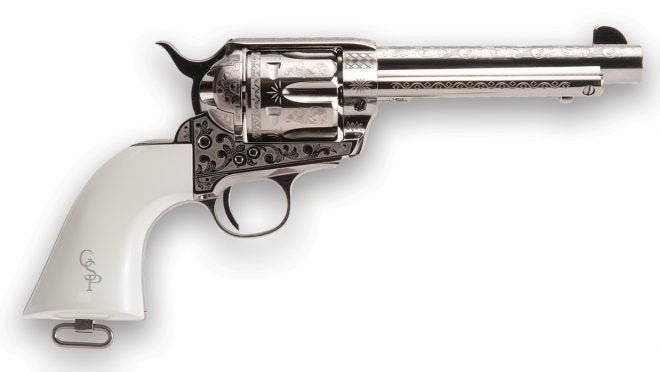 Cimarron Firearms has just announced a new Colt-style single action revolver named for General George S. Patton. It's nickel plated as well as engraved, chambered in 45 Colt like the gun Patton toted during Big Rumble 2.
Cimarron pays tribute to Gen. George S. Patton with this exquisite revolver. The nickel plated pre-war Frontier has been laser engraved with the same pattern found on Old Blood and Guts' trusted sidearm during WWII. Complete with hand-fitted poly ivory grips featuring the GSP insignia and a lanyard ring on the grip frame.
Naturally, the grips aren't real ivory and the engraving is done by laser, but how else could an average person afford a nice-looking resembler like this?
Manufacturer Specs
SKU: PP411LNPT
Caliber: 45 Colt
Barrel Length: 5-1/2 inches
Style: Frontier
Frame: Pre-War
Finish: Nickel
Grip: Poly Ivory
MSRP: $765.70
Cimarron offers many "resembler" guns of the old west (I call them that simply because they're not 100% true replicas), as well as holsters and other leather gun gear. Want a "Man With no Name" gun? Wyatt Earp Buntline? John Wayne's "Rooster Cogburn" revolver? Quigley's rifle?
They have all of those and more. It's an interesting approach to the gun business that seems to be working for them.