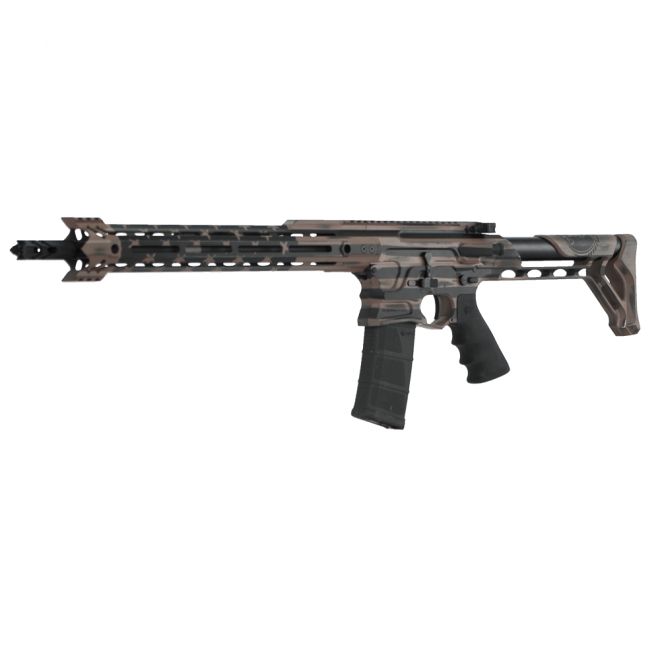 Cobalt Kinetics and Allegiant Rifleworks is now delivering their very special and unique rifle tribute to Chris Kyle, which they have designated "Glory." This will be the first rifle in a Chris Kyle "The Legend" tribute series.
Taya Kyle, wife of Chris Kyle and Executive Director of the Chris Kyle Frog Foundation has stated that his new rifle in the series will be great for any collection and creates the relationship between the Frog Foundation and Cobalt Kinetics and Allegiant.
The Glory rifle is built on a traditional AR-15 platform format, but beyond that it is anything but traditional. First, it is chambered for the .223 Wylde allowing the rifle to easily chamber and handle all .223 Remington loads, along with any 5.56 Nato rounds. The exterior of the rifle is treated with a special one-of-a-kind custom hand painted flag pattern.
Each model of the Glory rifle will be individually serial numbered with a production limited to only 250 units. Buyers interested can order early to secure the same production number in the run of the other models in the Legend Series. Every rifle sale brings a benefit to the Chris Kyle Frog Foundation to continue its work for military, veterans, and first responder families.
Other features of the Chris Kyle Glory rifle includes a full top Picatinny rail devoid of open BUIS sights, but which can be easily added if desired by the shooter. The forend sports an aggressive front profile. The butt stock is a customized design not seen on any other type rifles. The trigger cage is enlarged for easy trigger use even with heavy gloves. Again, the exterior flag design finish is what sets this limited edition rifle apart from anything else on the market.
Cobalt Kinetics is known for superior engineering and building firearms with bold aesthetics as well as cutting edge technical innovations. Their reputation as an arms maker was established by their meticulous detail to precision. Their specialized engineering includes their Dual Drop and Cobalt Advantage Reloading System. Their design mitigates muzzle rise by innovative changes in the buffer system of each rifle.
To place an order for one of the production numbers of these limited Chris Kyle Glory ARs, contact Cobalt Kinetics. Additional questions can be directed to [email protected] or by phoning 435-656-0599. If you can get your hands on one of the Glory rifles, you will not only possess an immediate collector item, but also support a great organization.