Breaking: Escaped Inmates Nabbed by Good Guy With Gun
Russ Chastain 06.16.17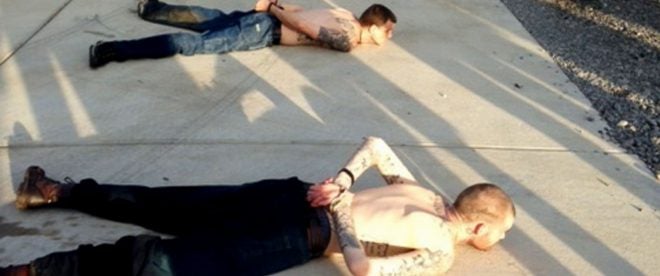 Remember those escaped inmates who murdered two guards and were the talk of the southeast over the past couple days? Well, a good guy with a gun has reportedly caught them in Tennessee.
…[S]omething alerted the homeowner that people were outside his home and he saw the men trying to steal his vehicle… [T]he homeowner held the two at gunpoint with a neighbor… until the Rutherford County Sheriff's Department could get there to arrest them.
The two crooks overpowered and murdered Sgt. Christopher Monica and Sgt. Curtis Billue on a prison bus in Georgia Tuesday morning, and have been on the run ever since. They'd apparently crashed the stolen car they'd been driving during a police chase and escaped on foot through the woods near Interstate 24 near Christiana, Tennessee.
Then they picked the wrong car to try to steal.
After finding the crooks and holding them at gunpoint, the homeowner hero called a neighbor, who brought his own gun to help guard the criminals, who have been described as "dangerous beyond description" by the sheriff of the Georgia county in which they escaped.
Hats off to the two armed citizens who put an end to a criminal rampage that included murder, theft, home invasion, and high-speed police pursuits. Had it not been for good guys with guns, these two would probably still be wreaking havoc.
Gotta love private gun ownership.