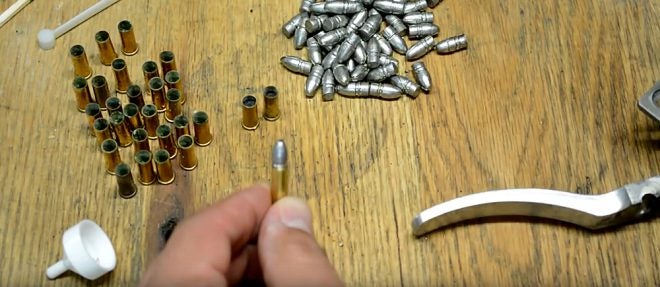 Yes, it's possible to load 22 LR rimfire ammo at home. But as you might imagine, it's a heck of a lot of work.
There's a kit available from Sharpshooter which includes equipment and instructions for reloading 22 LR rimfire ammo; there's even a kit for 22 mag.
The kit includes a little tool for scraping old priming compound and packing new priming compound, a powder scoop, a tiny powder funnel, a bottle with eyedropper, and a bullet mold/crimping tool.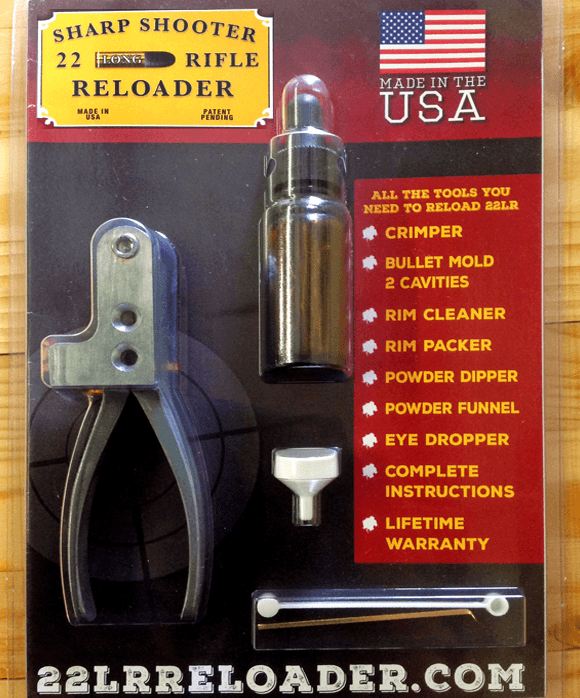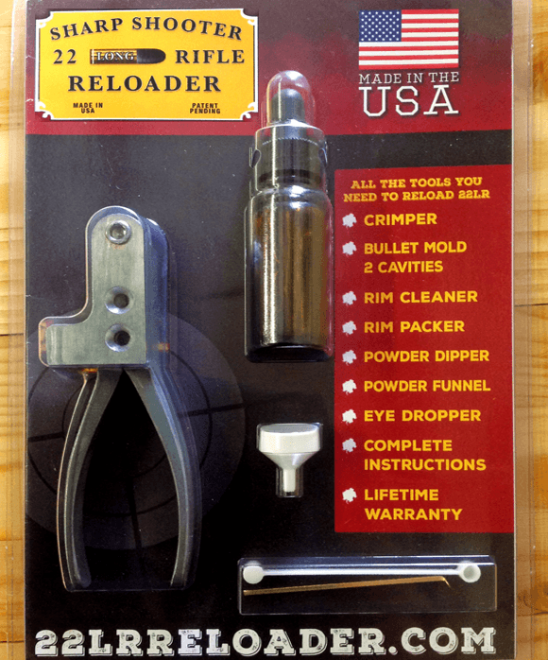 The video below shows an experienced reloader trying to make the 22 LR system work, and running into a number of snags along the way. It bolsters what my father taught me at an early age: It is possible to reload rimfire ammo, but it's just not feasible.
If you have too much time on your hands, this might be the project for you. After casting new bullets (more on the below), you have to scrape the crud out of the inside of the rim of each empty shell to be reloaded, create priming compound using matches or caps for toy guns (or spend $20 for Sharpshooter's "Prime-All Repriming Compound"), mix the compound and apply it to the rim of each and every shell, then after that dries you will need to place a powder charge into each shell, then seat and crimp a bullet in place.
Once that's done, you can try to shoot your ammo.
About casting the bullets: anyone who's done it knows that bullet molds 1) must be precisely made and 2) get extremely hot. Turns out, the bullet mold in this kit is poorly-thought-out and not made all that well. Inconsistencies in the molds mean inconsistencies in your bullets, which means trouble chambering and/or poor accuracy.
Then there's the tiny size of the mold which makes it difficult to handle, and the use of aluminum handles that are merely extensions of the mold block, instead of separate wooden handles as you'll find on other brands of bullet molds.
I noticed that Sharpshooter calls the sprue cutter a "spur cutter." Oops.
In the end, it's shown that while you can load some 22 LR ammo with this tool, it's far from efficient and the quality of the ammo isn't likely to be very good. And at $75 for the LR kit and $90 for the magnum version, it's anything but cheap.
Check it out if you have a few minutes to spend learning something new.
https://youtu.be/mTf62hDhefY
And here's part 2 of his review, which takes him to the range and back again.
https://youtu.be/DrVto33Tiwc
In the interest of fairness, here's a video by Sharpshooter demonstrating the loading process. Looking at the load data, it seems that some of the reviewers comments might just be moot; there seems to be a good bit of data included with the kit.
I don't think I'll be reloading rimfire ammo anytime soon. Even in a survival situation, I think I'd rather load reduced-power loads for a centerfire gun.
What do you think?