Review: Ruger Precision Rifle (RPR) in 308 Win, 243 Win, 6.5 Creedmoor
Major Pandemic 06.22.17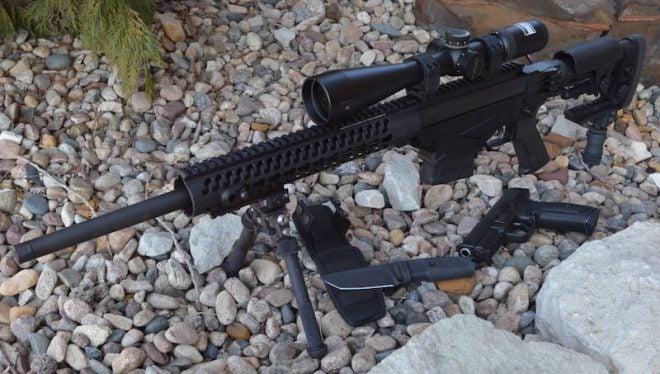 When the initial reviews of the Ruger Precision Rifle came out, I was skeptical about the gloriously rosy reviews noting groundbreaking features. It just screamed to me that someone was all too happy to suck up in order to be one of the first to review Ruger's latest, so I waited until now for my full review.
Initially, my eyes rolled hard as I assumed that Ruger had just dropped their standard bolt action receiver into a billet chassis, and that did not sound particularly groundbreaking. I was of course completely wrong on that point.
Another part of my reluctance was that everyone was espousing the accuracy of the Ruger Precision Rifle with almost every review centering on the 6.5 Creedmoor round. The 6.5 CM is known for insane levels of accuracy in any rifle, so I was skeptical that maybe all the glowing remarks would not carry over into a more traditional round such as the 308 or 243.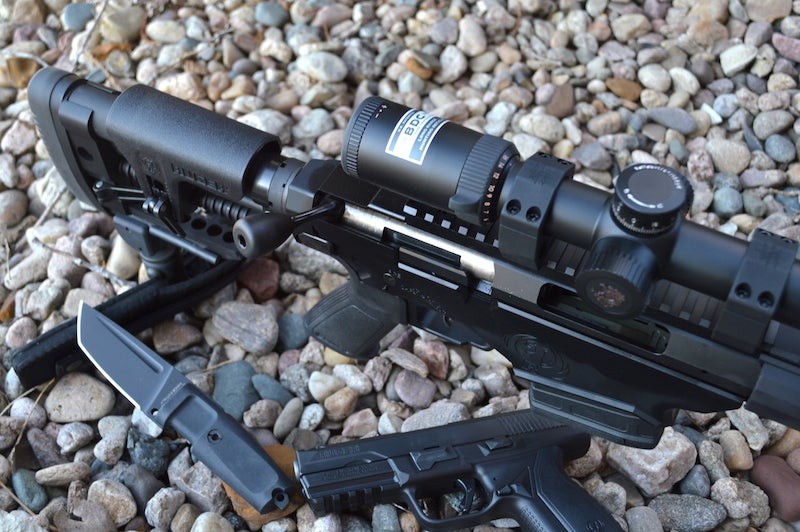 Not seeing a single 308 review of the rifle, I considered it my duty to get one ordered. When the rifle arrived, my first words were "Damn, Ruger nailed it on this rifle." The only other rifle which impressed me as much out of the box was the groundbreaking Tavor design. This new rifle was nothing like any Ruger I had seen before and is not your daddy's Ruger.
As much as I hate to agree with those writers who love everything, I will make the statement that the Ruger Precision Rifle is a competition-killer in the precision rifle market. After seeing, handling, shooting, and testing this rifle, it is that good. The Ruger Precision Rifle delivers it all in one package… and not just another package you'll need to upgrade later, but one which is arguably as good as or better than anything available aftermarket, right out of the box.
If I peer into my stable of precision rifles, I think of how the Howa 1500 series began to turn the heads of hardcore Remington 700 shooters. I have a factory barrel Howa 308 which can shoot sub-½" groups all day long with the right ammo, but I now have the action nestled into a XLR billet chassis and have upgraded to a Timney trigger. I have done the same to several Remington SPS 700s as well, and the net result is dropping about $1200-$1500 on a upgrades to make it as good as the Ruger Precision Rifle is right out of the box.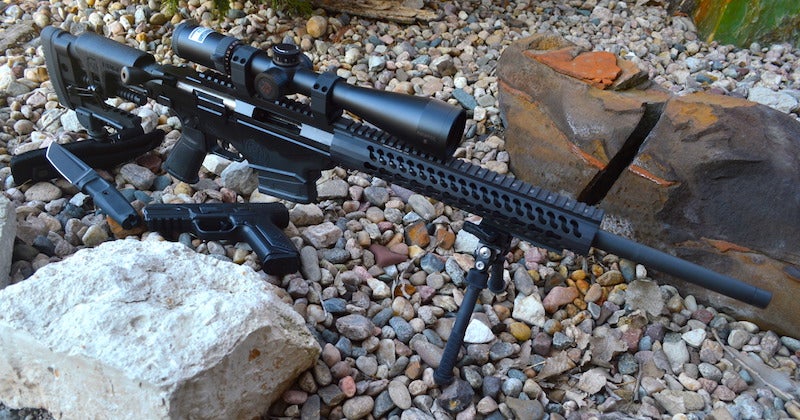 Precision rifles generally start in the $2000+ range, so most people plan to build a precision rifle from a Remington or Savage action knowing that in the end the receiver may be the only remaining stock part left on the gun. Around $600-$700 is spent on a base rifle, then the upgrades start with a $250 trigger, $1000 stock with box magazine, and $500 in action tuning and barrel re-crowning. A match barrel swap may also be done, which starts around $500 including install.
It does not stop there. Other must-have accessories include an extended bolt handle ($100-$150) and a 20 MOA scope base ($100) to give you more adjustment for longer shots. In the end, that $600 Remington 700 ends up being a $2700-$3200 rifle pretty easily, which makes off-the-shelf options start looking like great deals.
Remington has a similar offering as does Howa, but this offering from Ruger is fundamentally changing the entire price structure of the market with all the extras, right down to the match barrel, for $1399 MSRP. It is without question the best deal on the market and has been designed to be easy to upgrade should the desire strike you. Want a Timney trigger? Sure, drop that in–or any AR15-barrel-nut-compatible forend. Even the bolt handle can be swapped out easily.
Like many of the newer high accuracy Ruger rifles, the RPR (Ruger Precision Rifle) is made using new high tech machining capabilities, and you can tell. The all-around fit on the rifle is extremely good.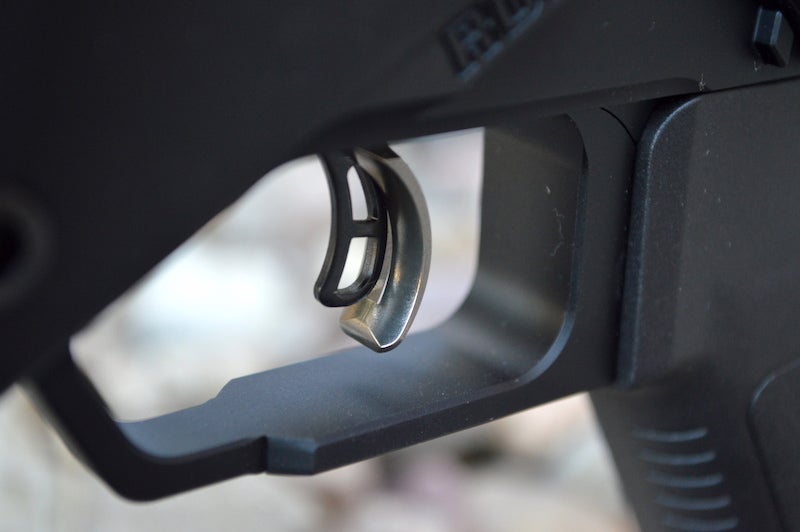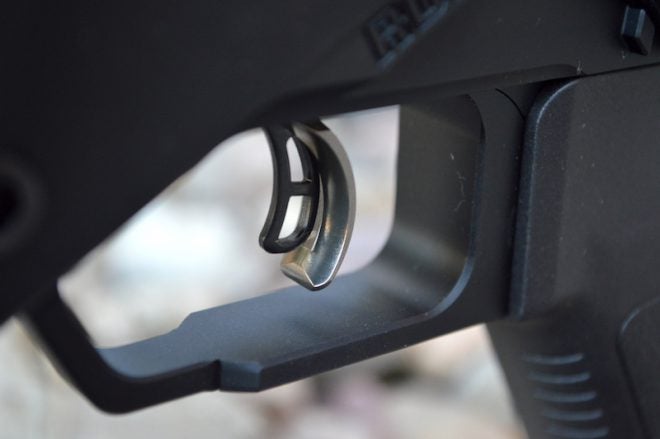 Out of the box, the Ruger RPR offers everything a precision shooter would want, including a really nice precision action, a threaded suppressor-ready barrel, a fully adjustable precision rifle stock with folding adapter included, an AICS and Magpul compatible magazine well, a really incredible trigger that gets people into arguments about whether it is worth upgrading, and a barrel which is arguably proving to be one of the most accurate factory barrels on the market.

At this point I have had time behind all the calibers with the exception of the 6mm Creedmoor version and all shoot outstanding and will produce sub-MOA groups. One of my more impressive 308 groups was a .3" 100-yard group.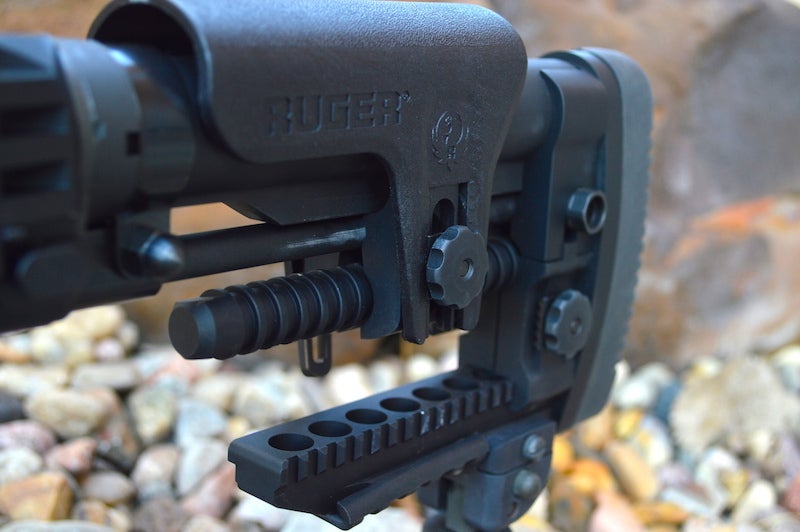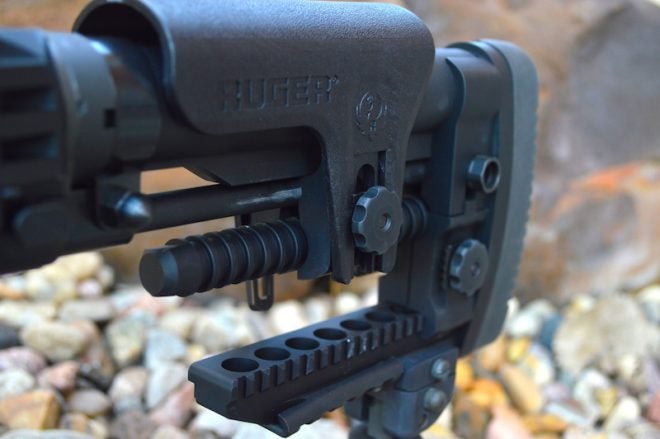 At least with the samples I shot, the Creedmoor and 308 chamberings seemed to be the most accurate. Every gun is of course unique and the 243 was still easily a sub-MOA gun. The stock geometry was well-thought-out and recoil was extremely forgiving once the stock was tuned to fit me.
With LR Magpul magazines, the RPR even has a last-round hold-open so you know when you gun is empty. The safety switch is a fast 45-degree AR15 style which is notably quicker than other safety styles The handguards are beautiful Samson Evolution models and can be swapped with any AR15 compatible handguard. The bolt disassembly tool is stored in a small compartment at the and of the bolt, and the scope base included is 20-MOA–all nice touches and upgrades for any shooter. The newer version of the RPR includes a few upgrades, including muzzle brake, metal bolt storage area, and different handguard.
Final Thoughts
The total Ruger Precision Rifle package adds up to a gun which shoots extremely well, is stunningly accurate for the price and is loaded with pretty much everything you could want in a precision rifle for far less than any other offering on the market. Ruger is simply an amazing gun for the price. Now where is my .223 and 10/22 variants?
Manufacturer Specs
MODEL NUMBER: 18001 CALIBER: 308 WIN

Model No.18001

Caliber 308 Win

Cap.10

Stock Folding, Adjustable Length  of Pull  and Comb Height

Barrel Cold Hammer- Forged, 5R Rifling

Barrel Length 20.00"

Folded Length 30.60"

Overall Length 38.25" – 41.75"

Height7.30"

Width 3.30"

Weight 9.70 lbs.

Length  of Pull 12.00"- 15.50"

Twist1:10"

Sugg. Retail$1,399.00

Medium contour (.75" at the muzzle) barrel features 5/8"-24 threads. Thread protector installed.

Barrels can be easily replaced by a competent gunsmith using AR-style wrenches and headspace gauges.

Highly accurate Ruger cold hammer-forged 4140 chrome-moly steel barrel with 5R Rifling at minimum bore and groove dimensions, minimum headspace and centralized chamber.

Equipped with a Samson Evolution Keymod Handguard. May be configured with any AR-style handguard.

Magazine well front is contoured for a positive grip for bracing against shooting supports.

20 MOA Picatinny rail secured with four, #8-40 screws for increased long-range elevation capabilities.

'Lower' magazine well halves are precision machined from aerospace-grade 7075-T6 aluminum forging and are Type III hard coat anodized for maximum durability.

'Upper' receiver and one-piece bolt are precision CNC-machined from pre-hardened 4140 chrome-moly steel to minimize distortion.

Multi-Magazine Interface functions interchangeably with M110, SR-25, DPMS and Magpul®-style magazines and AICS magazines (works with some M14 magazines); two 10-round Magpul® PMAG® magazines included.

Three-lug bolt with 70° throw features dual cocking cams and a smooth-running, full diameter bolt body.

Ruger Marksman Adjustable™ trigger is externally adjustable with a Pull  Weight  range of 2.25 to 5.0 lbs.; wrench is stored in the bolt shroud.

Oversized bolt handle for positive bolt manipulation, with 5/16"-24 thread for easy replacement. Bolt disassembly tool is stored in the bolt shroud for easy striker channel cleaning.

In-line recoil path manages recoil directly from the rear of the receiver to the buttstock, not through a traditional bedding system, providing maximum accuracy potential.

Extended trigger-reach AR-style grip and 45° reversible safety selector. May be configured with any AR-style grip and selector.

Ruger® Precision MSR stock with QD sling attachment points features a bottom Picatinny rail and soft rubber buttpad. The left-folding stock hinge is attached to an AR-style buffer tube and accepts any AR-style stock.