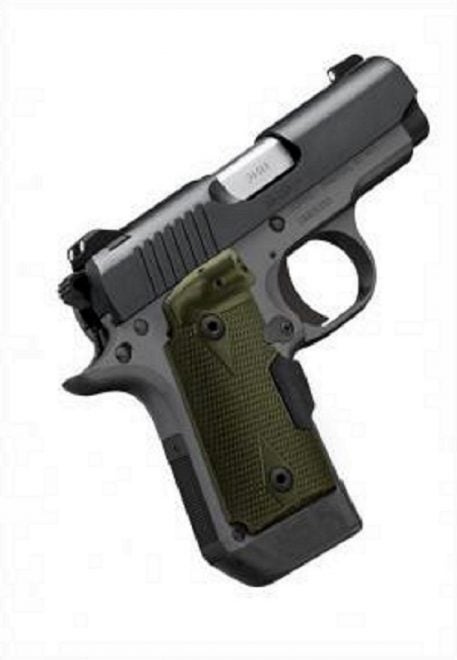 Kimber is the most prolific manufacturer of 1911 based pistols including several models of downsized versions. Their catalog alone is a daunting array of 1911 models, versions, finishes and features galore. The same is for their lines of smaller "micro" pistols, the Solo models, and now a .357 snub nosed revolver added to the offerings. This does not even touch their rifle line.
Kimber now has announced an expansion of their Micro and Micro 9 product lines which will include six new variations. The Micro and Micro 9 series is a premium mini-compact line designed and marketed specifically for concealed carry. These pistols are chambered in the growing popularity of the .380 ACP and the ever popular 9mm.
The newest Micro and Micro 9 pistols added to the Kimber stables includes the Micro Desert Tan, Micro Rose Gold, Micro 9 Rose Gold, Micro 9 Midnight, Micro 9 Desert Night and a Micro 9 in Woodland Night. All of these pistol models will be available at Kimber Master Dealers very soon.
The barrels on the Micro and Micro 9 models are precision machined from stainless steel. This provides extra guard against moisture and aids in cleaning ease. The frames are fabricated from high grade aluminum which retains integrity. The aluminum frames are known for their strength. All of these pistols come with a single action trigger that provides a smooth, short trigger pull for exceptional accuracy and shooting control.
Following the traditional 1911 platform format, the Micro and Micro 9 pistols have a thumb safety, slide release, and magazine release that are completely 1911 in design. Shooters familiar with the 1911 will be completely at home with these Kimber pistols in terms of controls and operation.
Further the Micro and Micro 9's have a lowered and flared ejection port to allow fired cases a jam free exit from the barrel chamber. The magazine wells are beveled like custom 1911s to permit the quick and effortless exchange of magazines. This is a special feature usually found only in top dollar custom guns.
Sights on these Kimber pistols are all steel, not plastic or a fiber infused synthetic material. Steel is good. The open rear sight is fitted into a machined dovetail in the slide. These sights feature a 3-dot configuration.
Kimber makes lots of guns with seemingly endless features and models. These new versions will surely become popular very quickly. Get yours now. See them at www.kimberamerica.com.