Giant Blue Marlin Caught in Gulf Off Pensacola
Bob McNally 07.04.17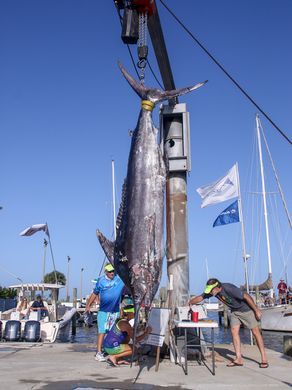 After a three-and-a-half-hour, exhausting fight Ben Arnold, of Pensacola, Fla., and the crew on Reel Addiction, hauled in gigantic blue marlin weighing 771.40 pounds, becoming the top catch of the 46th annual Pensacola International Billfish Tournament.
"It's a feeling you can't describe," said Arnold, 22, the next morning. "You have to live through it to describe it.
The fish earned him and the crew of Reel Addiction $10,000.
It took four men to lift the marlin out of the Gulf of Mexico into their boat. It was estimated to be35 years old.
"After I fought it for about an hour near the surface it dove down to the thermocline.
"It stayed there for about an hour or two … came up, then dove back down. All you can do really is not give an inch. I couldn't have done it without the crew. It's like one big family."
The Florida marlin record is 1,046 pounds. The world record Atlantic blue marlin was taken in 1992 in Brazil, weighing 1,402.2 pounds.