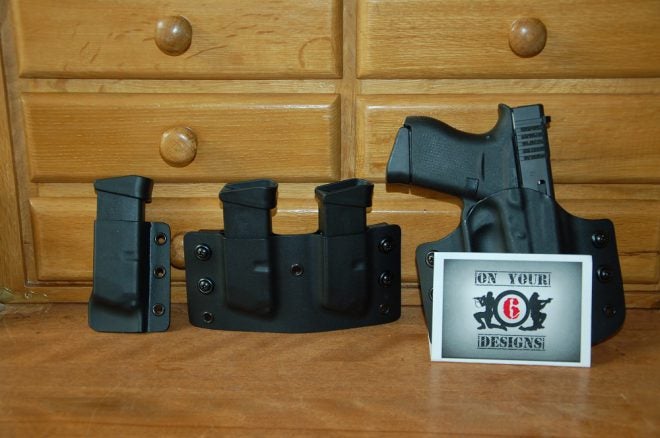 Some things are just made to go together. You don't mismatch battery types or even brands in any flashlight, you don't put different sizes or types of tires on a car, and you don't ever put ketchup on scrambled eggs. Sorry guys. Apples go with apples, and oranges go with oranges.
These same thinking strategies ought to be used when selecting carry rigs for your concealed carry pistol holster and extra magazine holders. It may seem advantageous in some ways to mix it up using one type or brand of holster and yet another completely different manufacturer for the magazine holder. Sure, this can work, but similar items made by the same source just tend to function together better.
Case in point are the IWB or OWB techno Kydex holsters molded to the exact gun model by On Your Six Designs out of Texas. Even their marketing motto goes along with their business strategy, "Specializing in custom concealed Kydex holsters for the everyday CHL carrier." If you check out their ordering web site, you will see immediately the style of carry holsters they make and the accessories that go with it. And the color choices will blow your mind.
On Your Six Design holsters are made to be custom matched to your particular pistol, and even the waist or belt attachments are heat treated to be in sync with the holster and the mode of carry. The same is true for their single or double magazine carry holders. They are designed to be used as a matching unit, but of course, either can be used effectively on their own.
In particular the magazine holders can be fashioned to hold your magazine with the bullets or mag facing forward on your waist, or to the rear or some might say backwards. Think about it and how you would draw a backup or replacement magazine. Try it yourself to see how the ergonomics work for you. If you holster right-handed, you might just discover that a rear facing magazine draws more smoothly for a quicker transition to the pistol's magazine well.
Certainly, there are other brands and systems of holsters and matching magazine holders available. I have just had personal experience with On Your Six Designs and find their quality, pistol fit, and customer service second to none as they say. However you carry concealed, try a matched holster and mag holder set for maximum reliability.