Review: Scent-a-Way Max Odorless Wash Towels
Russ Chastain 07.06.17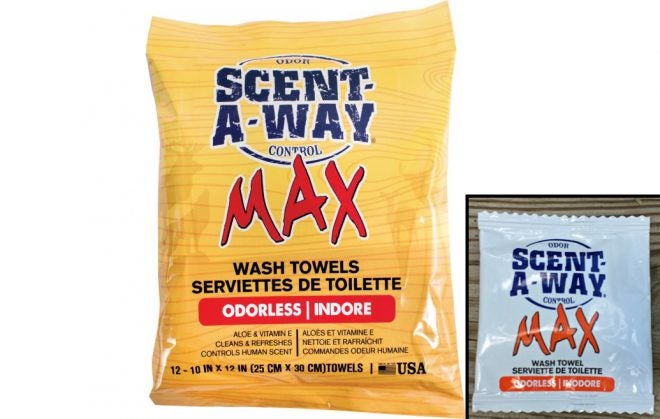 When you hunt in the southeastern USA, you often hunt in hot weather, which usually means sweat and lots of it. And when you're hunting deer, that's a problem because sweat makes you stink, therefore deer will be better able to detect your presence.
So when Scent-a-Way came out with Scent-a-Way Max Wash Towels, essentially a large pre-moistened towelette, I didn't waste any time getting my hands on some.


After getting to the deer stand on a hot day and being all sweated up, it was nice to tear open a packet–make that "cut open," because they are plenty tough–and wipe off my face, head, chest, and armpits with it.
It was refreshing, and refreshment isn't always easy to find on a hot day in the South. I felt better, but more importantly, I felt more confident in my hunt, knowing the scent-free wet wipe had helped eliminate much of my body odor.
I'll admit these fell by the wayside and I forgot about them, but the other day I needed just a quick touch-up on a hot day, so I dug one out and used it. It was just as good as new even though it was two years old.
During cooler hunts or camping trips in remote areas where water is scarce (and cold!), these are great for cleaning up until you can get back to a hot shower. I'm not a little fella by any means, and two of these will do the job.
Bottom line: These are good products. The ones I have are individually wrapped, but I don't see them available that way on the Hunters Specialties website. It looks like they've changed the name to "field wipes" rather than "wash towels," so bear that in mind while shopping for them, but Cabela's still lists them as towels here.
Happy hunting!