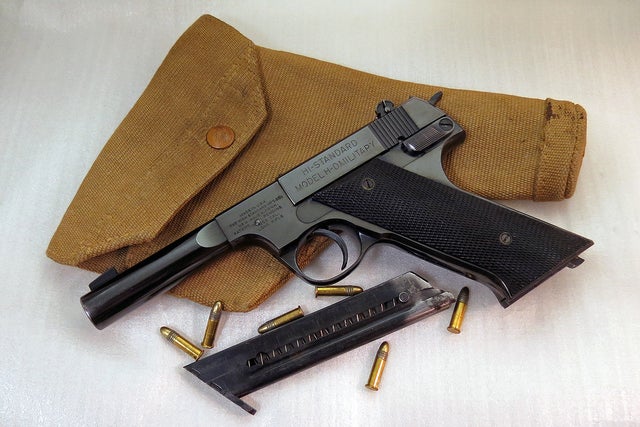 Colt 1911 Government Model and Lightweight Stainless Commander SAO 45 ACP Pistols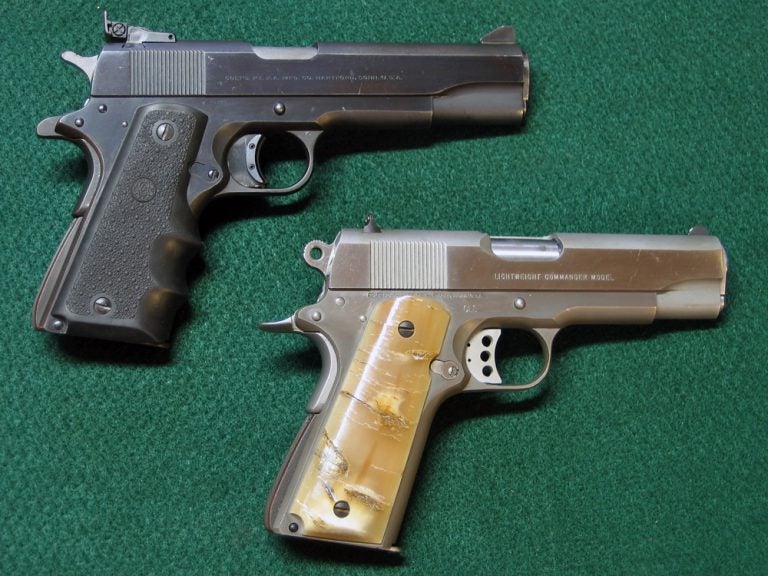 To many, only a full-size Colt Government Model qualifies as a 1911, but these days it applies generically to just about any gun that's built in a similar style.
There's no reason to review the 1911's history here, so instead let's just take a quick look at these two. The one above is a "sure-nuff" Government Model 1911 which my father had accurized many years ago, and it's wearing large adjustable target sights and a trigger shoe. It's a fine-shooting old handgun, and Dad really enjoyed shooting it… especially with the nice finger-groove Hogue grips shown here. It's accurate and reliable — even with handloads using cast bullets.
Below it is a rare-ish version designated the Lightweight Stainless Commander. I never did find this particular model listed in any blue book, try as I might, back when I owned it. I bought this pistol long ago, when I just had to have a Colt 1911. It wasn't the best choice; although it carried well (the Commander has a shorter frame, barrel, and slide — and this one has a lightweight frame) and felt great in my hands, it never was very reliable with defense ammo.
The handmade grips it's wearing were made by Vu Kim Son in Vietnam, and they're pretty sweet. I see some 1911 grips currently offered on his eBay store–not cheap, but there's the option to make an offer.
In my opinion, a 1911 is a must-have for anyone who likes pistols.
Hi-Standard Model H-D Military SAO 22 LR Pistol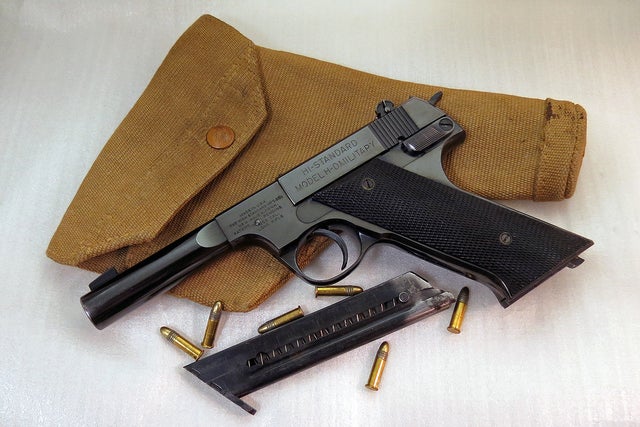 High Standard was founded in the 1920s to manufacture barrel-making tools, and in 1932 they began making semi-automatic 22 rimfire pistols, slowly refining the design until they'd created an accurate and affordable quality pistol.
During World War 2, there was of course increased demand for guns with which to train new recruits — and rimfire ammo is cheaper and lighter-recoiling than 45 ACP — so the U.S. government bought many High Standard pistols for training purposes. After the war, former soldiers remembered those sweet little guns and the Model H-D Military became popular with the American public (this model was not made for government use, despite the "military" moniker).
Before it was over, roughly 150,000 of these handy little poppers were produced ~ 1945-1950, at which time it was replaced by newer High Standard models.
It's a good pistol which points well and feels great in the hand. Adjustable sights and bull barrel make it great for target shooting, even with the short 4.5″ barrel (6.75″ barrels were also available).
JP Sauer Model 38H 32 ACP SA/DA Pistol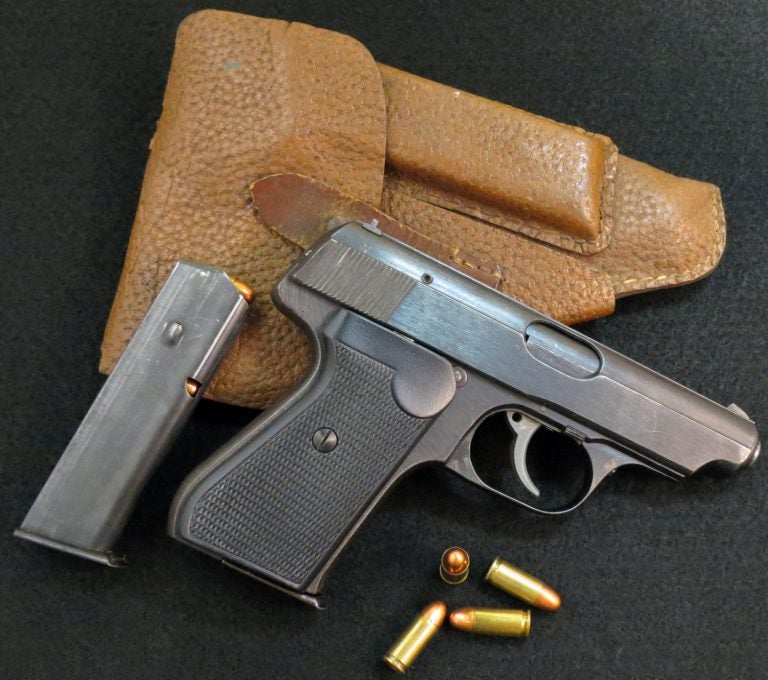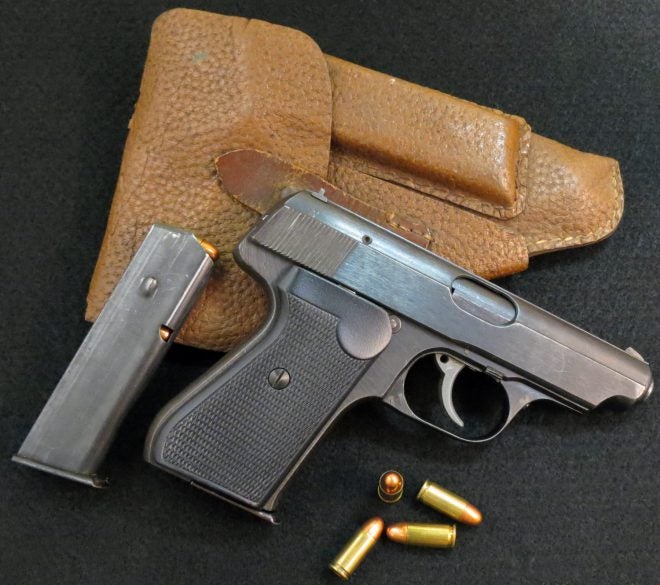 186 years after opening its doors as a gunmaking firm in Suhl, Germany, J.P. Sauer und Sohn came up with this handy little handgun, and introduced it one year later, in 1938. The 38H was hammer-fired, unlike their earlier striker-fired designs, and a short study of this old iron shows the "great new features" found on some of today's pistols aren't new at all. Among them: loaded chamber indicator, cock/decock lever, and a magazine disconnect (to prevent it from firing without a mag).
Most 38H pistols went straight into German military hands during WW2, and because Suhl happened to be on the wrong side of the Iron Curtain after the war, that was the end of that.
The 38H fits my hand well and points naturally. The single action trigger is creepy but passable… but double action sucks. After taking up trigger slack, a long and heavy pull must be completed before the hammer will fall. The small sights aren't super-easy to see, but they surely won't hang up on clothing when pulled from a pocket.
The one shown here was made late in the war, when German resources were stretched thin. The poor metal finish and crookedly-cut dovetail for the rear sight are proof of this, but it's still well-made, accurate, and reliable.
Walther P38 9mm SA/DA Pistol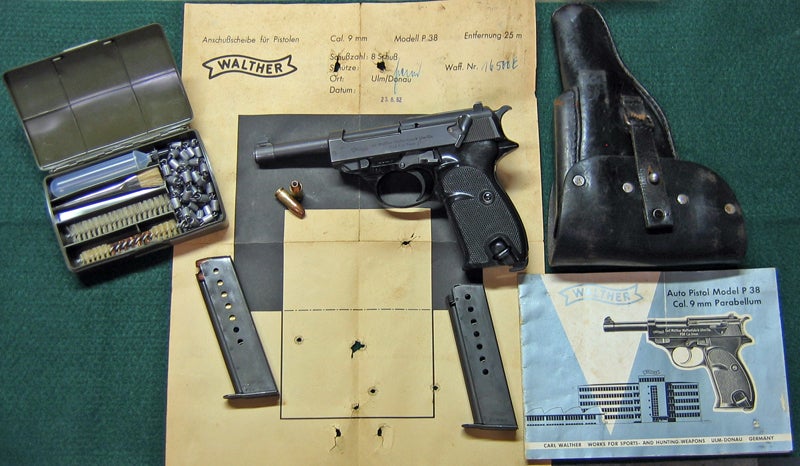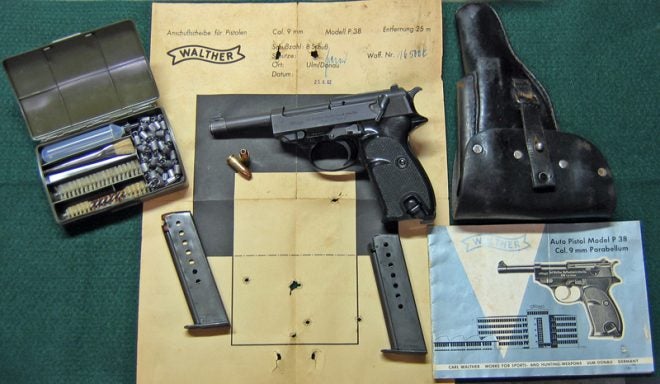 The first true double-action pistol in 9mm, the Walther P38 was and is a well-designed semi-auto handgun. Thanks to its location in Ulm, the company survived beyond the second world war, but for obvious reasons, German production of military firearms was ceased following the war. In the mid-1950s, P38 manufacture began anew, albeit with a few changes from the wartime versions. The one shown above is one of those, apparently made around 1960.
The P38 offers second-strike capability; so if a round fails to fire, all you need to do to is pull the trigger to try again. If the problem was a hard primer, that may be enough to fire the round. It also includes a loaded chamber indicator, and the sights are drift-adjustable for windage. The safety acts as a decocker — one of those unnerving types that drops the hammer instead of allowing you to ease it down gently (which is how Walther told folks to do it in the owner's manual, using your thumb or fingers).
It should be mentioned that repeated decockings, which allow the hammer to slam forward, can cause the firing pin to bypass the small shoulders on the safety drum, which will fire a chambered round… and if the magazine is full, a pistol with this defect may well go full-auto — which is decidedly unsafe. Handgun authority J.B. Wood (author of "Troubleshooting Your Handgun") even advised users to use both hands to lower the hammer "to be doubly safe."
Although a bit bulky by some standards, the P38 feels great in my hand and is a pretty good pistol… and has one advantage over many other semi-auto handguns: Even if the barrel becomes bulged, it can still function and fire reliably (try that with your beloved 1911). Single action trigger pull is a tad creepy, but not bad. And double action is nice and smooth.
Accuracy with mine was pretty good, and I recommend sticking to medium-strength loads at most. The P38 isn't known to digest a long-term diet of hot ammo very well.