Mossy Oak and Huk Performance Fishing Enter Partnership: ICAST 2017
Craig Ritchie 07.13.17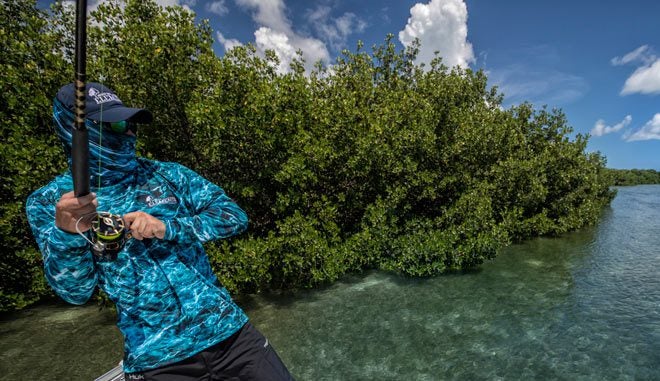 (Press Release) – Mossy Oak and Huk Performance Fishing will offer an all-new technologically advanced apparel line featuring Mossy Oak's newest and most unique generation of camouflage, Elements, which features patterns for the angling community.
The Elements line is designed not only for concealment, but also as a form of expression to represent the wearer's love for the outdoors. Regardless of the specific adventure, this all-encompassing outdoors lifestyle pattern family offers a relevant design pertaining to every region and every pursuit, whether on land or in water. Mossy Oak believes the most effective patterns are created from the natural world, and Elements holds to that by incorporating the most basic natural elements – earth, water and wind.
"Huk is a dynamic fishing apparel brand that knows the needs of anglers because the people that started Huk are hard-core outdoorsmen and women," said Ben Maki, Chief Marketing Officer of Mossy Oak. "Their products include innovative designs and industry leading technologies built by people who love the outdoors as much as we do here at Mossy Oak. We are excited about our new partnership with Huk featuring Elements."
In spring 2018, Mossy Oak Elements will be offered on a wide variety of product lines by Huk Performance Fishing. This includes the Performance Series Icon, Trophy, Ragland and Polo and its Outwear Series fleece, logo hoodie and packable rain gear. In addition, Mossy Oak Elements will be offered in boardshorts, gaiters and a line of ladies and youth Icon and boardshorts.
Mossy Oak and Huk are exhibiting the new Mossy Oak Elements camo at ICAST July 12-14, 2017 in Orlando, Fla. Kevin VanDam is also making appearances in the booth (#1469) as the Mossy Oak Fishing team leader.
For more information about Mossy Oak Elements, visit www.mossyoak.com.  Licensing information for Elements can be found at https://why.mossyoak.com/.