C-MAP and Fishbrain Partner to Produce Integrated Maps: ICAST 2017
Craig Ritchie 07.14.17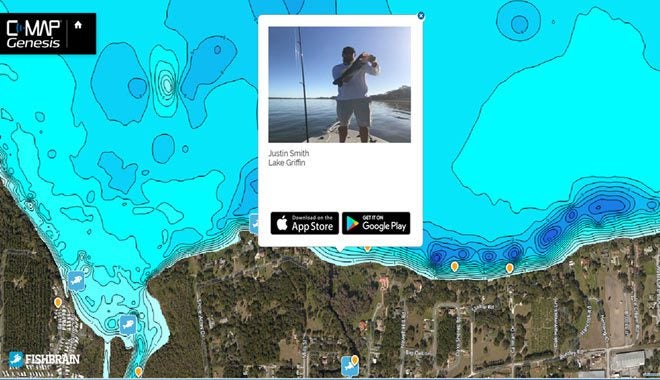 One of the most talked-about new products at ICAST isn't a product at all, but a new digital mapping service involving two fishing industry heavyweights. Digital map provider C-MAP announced at the show that it has partnered with fishing app and social network Fishbrain to share resources across their platforms. The new collaboration will give C-MAP Genesis Edge subscribers access to tens of thousands of public Fishbrain catch locations, viewable on C-MAP Genesis charts online, while Fishbrain Premium subscribers will be able to see waypoints and their GPS position overlaid on C-MAP Genesis maps, right on their smartphone.
Integrating Fishbrain catch locations into detailed C-MAP Genesis charts will allow anglers to better understand why fish were caught where they were, and use that knowledge to catch more and bigger fish in similar locations. The ability to see multiple catch-location waypoints overlaid on a C-MAP Genesis chart's one-foot contours, complete with bottom-hardness and submerged-vegetation layers, makes it easy to identify the depths, structure and cover that fish are using in any given body of water.
"Anglers choose C-MAP to get the most accurate mapping available, but there is a rapidly growing need for an all-inclusive mobile-app solution for the fishing segment," said C-MAP's Greg Konig. "We are excited to partner with Fishbrain to give them an added layer of fishing intelligence and the most comprehensive set of tools available."
"This new integration will take Fishbrain and C-MAP users' experience to the next level with the most accurate and detailed information on the places they fish," added Fishbrain CEO, Johan Attby. "By putting C-MAP's high-detail charts into our anglers' hands, we are furthering our commitment to make fishing more enjoyable and outings more productive than ever before."
C-MAP Genesis crowdsources sonar data from an ever-growing community of anglers and boaters into its Social Map online database, with free downloadable charts for a growing library of lakes and rivers worldwide. Its premium Genesis Edge service aggregates depth, bottom hardness and submerged vegetation data to give anglers the most detailed layouts of fish habitats available.
Fishbrain helps anglers find hot new fishing spots and see what other people are catching, where and with what bait. Embedding C-MAP Genesis contour charts into the app shows depth at current position, as well as proximity to fish-holding bottom structure like humps, holes, drop-offs, breaklines and turns.