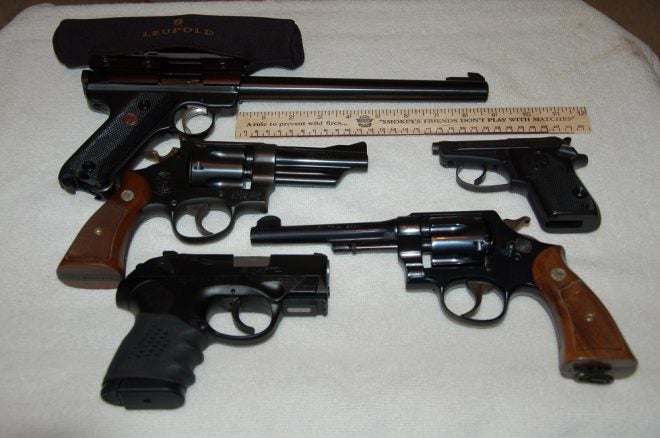 It's common practice for shotgun shooters to have their shotguns modified to fit them individually. This often includes changing the length of pull, the angle of the buttstock fit to the cheek, and other customizations so that the long gun fits their aiming posture precisely.
To a much lesser degree rifles are not often fitted. Sure a scope mount might be raised or lowered to line up with shooter eyesight alignment. A recoil pad might be added or removed to adjust the length of pull of the off arm so the finger fits into the trigger guard, but not much else is ever done to fit a hunting rifle to the user.
Gun fit is all about making certain that the firearm is comfortable to handle, hold, and fire. Though few modifications can be done to properly fit a handgun, the "fit" comes in the actual selection of the firearm. Handgun grips can be changed out and this can help. Replacing hard wood or synthetic grip panels with a soft rubber type can aid in better grip and handling.
I see this dilemma when working gun shows all the time. Joking a bit, but a big husky husband tries to pick out a pistol for his tiny wife. Her little hand can hardly fit around the grip of a Smith Governor, a 1911, or say a Beretta 92 sized handgun. There is little hope she will learn to shoot this gun very well. Before she ever loads it, she is scared to death of it.
When picking any handgun for personal defense it has to fit well, carry well, point naturally, and the trigger finger has to reach the trigger. This is about grip, grip type, angle, and the pointability of the firearm. Regardless of the caliber or model of gun you pick, make sure it fits your hand, palm, and grip.
You may have a pre-conceived notion of getting a 9mm, or a .380 ACP, 45 ACP or even a .38 Special, .44 Special, or a .357 Magnum. Regardless, after you settle on a caliber appropriate to your self-defense intentions, then shop for a pistol or revolver model that fits. Certainly there will be some flexibility for compromises so long as you can get a firm grasp on the grip.
Also, think about the size of the handgun relative to your body size. Few can handle a Smith Model 29 or likewise a tiny pocket pistol. Get a handgun that fits your grip.