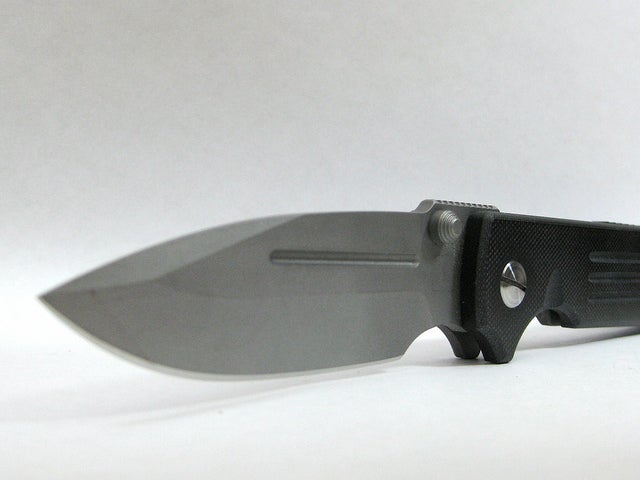 With this edition, we have arrived at a very important price point in the market–the Sebenza Barrier.  The Sebenza, from Chris Reeve Knives, is one of the most historically important production knives of the last 50 years.  It is also one of the most expensive. For many years, it was THE most expensive. In a market where the Delica and the Mini Grip were high end, the Sebenza was ludicrously expensive. Now there are whole brands where the product line is more expensive, but for many years, this was it.
And to a certain degree it still is. Getting a knife more expensive than this is a concerted effort and honestly, if a knife is even close to $300 (or more) it will always be compared, for better or worse, to the Sebenza.  Making a knife that is $300 but fails in a comparison to the Chris Reeve icon is just a bad idea.  After all–why bother when the Sebenza is so damn good.  Hence, the Sebenza Barrier.
In terms of knives for around $300, there are a ton of choices, so many that I believe is necessary to devote a whole article, just to the knife choice of this pair. In part this is because the mid-tech market and high end production market have expanded significantly. For example, two years ago Jon Graham did a run of small Razels and they were amazing–great quality decent materials and a good price ($350 table). That significantly alters the equation which used to be Sebenza and Strider. Now there are no fewer than five excellent options.
Spyderco Paramilitary 2 in S110V
This is the Ariel Atom of the bunch–the cheapest and most stripped down of the knives on this list, but like the Ariel Atom, it punches well above its price hanging with the big dogs with ease. This is thanks to great steel and an amazing, amazing design.
I think there is good reason to believe that this, not the Worker, the Delica, or the Caly3, is the finest Spyderco design ever, a lofty statement given Spyderco's impressive design history. No other knife carries so small yet is actually so big. It feels like a sub-3 inch folder thanks to the nested liners and impressively tapered full flat grind. You can with this thing all day long and ever feel like your using a meat clever to peel an apple, something that happens quite often with bigger knives.

SHOP NOW
Triple Aught Design Dauntless Mk. IV
Made for Triple Aught Design by Millett Knives, the
Dauntless
is a beautiful knife on paper, in person, and in hand. Its bold, simple shape and excellent design make it an outstanding folder. The fit and finish is crazy good and over the years and many iterations they have improved the design even more. For instance, they borrowed the hidden fasteners from the Fellhoelter custom Dauntless and put them on the production model, the only production knife, to my knowledge, that does so.
The steel, S35VN, is a great all around performer and the choil both provides control but doesn't compromise sharpenability (see…its possible Spyderco).
Chris Reeve Small Sebenza 21 Insingo CF
Like in the world of sports cars, high end production knives are marked with ever-more enhanced special editions. First there was the very awesome Sebenza. Then Chris Reeve and Knife Art partnered to make the Insingo blade shape, a modified wharncliffe. Then they paired up again for a carbon fiber version. The end result is, in my opinion, one of the finest knives made and certainly the most desireable version of an already awesome knife. The loss of an ounce of weight and the S35VN steel makes this one of best knives around, regardless of price. Its hard to beat the hydraulic feel of the Sebenza's pivot and the lockbar falling into place.  This knife is an exclusive to Knife Art.  You can find it here.
Benchmade Mini Griptillian 555-1
Speaking of an enhanced special edition of an already great knife, the 555-1
Mini Grip
is one awesome EDC. Taking the thumb hole of the HG Mini Grip and setting into a blade of 20CV is a great thing. The new deep carry pocket clip is also very nice. Some people complained about the FRN handles of the original Mini Grip, so Benchmade used blue and gray G10 on the handle of the 555-1. The result is a great knife, probably the best Benchmade ever made. Given their history of insanely solid designs that's impressive. If you don't have strong preferences in knives and just want something that works well, looks good, and is easy to use, the 555-1 is the clear choice. Its clever design also crams a surprising amount of edge into a relatively small package. It has the same cutting edge as a Delica in a much smaller form factor.
GEC Tom's Choice Barlow
Did you hear the needle scratch sound effect in your head when you read that? You should have. After four solidly "modern" knives, seeing this on the list is probably as surprising as seeing a lion in the zebra enclosure at the zoo.
Truth be told, this is not my favorite traditional, that would be the Canal Street Cutlery Boy's Knife, which is out of production because Canal Street Cutlery itself is out of production. But, among the choices we have, this is probably the best traditional out there and very fine example of what cutlery can be in this day and age.
The 1095 steel is something people either love or hate, but no one, positively no one, could hate the fit and finish here. It is beyond exemplary. And you get that traditional Barlow handle and blade shape. Its well less than $300 street, but they sell out so fast, getting one for that amount is damn near impossible. On the secondary market, expect to pay around $200 for this knife. Even at that price, it is a good deal. You'll swear its handmade (because it mostly is).
Leatherman Charge TTi
I am not a huge fan of these toolbox replacement class multitools, but the TTi is definitely my favorite. Furthermore, if you get all of the accessories you can have a tool that rides on your belt that does almost everything but hammering. The micro driver is really handy and while I am sure the Swiss Tool stuff is high quality, I still love the external knife blades on the Charge and Wave. Given the slight weight difference, I'd take the Charge TTi over any other Charge and over the Wave.
Conclusion
Among these five awesome knives, I'd probably opt for the Triple Aught Design Dauntless Mk. 4 if I were in the market for a big knife or the Chris Reeve Small Sebenza CF Insingo if I didn't want a big knife. That said any of these five are simply splendid choices for EDC. Each one would delight you every time you slide it into your pocket or pull it out to cut something. These are great knives and one of the reasons why carrying knives and following the knife world is a delight. No matter the choice you won't be disappointed.
SHOP NOW