Moultrie Deer Feeder Assembly and Setup
Kevin Felts 07.18.17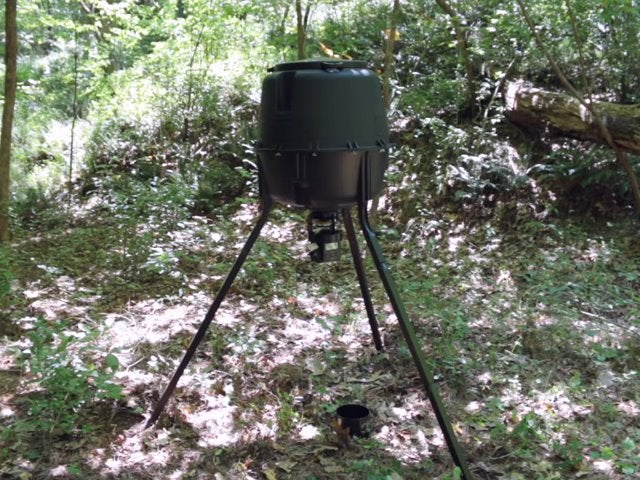 Hunting season starts in a few months. It is hard to believe we are already past the half-way mark for 2017. It seems like just a few weeks ago we were celebrating the start of 2017.
Some of us like to get an early start on hunting season. In the states at allow feeders, that means setting a feeder up.
One thing about starting early, it allows you to scout the area way before hunting season.  To me, there is more to it than setting up a feeder and filling it with corn.  I like to look for deer trails, watering holes, and food sources.
TWANGnBANG put together a video showing how to set up a Moultrie Deer Feeder Pro. For those people who do not want to take the time to build a metal feeder, this is a fast and easy alternative.
Specifications
From the Moultrie feeder web page.
Tapered design with 30-gallon capacity holds up to 200lbs.
Programmable digital timer; schedule up to 6 feedings a day.
Customize feed dispense time between 1–20 seconds.
Operates on one 6-volt battery (not included).
This appears to be a decent entry level feeder. I have used plastic feeders similar to the one in the video, and they usually last a couple of years.
The last plastic Moultrie feeder I had, wild pigs knocked it over and the plastic drum broke. This is in contrast to metal feeders that bend when knocked over. To fix the metal feeder, take a sledge hammer and beat it back round.
If you want a fast and easy feeder that you can take out of the box and set up, it would be difficult to beat these Moultrie feeders.  Take it out of the box, set it up, put the battery in, fill it with corn, and set the timer. That is about as easy as it gets.