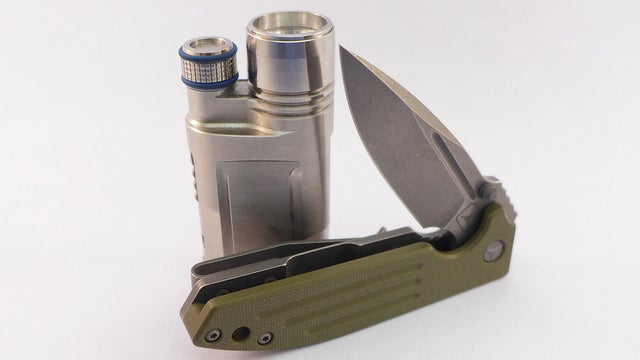 There is very little chance that sanity dwells here. The idea even to knife guys that you could pay more than $500 for a flashlight is a little bonkers.
One exceptional light that is no longer being made and is not available in any significant amount is the CoolFall Spy 007 and Tri-V. The machining and precision electronics in these lights are truly the best in the world. But there are few and they are so expensive I am not going to bother to recommend them.  If you have a chance though, pick one up and play with the potentiometer selector knob–it has the feel of an old 70s amp.
The Spy 007 typifies what you will find here–like with the knives these are truly insane pieces of kit.  Performance is guaranteed. Looks are striking. At this level of money you can demand machining perfection and quite often you will find it. A lot of these are call custom lights and while I agree they are hand built, in reality they are very small batch productions. None of these lights are made just for your preferences (well, one of them is). But if you are dropping half a grand on a flashlight you should be able to get whatever you want.
The flashlights that cost more than $300 are all pretty elite company. The BOSS 35 is still probably the best choice. Its great and none of the lights here are just flat out better. What you are getting is something unique.  Each of these lights is, in some way, remarkable–an elite performer.
McGizmo Haiku
It's old.  Its not that bright in terms of measured lumens.  Its kind of big.  But it is a jewel of machining, a sublime piece of pocket frosting, and has the best reflector (and as a result best beam pattern) in the world. Oh, and it looks like a lightsaber hilt.
The McGizmo Haiku is an amazing light even all these years later. If lumens are your bag, this is no where near the best light for you (that would be the BOSS 35). But measuring a flashlight by its lumens count is like measuring a bourbon by its proof. There is greatness here, so much so that even well after its 140 lumen high doesn't move the needle, the light is still a compelling package.
Barrel Flashlight Co. EDC
Okay, so their Kickstarter didn't make it. But what they did release was pretty intriguing. I put them in this price bracket because I don't know what they cost. The EDC started at $249 and went up. But the new model has a different emitter configuration and has to cost more. I just don't know what more is right now. It could be around five bills, but Barrel doesn't have a website (only a Facebook page) and the lights that are out there are all totally blinged out. It is hard to see these lights being cheap, but with user swappable parts and solid design choices, they look exciting.
Muyshondt Aeon, Mk. 3
If you want EDC perfection this is it.  Its small, it won't roll away, it looks good, its built like a battleship, and it runs forever.
I have owned this and its two predecessors, the Mk I. and Mk II. In the eight years I have owned and used these three lights I have replaced the battery once for each light. That is six batteries in 3 lights over an 8 year period. At some point you have to sit back and be in awe–Enrique tunes his emitters to the point where they will be outdated before the battery runs out of juice during normal and regular use. They aren't photon bombs by any stretch, but 160-200 lumens is pretty bright, especially when the color rendering is nearly perfect. The whole package is a dream
Prometheus Alpha
I had my hands on the original–the prototype, the one that Jason Hui built and carried for himself. It was amazing.  And the Alpha line has only expanded and improved since then.
There are the ready-made lights that clock in at $300, but everything beyond that is north of a half grand. The options are dazzling–a carbon fiber version, a hard use LEO/Mil version, and the most glorious of all–a true bespoke flashlight. You want it, Jason can make it. The guts of the light are great in the standard versions, but the Bespoke allows you to pick basically any LED available. And this can match any body tube material out there.  If you want a Hi CRI, Mokume Gane, with RGB secondary LEDs, it seems possible. And that is the thing–with the Alpha Bespoke just about anything is possible.
Conclusion
It's super hard to pick among these lights, especially because the Barrel Flashlight EDC is not readily or widely available (a similarly scarce light is the OKLuma DC1). For the money and in an EDC role you will be hard pressed to find a light better than Aeon Mk. 3. Its size, straightforward UI, pocket clip, runtimes, and decent brightness make it superb. I am often asked why this light is better than say, a Zebralight or an oLight S series and the answer is simple–runtimes. No production light comes close to the runtimes you get out a Muyshondt torch. Sure the S1R is 500 lumens brighter, but in an EDC role where you want to drop it in your pocket and head out the door, a light that works thoughtlessly is vastly more important than a light that can hit 550 lumens in an integrating sphere (real world lumens, especially with such a floody beam).
If you want a light you never need to think about, either in use or when you snag it as you leave, the Aeon Mk. 3 simply will not let you down. And for that, even with its low lumens count and high price tag, I think it is the clear winner in this category. You should be mindful though, that the cheaper BOSS 35 is every bit as good.  Its just not quite as good at sipping power from a battery.