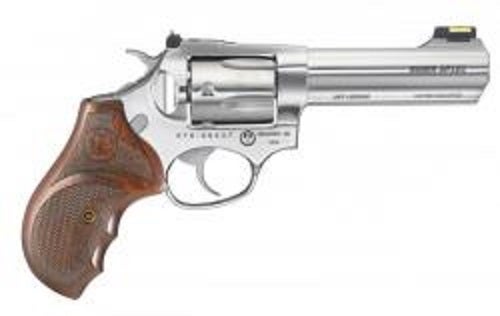 Ever the handgun innovator, Sturm, Ruger and Company out of Prescott, Arizona recently announced the production of their new Ruger SP101 Match Champion, double action revolver. In this day and age when it seems that semi-auto pistols are clearly dominating the landscape, it is refreshing to see new wheelguns come on the market.
The SP 101 is a five shot revolver chambered for the .357 Magnum, but of course, fully capable of busting caps on the .38 Special loads as well. The handgun's profile includes a handsome full lug, 4.2 inch barrel with an 11-degree target crown. This type of crown is a nice feature adding an extra measure of accuracy for competition shooting.
Ruger's SP101 Match Champion is manufactured of stainless steel with a gloss stainless finish. Its overall length is 9.12 inches with a weight of 30 ounces. It comes in with a retail price of $859.00. Check with the Gallery of Guns for in stock availability and shipped directly to a dealer in your immediate area for easy, simple FFL transfer.
This Match Champion handgun also comes from the factory with a tuned action. The grips made by Altamont are stippled hardwood with checkered sides. The rounded butt profile makes for a comfortable fit to tame the .357 Magnum recoil.
Additional features on this new revolver include a chamfered cylinder. The tune up includes polished springs, a polished hammer strut that combines with trigger and hammer centering shims to enhance the trigger pull for competitive shooting. Sights are fully adjustable at the rear and the front sight includes a fiber optic insert for easy sighting and target alignment. A polished trigger guard makes for smooth action shooting as well.
Everything about this Match Champion revolver speaks to engineering for precision competition shooting, but naturally that is not the only role this nice little package can handle. With .38 Special loads, it would be a nice range plinker and practice handgun. With full bore .357 ammunition, there is no reason the SP 101 could not see double action duty for personal defense, and even hunting at appropriate ranges for the .357 Magnum.
The Ruger SP 101 is a sweet new addition to the already immensely popular 101 handgun line up. With its mid-range barrel length and at only 1.8 pounds, it should handle well in all the tasks it is called upon to employ.