Watch: Trijicon TA11 3.5x ACOG Review
Kevin Felts 07.21.17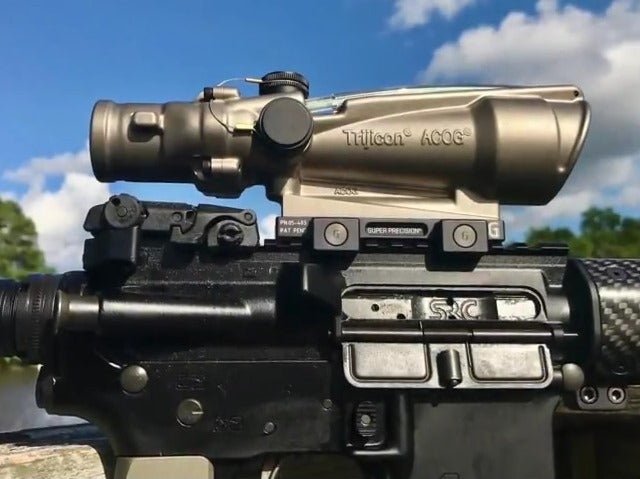 When the topic of high quality optics comes up, Trijicon is usually at the top of the list. Since being founded in 1981, Trijicon has developed a reputation for quality and durability.
In this case, Mrgunsngear does an excellent job of reviewing the Trijicon TA11.
From the TA11 web page,
Favored by competitive Shooters, the Trijicon ACOG TA11 model provides lightning fast target acquisition and superb optical clarity.

The donut-shaped ranging reticle will never mask the target and give the shooter pinpoint accuracy out to 800 meters. Daytime illumination is provided by fiber optics and Tritium illuminates the scopes at night.
Specifications
Magnification 1.5x
Objective Size (mm) 24mm
Bullet Drop Compensator No
Length (in) 5.8 in. / 147mm
Weight (oz) 6.3 oz. / 179.1g
Illumination Source Fiber Optics & Tritium
Reticle Pattern Triangle
Day Reticle Color Amber
Night Reticle Color Amber
Bindon Aiming Concept Yes
Eye Relief (in) 3.6 in. / 91.4mm
Exit Pupil (mm) 0.63 in. / 16.0mm
Field of View (Degrees) 4.9°
Field of View @ 100 yards (ft) 25.6 ft. / 8.6m
Adjustment @ 100 yards (clicks/in) 2 clicks/in
Housing Material Forged Aluminum
Now for the video.
I like the look of the "chevron" as Mrgunsngear calls it over the donut style optic.
On a personal not, Trijicon has always been one of the products on my "to buy" list, but I have never gotten around to buying one. The cost is the main reason why I have never bought Trijicon.  Sometimes you get what you pay for, that seems to be the case with Trijicon.