Country Concert Cancelled: Singer Wouldn't Give up His Gun
Russ Chastain 07.25.17

Country singer Jamey Johnson, veteran of the US Marine Corps, was slated to do a show at House of Blues Myrtle Beach (HOBMB) a couple days ago, but when HOB's management company Live Nation Entertainment refused to allow him to remain armed, he walked away.
HOBMB posted on their Facebook page, claiming it was about safety:
As always, the safety and security of our guests is our number one priority.
Tonight's artist refused to adhere to our safety and security guidelines and would not enter the building. Unfortunately, tonight's show is cancelled.

We regret any inconvenience to our guests. Refunds will be available at point of purchase tomorrow. Our box office will be open at 12PM for any purchases made at the venue.
In my opinion, if HOBMB and/or Live Nation truly cared about safety and security, they would encourage folks–especially performers–to arm themselves. Sadly, this is not the case.
I don't know Jamey Johnson's music but I certainly support his decision not to perform without the means to protect himself in a world that seems to grow more dangerous every day.


The band's drummer Tony Coleman posted on his own Facebook page, but when I tried to view the post it wouldn't load. Apparently it had been removed or blocked.
This is reportedly what he posted:
AS A MEMBER OF JAMEY'S BAND, HOUSE OF BLUES MANAGEMENT "LIVE NATION" WAS WRONG FOR HOW THEY TREATED THE SITUATION. JAMEY WAS READY TO GIVE AN AMAZING PERFORMANCE AS HE HAS DONE EVERY NIGHT SINCE THE YEAR AND 3 MONTHS I'VE BEEN IN HIS BAND. I STAND WITH HIM ON THIS. HOUSE OF BLUES DID'NT NEED TO TREAT US LIKE WE WERE TERRORIST. THEY PUT A MEDAL DETECTOR BETWEEN JAMEY'S BUSSES AND THE STAGE ENTRANCE AND THE ONLY PEOPLE COMING IN AND OUT OF HIS BUSES WAS US. HIS BAND AND CREW AND WE ALL HAVE LAMINATED STAGE IDENTIFICATION. WE DID NOT COME TO HOUSE OF BLUES TO BE TREATED LIKE WE ARE GOING TO KILL THE FANS. IF SOMEONE CAME BACKSTAGE TO HARM ANYBODY YOU BETTER PRAY THERE IS A JAMEY JOHNSON TYPE INDIVIDUAL AROUND.
I have to agree. In a world where people gain fame by attacking famous folks, it just makes sense for celebrities to arm themselves if they are comfortable doing so.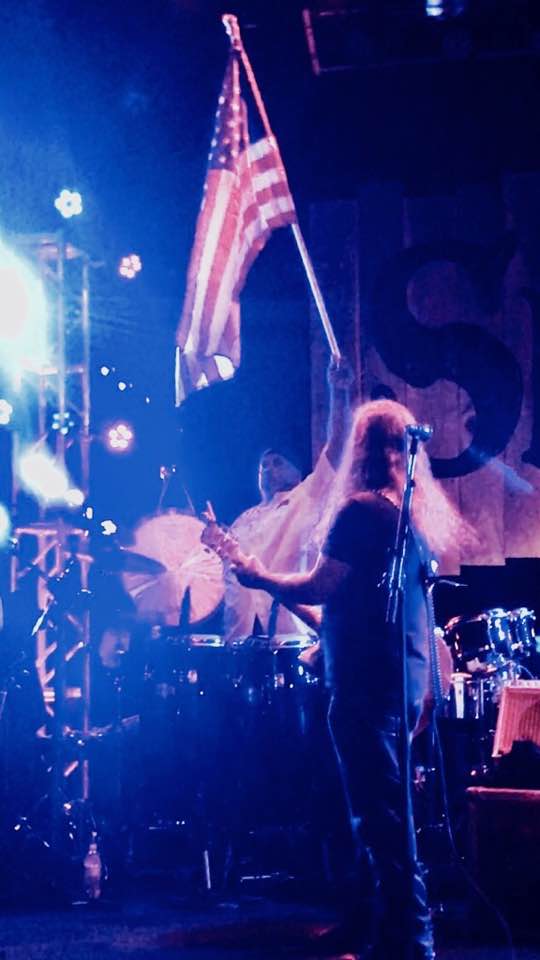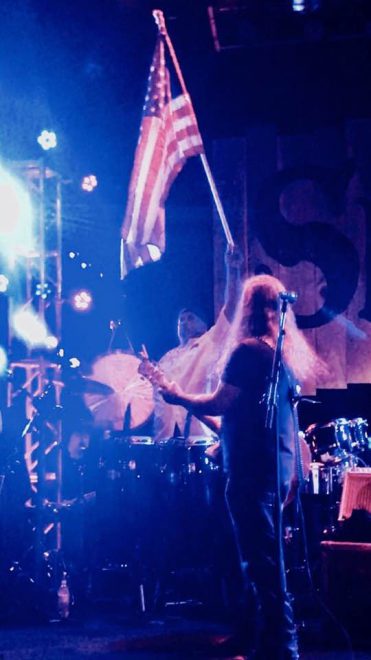 Coleman's Facebook page also features this photo of the drummer holding aloft the stars and stripes and captioned as follows:
Me and my brother Jamey Johnson. He served our country in the U.S. Marines and I served in the U.S. Army. God Bless America, United We Stand Divided We Fall. Home Of The Brave, Land Of The Free
Personally, I have been to a House of Blues exactly one time, and that was more than enough for me. This pretty much seals the deal that I won't darken their door again.
It does suck for the fans who were expecting to see the band perform, but IMO they should blame Live Nation and House of Blues rather than Jamey Johnson.
What's your take on it?