LAPD Chief "Warns of Apocalypse if National Concealed Carry Passes"
Russ Chastain 07.28.17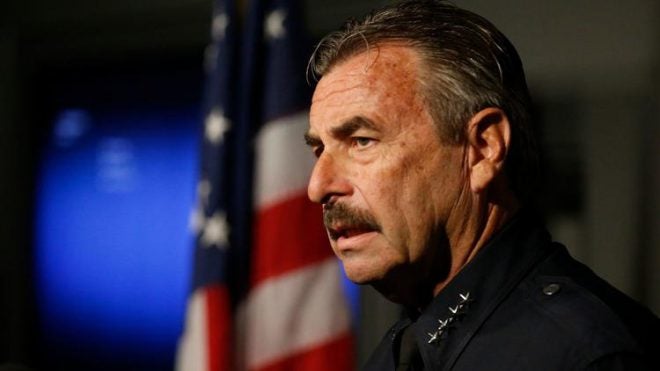 Sigh.
Just when you think we've spread enough pro-gun truth to educate folks, you see something like this. Namely, an article from Awr Hawkins in which Charlie Beck, the chief of police for Los Angeles, claims that more concealed firearms in the hands of citizens is dangerous for police.
Here's an excerpt from an op-ed which bears Beck's name:
The mere presence of more concealed weapons on California streets would make police work here much more hazardous.
He is, of course, incorrect. Concealed carriers help reduce crime–and most police officers support private gun ownership for self defense, as shown in a Pew study on the views of police vs. the general populace.
Police officers are considerably more likely than the general public to say it is more important to protect the rights of Americans to own guns than it is to control gun ownership (74% of officers vs. 53% of the public).
Oh, and the 28th Annual National Survey of Police Chiefs (2016) showed that 76% of the respondents acknowledge that "qualified, law-abiding armed citizens help law enforcement reduce violent criminal activity," and 86.4% said their departments "support nationwide recognition of state issued concealed weapon permits."
But the lies didn't stop there.
Beck suggested that national reciprocity would create an environment where anyone could carry and police would be powerless to stop them: 'If LAPD officers stopped someone with a loaded, concealed handgun, that person could claim to live in a state where permits weren't necessary, and the officers would be unable to confirm whether it was true.'
Of course, this is false:
Beck based that claim on the fact that U.S. Rep. Richard Hudson's (R-NC) national reciprocity legislation honors residents from permitless carry states as well as permitting states. But Beck's claim omits the fact that residents of a permitless state would have to prove their residence via government documentation — i.e., a driver's license or other valid government ID — before being able to carry legally without a permit.

A permitless concealed carrier visiting California from West Virginia would, in a traffic stop, have to verify his residency in West Virginia via government-issued documentation. **To suggest that anyone could claim residency in a permitless carry state and 'officers would be unable to confirm whether it is true' is incorrect.**
(emphasis added)
Perhaps Beck is simply worried that freedom may spread. He claimed:
Unbelievably, [Rep. Hudson's bill] would allow an individual denied a permit in California to cross the border to a more permissive state, obtain a permit there, then return to California — with a new right to carry here.
Tragedy! That a citizen could legally protect his or her life and family while living in California.
Hawkins observes:
It will mean that law-abiding residents denied a local carry permit because of the 'good cause' requirement could acquire one in other states where the right to bear arms is sufficient justification for bearing them.
That is certainly not a bad thing.