Gun Sales Drop Estimated 20 Percent 2016 – 2017
Kevin Felts 08.04.17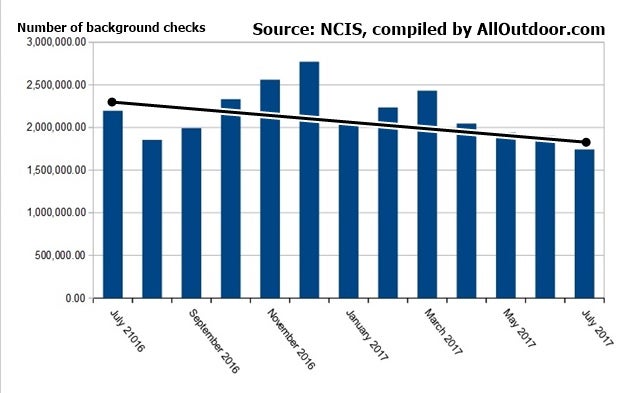 Every month the FBI releases information from the NICS Firearm Background Check system. The numbers represent the number of background checks performed before a firearm was purchased. While the numbers do not represent the actual number of firearms bought, they provide a rough estimate.
Background checks are usually performed when the sale is ready to be completed. Some purchases are denied for various reasons. So, the number of firearms bought through a licensed dealer is slightly lower than the number of background checks performed.
However, unless required by a certain State, background checks are not performed on person-to-person sales.  So, there is no way to know the number of private, person-to-person sales.
Numbers from the NCIS background check system:
July 2016 – 2,197,169 background checks
July 2017 – 1,742,546 background checks.
That is a difference of 20.69 percent.
Source – NICS Firearm Checks: Month/Year.
The drop in gun sales have hurt manufacturers. Ruger recently reported a nine percent drop in their stock value.
Ray of Sunlight
Even though sales are down and everything seems doom and gloom, there is some good news. Background checks for gun purchases are up 130% from July 2007 to July 2017.
July 2007 – 757,884 background checks.
July 2017 – 1,742,546 background checks.
That is a 129.92 percent increase in the a decade. Let's go ahead and round that up to 130%
While Obama was President, gun companies got use to record sales. 2016 set a record with 27,538,673 background checks.
President Trump has declared himself a friend of the NRA to gun owners and there is almost no panic buying. The market is awash with firearms, parts and ammunition. If you have ever wanted to purchase a certain firearm, now is the time to do it. This is truly a buyers market.