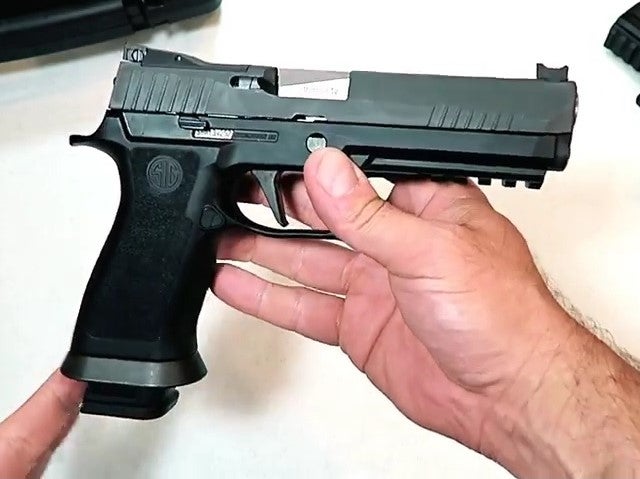 TheFireArmGuy has made another excellent video, this one is about the Sig Sauer P320 X-Five. The X-five is a full sized handgun with a five inch barrel that is marketed towards competition and range shooters.
Features
These features were listed in the video.
Adjustable blacked out rear sights.
Fiber optic front sight.
Flared magazine well.
Extended beaver tail.
Flat faced trigger.
Comes with four 21 round magazines.
Five inch match grade bull barrel.
Now for the video.
From the P320 X-Five web page.
The P320 X-Five 9mm incorporates all of the most important features to maximize accuracy, shootability and ergonomics while maintaining the modularity of the standard P320 platform.
On a personal note, I like it.  However, I wonder how the open slots in the slide affect reliability in dirty conditions? The Beretta 92f has an open slide design, but it is open all the way down the barrel.  With the 92f, dirt does not get trapped under the slide. Then again, the X-Five is marketed towards range shooters.
It would be nice if the X-Five were offered in 45acp.
In an era of compact and sub-compact handguns, it is nice to see a company releasing a full sized handgun.
TheFireArmGuy mentions the magazines from the X-Five will fit his other P320. It is about time gun companies, besides Glock, paid attention to magazine standardization. Sharing magazines between handguns is a big selling point.
It will be interesting to see how the Sig Sauer P320 X-Five when it gets on the range and goes head-to-head against other brand names.
Special thank you to TheFireArmGuy for another great video.