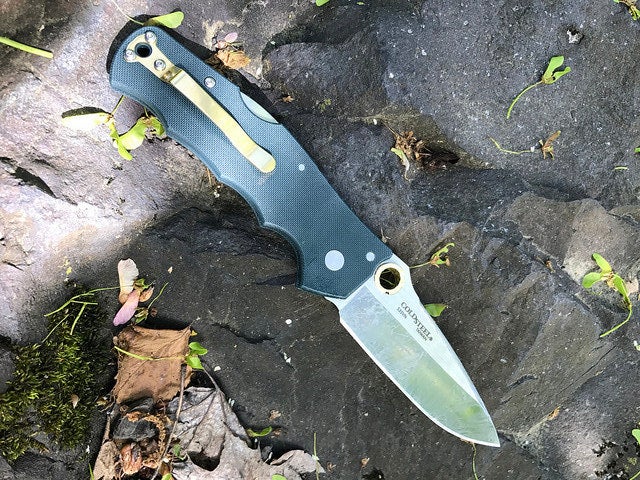 Cold Steel's advertising is either awesome or awesomely bad or both. For me, its grin-inducing, man-child destruction. But it's probably not the most informative stuff out there when it comes to actual knife performance. After all, I have yet to be attacked by a car hood. But separate and apart from their advertising, which, if you get over yourself, you too may find it grin-inducing, is a line up of knives that gets better, more innovative, and competitive every year.
First, they roped in the amazing custom maker Andrew Demko. He brought with him, the familiar-but-different Tri-Ad lock. Then the next year, they announced a massive materials upgrade for their entire line of knives. Jumping from AUS-8 to CTS-XHP is the equivalent of going from a Ford Taurus to a McLaren P1. The top tier folders all got XHP, and their fixed blades now run the uber tough CPM 3V.   Even the entry level got new, better steel with some CTS-BD1. Cold Steel is running with the big dogs now.
In 2017 they debuted the HTR deployment system. HTR stands for "hollow thumb ramp." HTR combines a thumb hole with an angled thumb ramp. The end result is a unique and effective way to open a knife. Pause for a second and read that again. Some fifty thousand years after we invented an object as simple as a knife we are still making innovations. HTR is not without its drawbacks, but over, as implemented on the Golden Eye, it is exceptionally effective. So cool and an easy reason to love knives.
Description
The Cold Steel Golden Eye is a medium to large sized folder. It is more of the more expensive non-limited releases in the Cold Steel line up. It has an ambidextrous pocket clip, which is a rarity on Cold Steel folders. It has a linerless dark green G10 handle. The G10 texture is grippy, but not overly coarse–a significant upgrade from Cold Steel's older G10, which could easily function as sandpaper. (I am not speaking in hyperbole. My video review of the Espada XL shows that the G10 can, in fact, be used as sandpaper.)


The blade is made of S35Vn, a well-balanced powder metal steel. The knife, of course, runs the Demko-designed Tri-Ad lock. The Tri-Ad lock works like a lockback but thanks to a stop pin, it is more robust and is self adjusting with wear and use. The handle has a series of gentle finger scallops and there is a half-and-half finger choil allowing you to choke up for more precise and controlled cuts. The blade is a drop point. The knife is exceptionally thin, but quite long and very tall.
Testing
I received this knife just as spring was transitioning into summer. There was a tremendous amount of vegetation near one of my favorite stomping grounds with my two boys–an abandoned railroad line. As such, I took the Golden Eye down by the river and did the jackass thing and cut down a ton of greens. I also used the knife in food prep, in breaking down boxes, and in the workshop. I basically used it without concern for the task, though, as always I do not use folders for batonning or prying, though, having seen how well built the Golden Eye was, I don't think I would have hurt it, if I did these things with it. That said, I don't recommend doing those things.
Design
The Golden Eye is, in many ways, one of the final steps in the evolution of Cold Steel from bulky brute knives into something with real cutting performance. Demko's influence on the brand has been very good and the design of the Golden Eye proves it. This knife is thin, runs a hollow grind, and is good in the hand. All of these things are different from Cold Steel folders of a decade ago and all of these things make the current iterations from Cold Steel really great knives.
SHOP NOW
The HTR bears special mention. I was worried that the angled thumb stud would be, well, painful. I have had two knives in the past with an angled thumb stud–the Kershaw
Speedform II
and the AG Russell Acies II. Both were made by Kershaw and both were painful to open. Eventually they tore a hole in the tip of my thumb. Not good. Here the HTR is nowhere near as aggressive, but it is actually more effective. By hollowing out the thumb stud, the HTR system grabs a bit of the fat pad of your thumb and that, combined with a bit of toothiness on the steps of the thumb stud, give you a tremendous purchase on the blade. This is not a knife you can flick open, but I never failed to deploy the blade when I wanted to.
Implementation
There were a few snags in the Golden Eye, none of which make it a bad knife, but merely keep it from the lofty heights of another folder in this size and price bracket–the Spyderco Paramilitary 2.
First, the handle's finger scallops are distinctly unnecessary. Not only that, if you have slightly smaller or larger than average fingers, they just won't work for you. Second, as with many Tri-Ad locks this knife has a tremendously large gap between the rear tang of the blade when closed and the handle itself. This area tends to gather lint and dirt. On occasion it prevented the knife from locking up. Once I cleared the debris lock up was dead solid. Third, the HTR tends to be a gunk magnet. In food prep and vegetation cutting liquids and bits of material stuck inside the HTR and around it. A Q-Tip works well in cleaning out the center hole and a folded paper towel does well around the exterior.
Conclusion
All of these criticisms are little things. As built, this is one awesome knife, just a step below the truly great blades in this price and size bracket–the aforementioned Paramilitary 2 and the Benchmade 940.
The HTR really works. It is nice and the gunk magnet issue isn't the worst thing ever (a similar thing happens with thumb studs, but to a lesser degree). If you are a Cold Steel fan, this should be on your buy list. If you are looking for a knife this size, the Golden Eye is worth a look. I personally prefer the Paramilitary 2, but I can see how others would like the Golden Eye better (a beefier and most substantial tip). The difference in quality is small enough that preference is probably the only real deciding factor.
This is a pricey knife given the materials. Its not obscenely pricey (like an Al Mar Falcon is), but it is decidedly below par in terms of value in the current market. Also, I am not sure if S35VN is a better steel than CTS-XHP, despite Cold Steel's price premium associated with the former.
SHOP NOW