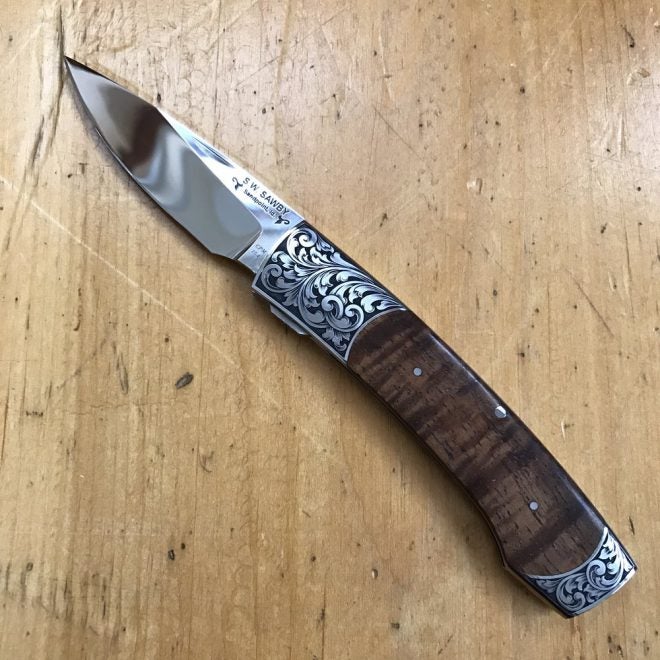 It is very hard to make recommendations for custom gear. Custom gear is, by definition, very personal. In some cases, the gear is truly bespoke, a unique design made for a specific individual. More likely though, a knifemaker and an flashlight maker will have models that can be altered or customized according to the customer's wishes.
One big factor in custom gear is cost. These items are exceptionally expensive, even at the low end. For a knife, expect a price around $500 for a folder and $200-250 for a small or medium sized fixed blade. For a flashlight, be prepared to pay $300 or up. In the knife world, there are two distinct tiers of knives. The upper tier of knives, occupied by some of the greatest knife makers alive, start at four figures and go up from there. The tier below that, sometimes referred to as "custom tacticals," are significantly cheaper and have simpler designs and less expensive materials.
Be careful about what constitutes a custom. The term has become muddled over the years. I don't want to get drawn in to a debate about what is and what isn't a custom knife. Here is the simple advice: figure out what the maker does on a given piece of gear and be okay with that before you buy. I have no idea what a midtech is. I have no idea where the line is between a high end production knife like a Sebenza and a custom knife with lots of batched or off the shelf parts. And frankly, it doesn't matter. When you buy a custom knife or light, the only definition that matters is yours and the only way you can have a meaningful definition is to know what is and isn't produced by the lawyer.
Finally, one other tip–never pay up front for a custom knife. Taking money up front has gotten many makers and customers in bad situations. Often it means that a maker is using one knife to pay for the next and if something happens they could fall behind and not have the resources to make your knife. Typically a custom maker will have a list of customers and once he or she reaches your name, they will ask for money. My experience has shown me that this is the safer way to buy a custom knife. Some makers have abandoned the list entirely, which means you basically buy what they make (further departing from the notion of a custom knife). There is one exception to this rule–if you have a knife request that incorporates truly rare materials (gems and gold, not Moku Ti) you should count on making a deposit.
Knife: Inexpensive Tier
Jesse Jarosz M75
There are a lot of knives in this inexpensive tier (which, of course, is a misnomer–everything here is around $500 or more). I have owned many and handled many more. A lot of them are nice. A few of them are half-baked designed that would never make it past Spyderco's design or QC department. But very few of these knives are both excellent users and excellent show pieces. I own a basically M75 and it is an amazing user. Cutting cardboard boxes, food, and doing fire prep is always a bit of delight to do with this knife. The size is not monstrous like many of this blade's peers. The handle is amazing and really the thing that sets this knife apart from the crowd. Jesse's sculpted handle is perfect in the hand and all of the small touches, like the cut out for the lockbar, are done incredibly well. All of these things lead to an amazing grind. Jesse drops a hollow grind that parts material with ease, despite being honed out of a relatively thick stock of AEB-L (a great working steel). This is a great knife and the cost, around $500-600, well below what many competitors cost. A basic M75 may not get you 10,000 likes on IG, but, after hours of use, you will get 10,000 likes from a great arm and hand.
Knife: Expensive Tier
Scott Sawby Swift/Ray Cover Engraving


This is much harder to suggest as I have no idea of how much money is at play. For me, I got lucky and got on a list a long time ago for a very well-regarded maker. I was on the list for five years. I put up $950. By the time by order came up, the price for my same knife was significantly more. Additionally, I opted to get my knife engraved and the engraving happened about a year later. This dispersed the costs a bit. In the end I got a knife that is worth quite a bit of money for significantly less. Be prepared to wait. Select someone with a good reputation (you are buying the maker more than the knife in the case of a knife this expensive). And start saving from the beginning.
Here was the final product after about five years of waiting and another year of looking for an engraver.
Light: Muyshondt Aeon Mk 3 Opus Edition
I have a light from Cool Fall. It is an amazing testament to the skill of the maker class out there. It is a bit bulky now, but it's refinement is matched only by high end audio gear. If I had the money, I would have Cool Fall make a new light, a little smaller and a little lighter. Sinner makes some very nice custom lights. But in the end, if price was no object, I could go to Muyshondt and have a light made. His Opus collection of Aeon Mk. 3s are all very impressive and quite beautiful. And the function is second to none. Finally, the battery life is all Muyshondt. As I have said before–you will probably run out of juice well after the emitter could be upgraded.
The land of truly custom gear is crazy. Price is not an issue. But be careful and research your maker thoroughly. If done right the stuff you get will be truly heirloom quality.