LifeCard: A Credit-Card-Sized (Kinda) 22 Pistol
Russ Chastain 08.09.17

Ever wished you had a teeny-tiny gun, which didn't look like a gun, which would fold up and fit into a small space? Well if so, you're in luck.
The LifeCard is all of the above, and is made by Trailblazer. Oh, and it's supposed to begin shipping within the next week or two.
'The last gun you'll leave behind.'

MSRP $399 / SHIPPING MID AUGUST 2017

Have your local gun dealer check with our distributors:
Ellett Brothers and Jerry's Sport Center
This scrawny folding gun will probably go bang, but it would suck for defense. It's the length and width of a credit card when it's folded up (though thicker, of course), which will make it awkward to deploy. It's a single-shot, so you only get to fire once before reloading. And, it's only a 22 rimfire.
Is it a neat idea? Sure it is–just like so many novelty guns we've seen over the years. But that doesn't make it useful in the real world.
There's a spec sheet available; here's a screen shot: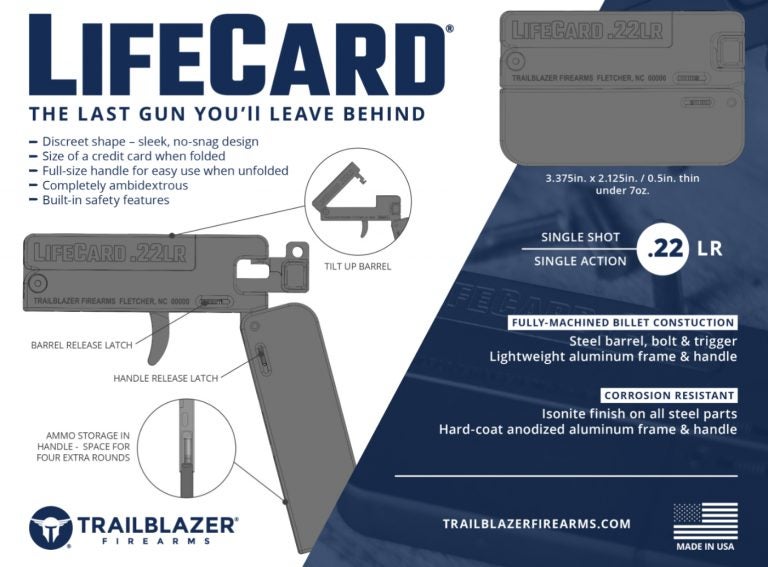 This appears to be the first product from the company, which has been around for a few years now.
Trailblazer Firearms, headquartered in Asheville, North Carolina, was founded in 2014 to design, develop, manufacture and market innovative American-made firearms.
In reviewing the LifeCard owner's manual, I see some of the "safety features" mentioned above. These include:
Half-cock position for the bolt.
A "trigger pocket" which prevents the gun from being cocked or fired when the handle is closed.
The handle cannot be closed fully if the pistol is cocked.
A "padlock hole" on the bolt can be used to prevent the gun from firing.
I do wish they'd called it a grip rather than a handle, but then again it's not exactly a typical firearm.
The lower half of the pistol is the handle and includes the latch mechanism for folding and unfolding the pistol. The upper half of the pistol is the frame and barrel assembly and contains the complete firing mechanism.
Here are some more images, from the owner's manual. It appears to be a neat little popper from an innovation standpoint, but for carrying? Not so much.
I don't think I need some of this. But perhaps you do…?