Hornady Critical Duty Ammo: My Pick for Personal Defense
Dr. John Woods 08.15.17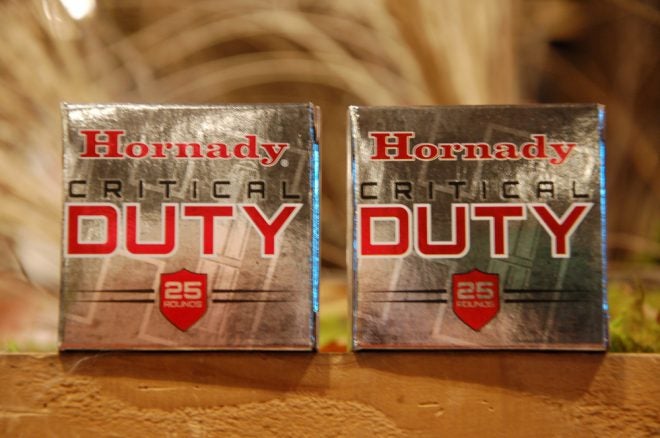 Inquiries are frequent about which type of ammo is best for personal defense. "Best" is a relative term and quite honestly there is are several proprietary defense loads now that have emerged from all of the major ammunition manufacturers. And "best" is a rather difficult thing to assess unless you compile lots of data about actual live confrontations in which somebody was shot.
However, one has to put their faith in something. Every time you load a revolver cylinder or a pistol magazine, then you certainly hope should you need to use it that the ammo will deliver its top most performance. In these cases, buying some off brand cheap ammo off the shelf is probably not where to put your trust.
One of the top self-defense ammunitions to pick is the Hornady Critical Duty. Why? For me, the reasons are because this ammo has been proven in FBI tactical handgun ammunition tests known as the FBI Protocol. This ammo testing procedure verifies the performance of this ammo as highly suitable for personal protection.
This ammo is loaded with Hornady's new Flexlock bullet which has been shown to deliver exceptional performance in terms of barrier penetration. This bullet is designed so that the bullet tip cavity will not clog with foreign material as it passes through barriers. The heavy duty jacket-to-core interlock band keeps the bullet from separating which results in maximum bullet weight retention. This is key to bullet effectiveness. The bullet fully expands delivering all of its power and terminal performance on the target. Thus this ammo is called Critical Duty.
Hornady's Critical Duty ammunition is available for the 9mm, 357 SIG, .357 Magnum, 40 S&W, 10mm auto, and the .45 ACP+P. As you can see, this ammo is loaded mostly for law enforcement type applications since that is their primary customer base, but civilians can purchase it as well.
If you are wondering about which ammo load to purchase to maximize your comfort level for a personal protection load, then this specialty Hornady ammo is certainly one worthy of consideration. It was created and designed specifically just to achieve that goal.
What do you carry? Federal HST? Speer Gold Dot?