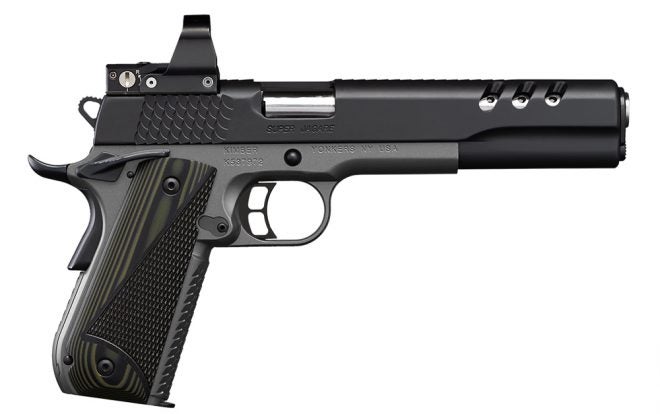 Hunting with a handgun has always been a challenge. I can remember the first white-tailed deer I brought down with a hand cannon was with a Ruger Redhawk in .44 Magnum. Just open sights and a firm grip. The shot was only about 50 yards, but the Redhawk did its job. That was way back in the early 80s.
Since then, many handgun manufacturers have gotten into the handgun hunting business both with revolvers, single shot handguns, and even semi-auto pistols. Among the first in the semi-auto category was the Desert Eagle series pistols in .44 Magnum. Others have followed suit with several popular models being offered in the 10mm Auto round.
Next up to bat with a 10mm pistol designed with hunting in mind is the new Kimber Super Jagare (German for hunter) model. This is a 1911-based model as are the majority of pistols made by Kimber. In fact, Kimber is the No. 1 manufacturer of 1911 type pistols in the world. The Jagare is just one more example of their innovative 1911 designs.
This Kimber 1911 has a 6-inch barrel instead of the usual 5-inch. It weighs 42 ounces empty, overall length of 9.7 inches, width of 1.28 inches, magazine capacity of 8 with an 18.5 pound rated recoil spring. The pistol's exterior treatment is "melted" in other words all the edges are smoothened out. It features an ambidextrous thumb safety, Super Carry pattern front strap checkering, and standard length guide rod.
The frame is stainless steel with a KimPro charcoal gray finish. The frame heel is rounded, with a high cut under the trigger guard. The slide is stainless steel with a Diamond-like carbon coating and a Super Carry pattern flat top. The slide is factory affixed with three ports on each side to direct gases out the top of the slide to help control recoil. Slide color is a darkened matte black to contrast with the frame.
The grips are a color matched Micarta with a half checkered front section as a gripping panel. The trigger is solid aluminum with a factory set release at 4-5 pounds. The hammer is a rounded affair with crosscut checking.
The factory sighting system is the Delta Point Pro Optic by Leupold. The sight is a red dot type sight that easily aligns to the target with precision accuracy. With the 10mm Auto on board, this new Kimber Jagare should be a fine hunting handgun package.