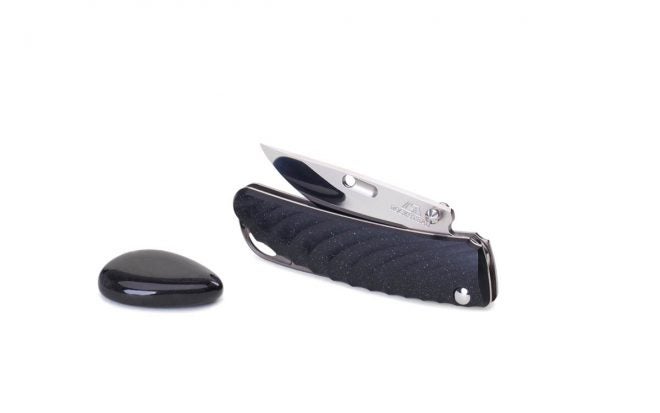 If you have followed the knife world for any amount of time, you have probably heard of Chris Reeve and his Sebenza. For most, that knife is the high end knife. But for those with blades in their blood, Rockstead represents the true high end–blending production and custom into a single line of knives.
Over the years, Rockstead has constantly dropped ever more crazy (and expensive) knives. They released a series of gorgeous in-house designs–the Higo and the Hizen. Then they collaborated with Dmitri Sinkevich. And now, they have released a new knife–the Nehan. But, like the previous Rockstead releases, the Nehan resets upper limit on production knives. This is a knife that will retail for $2,400.
If that didn't kill you dead or force you to instantly click the back button, hold on. The Nehan has two tricks, both possible only because Rcokstead can leverage its considerable machining skills on small batches of blades.
First, unlike many Rocksteads the Nehan runs a button lock. The button lock has a long difficult history. It is a remarkably easy lock to use and requires very little change in the appearance of a handle, but because its small surface area, it needs to be very, very carefully made. But if you have the skills that Rockstead does, a button lock can be made to its fullest potential.
Second, the Nehan runs a first for the knife industry. In a world filled with G10, micarta and occasionally stag, the Nehan's handle is made of marble. Its not the quarried-from-Italy kind of marble, but instead an artificial marble. Developed for countertops and other surfaces exposed to water (like bath tiles), artificial ("engineered") marble is a composite that uses natural marble that is crushed, heated, and pressed then joined with a small amount of resin to create a material that has the appearance of marble with none of the drawbacks. It won't take colors or stain as easily. It doesn't absorb water or moisture to the same extent that natural marble does. It is almost impervious to scratches. And finally, because it is man-made it is available in a wide variety of colors.
The Nehan's blade length is ideal for EDC, right around 2.8 inches, and the knife itself, despite the stone handles, is actually quite light, clocking in at just over 2 ounces (2.08 ounces, to be exact). Of course, you get the hallmark of all Rockstead knives–the gorgeous, deep polished convex zero edge grind. This is actually the second version of the Nehan, a Koji Hara design that was last made about a decade ago. The knife has no visible screws or pivots and lacks a pocket clip. Instead the knife is designed to be carried in a pocket sheath.
The new Nehan represents another plateau in production knife pricing. For a long time Rcoksteads were at the top of the market. Then Lionsteel released a TM-1 made from 3D printed Titanium. That cost about $1500 depending on exchange rates. With the Nehan from 2017, Rockstead recaptures the crown for most expensive production knife. And it is a blade packed with beauty and innovation, a knife only Rockstead could pull off this well.