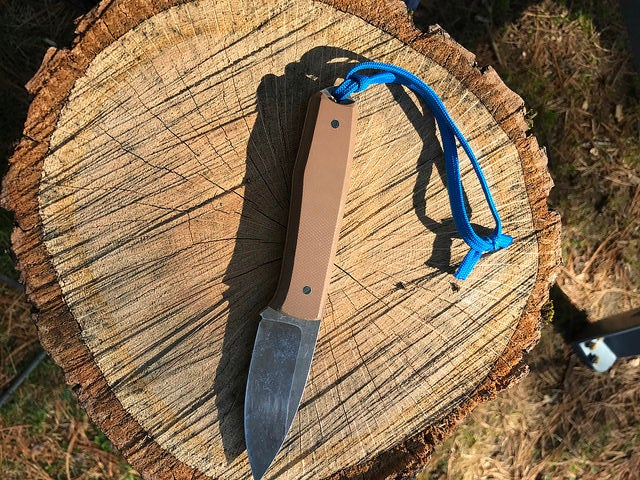 I feel like fixed blades are to knife knuts what Lucille is to Willie Nelson, that trusted, battered and beloved object. For me, my best friend in fixed knife form is my Jesse Jarosz JFS. It is three years old but over the years I have learned how to do so much with it, I can't really imagine not having it with me on a long hike or a camping trip. It is, in many ways, my ideal fixed blade. And the kit I have made around it has take a great knife and made it amazing.
The Knife
The JFS is a custom fixed blade made by Jesse Jarosz. He is a relatively new maker and about two years ago he switched from the burdensome book method of custom knifemaking to batches. Not only does this allow him to make more knives in the same time period, it also allows him to amortize costs over more blades. The end result is a lot of surprisingly inexpensive knives hitting the market at the same time.
My JFS has a 2.5 inch drop point blade with a 3.75 inch handle. The steel is one of my very favorite steels–AEB-L. In talking to a lot of custom makers, including the Living Legend Michael Walker, AEB-L ranks highly. Not only can it get very hard, hitting HRc 62, but it is, oddly enough, easy to sharpen. It also happens to be relatively stain resistant, a nod to its origins as a shaving razor steel, and not terribly costly.
In use, all of these things have proven to be true. I have stropped the JFS, sharpened it on a piece of flat sandstone and worked it on my current favorite sharpener, the Ken Onion Worksharp. The edge I can get on the knife is better than any other edge I have obtained. I almost feel like I am good at sharpening when I am honing the JFS.
In addition to a good steel Jesse gave my unit an "Acid Camo" wash. The result is a blade that looks like it has been on the bottom of the ocean for ten years. In reality it is as smooth as glass, but hides dings and scratches quite well. For a working knife, this finish is ideal. I never worry that I will damage the JFS. The pinned G10 handles are rounded and simple–very neutral and welcoming. I can use the knife as a drill, a slicer, or whittler with ease thanks to the great handles.
The Sheath
But a fixed blade knife, on its own, is just the start of a complete kit. I also had the JFS fitted for a custom kydex sheath by the skilled Bayou Custom Sheathes. He does excellent work, though availability is limited. After two weeks of fitting and processing, I got my JFS back with an excellent, snap shut sheath. Even when dangled upside down it doesn't audibly rattle, a good sign given that the sheath is about two and half years old.
I strongly prefer kydex to leather. I know leather can be just as snappy, but it takes a lot more to get it there. I also don't like the fact that leather cuts quite easily. Unless you are exceptionally careful, every leather sheath will develop nicks and cuts over time. My kydex sheath, but for the interior mouth, looks brand new despite being on about 750-1000 miles of hikes.
The sheath came with a Tek Lok, my preferred sheath attachment system. About every six months I switch from vertical carry to horizontal, or scout-style, carry. Most of the time I switch back to vertical because that is how I carry the knife on my pack, but a knife this small carried scout style can really disappear on your belt. Unlike big knives in vertical carry, this isn't a leg splint sheath.
The final touch for the kit is a "Shocking Blue" (their name, not mine) 550 uncored paracord lanyard. Not only does this give me a bit of piece of mind for the knife, but it also makes it very easy to spot should I put the blade down on ground. Nothing in nature is this color blue. I uncored the lanyard and heat sealed the ends both to make it look cleaner and also to make it thread through the lanyard hole easier.
The Skills
The JFS, like all good tools, has taught me how to do a lot. This was the first knife that I really got the hang of making feather sticks. I have a kit of dryer lint and a flint/steel combo for fires, but in a pinch a resin soaked piece of pine, blossomed out by a good slicer, can get a fire going for me.
The JFS also taught me how to debark wood. I found that the acute tip rode under the bark layer nicely and a good push could stripe off sheets. In particular, birch and maple come off nicely. The birch is fun to play with–my seven year old, having finished the My Side of the Mountain Trilogy, loves writing on it and it makes excellent tinder. Maple likewise makes great tinder, but the clean white wood that is left behind makes the best hiking sticks around.
Finally, the JFS's acute point and balanced profile allowed me to start the process of learning how to drill with a knife. I am always worried I am going to hit a knot and destroy the tip, but thus far that hasn't happened. I have been careful to select pine mostly. Here, the incredible handle comes in handy. Unlike most cutting tasks, the drill motion has a unique grip and a more complex handle shape would make it impossible to perform this task.
And while I have had other knives that can slice and do food prep, the JFS does all of this surprisingly well despite its thick stock. Jesse's skill with a grinder really does make a difference here. The knife's extra sharp tip is strong enough to handle the tasks I just mention and the edge is slicey without being brittle.
I love this kit, it is one of my most frequently carried piece of gear, and is permanently part of my hiking bag. It has also proven to me that if you invest time in your gear and it is good gear, you can get returns on your investment. It may not be as fun as buying a new knife every week, but really learning the ins and outs of a knife can make it do things you never thought possible.