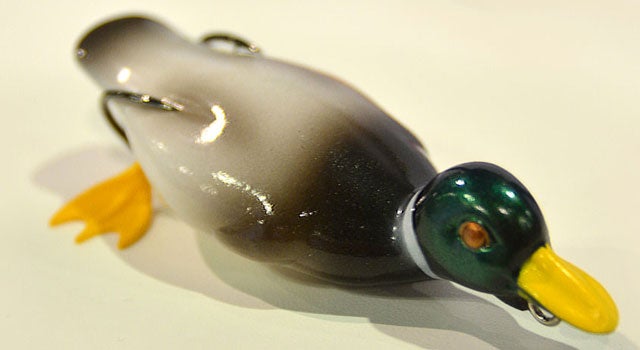 At this summer's ICAST Show in Orlando, there was no shortage of new bass baits on display. Here are our favorite new bass baits of 2018.
Berkley Juke
The Berkley Juke combines the rolling action of handcrafted wooden baits with the durability of synthetics. Designed with input from master angler David Fritts, the Juke casts like a bullet while delivering maximum action at all speeds on straight retrieves, twitching retrieves, high-speed burns or deep trolling. Available in a wide range of colors, the Juke is described by Fritts as a "dream bait." MSRP is $7.99.
Bobbin' Frog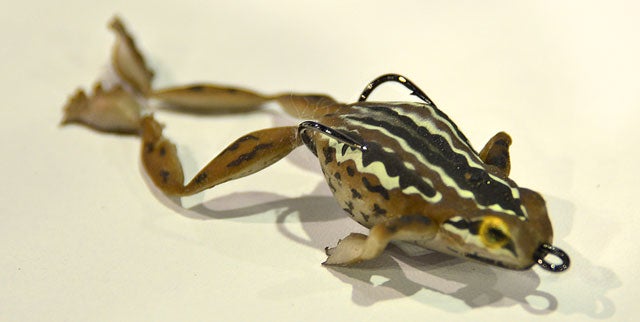 Designed to accurately mimic the appearance and action of a small frog making its way across the water surface, the Bobbin' Frog from Chasebaits Australia measures just 1.57 inches long, but attracts the attention of big fish with its natural bobbing action that looks just like a small frog pushing its way along. Natural kicking legs and paddling arms work together to accurately mimic a real frog's movements. The body material is super-tough and the weedless hook positioned to avoid fouling vegetation while still providing solid hooking power. MSRP is $6.29.
Booyah Flex II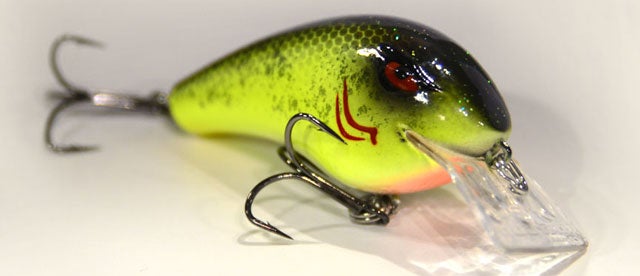 Pradco's Booyah Flex II is a one-piece, armored squarebill crankbait that's built to handle a lifetime of chewing. Foam-injected molding provides balsa-like buoyancy characteristics while yielding the durability of plastic. Weighing ½-ounce, it casts like a bullet and reaches depths of up to five feet. Twin EWG hooks and a built-in rattle chamber ensure this bait will bring the big ones aboard. MSRP is $9.99.
6th Sense Crush 100X
Described as a powerhouse among squarebill crankbaits, the Crush 100X from 6th Sense Lures dives from two to five feet deep with an erratic action that allows it to deflect harmlessly off a wide range of underwater cover. Its bulbous body design maximized buoyancy, making is deadly on stop-and-go retrieves. The 5/8-ounce bait comes in 10 finishes, and should be in stores by December. MSRP is $6.99.
Doomsday D-Hop 90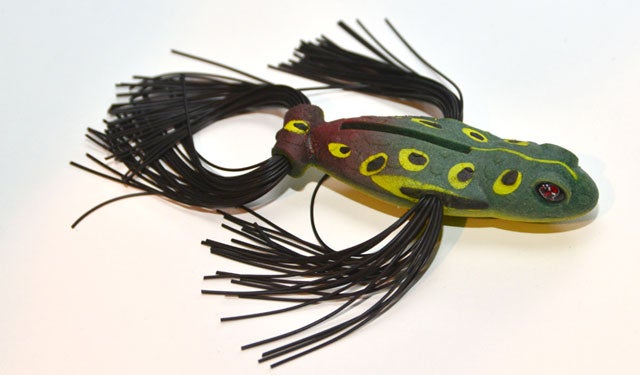 2017 may well go down as the year of the frog at ICAST, with frog baits more prominent than ever. Leading the charge is Doomsday tackle's new D-Hop 90. Made from DuraFoam, the D-Hop 90 can never be filled with water no matter how many pike chew on it. Soft and pliable, yet buoyant enough to float any hook the angler chooses to use, it offers an easy walking action supported by floppy legs for enhanced appeal. MSRP is $7.49.
Gary Yamamoto Neko Fat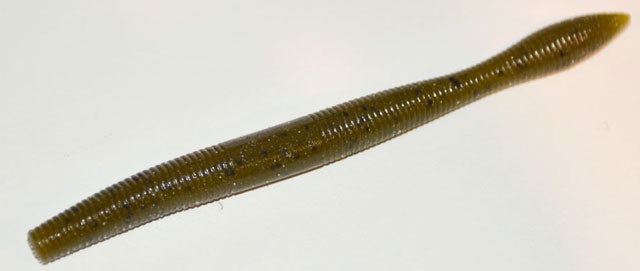 Gary Yamamoto Custom Baits has teamed up with Daiwa to create an exclusive soft plastic bait designed for the Neko-rig technique–a finesse presentation that uses a wacky-rigged soft bait with a nail weight inserted in one end to create a unique fall and a lively action on the bottom. Five inches long, the Neko Fat appeals to big fish with its chunky profile and natural feel. MSRP is $7.49.
Jenko Fishing Crappie Crank

The Jenko Crappie Crank is designed for big crappie, but some anglers are discovering it can be one of the deadliest big bass baits on the market. It's tiny two-inch size is the key, giving anglers an effective search bait that won't spook even the wariest, spookiest, most heavily pressured bass. Try using this bait after other anglers have worked an area over and get ready for a surprise. MSRP is $5.99.
Major Craft Zoner

A unique facial design gives the Zoner a lifelike action in the water, emulating a real bait fish and appealing to big bass. Endorsed by Don Iovino, the Zoner reaches depths of 3.5 to 6.5 feet on a steady retrieve, and comes in a choice of eight colors. MSRP is $9.99.
Molix SC Bug

The innovative Molix SC Bug generates micro-vibrations in the water that, combined with the hollow ball of a tail, excite predatory bass even in low visibility conditions. With an incredible swimming action, these baits can be Texas rigged, fished on a jig head, Carolina rigged, drop-shotted or fished with an insert weight, giving them tremendous versatility. MSRP is $8.49.
Raffal Jerk Bait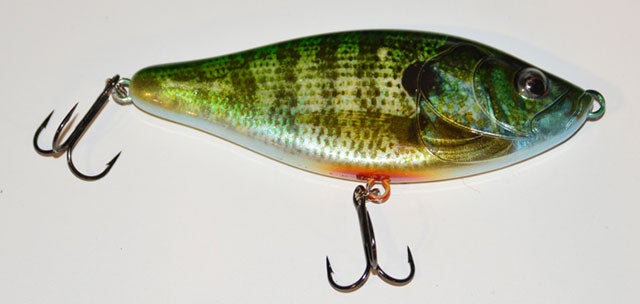 The Raffal from Biwaa Fishing Performance is an all-new jerk bait design built using a resin body for extreme durability, yet matching wooden baits in terms of performance. The Raffal delivers an erratic or gliding action depending on the retrieve, and shimmies enticingly as it falls on a slack line. Photorealistic finishes using Clone Tech – Capture Life technology give these baits an irresistible appearance. MSRP for the 4-inch model is $14.99, while the 6-inch Raffal is $17.99.
Salmo Rattlin' Hornet 5.5

The Rattlin' Hornet 5.5 from Salmo is an aggressive crankbait for anglers fishing or bass in open cover where fish could be anywhere. The Hornet features Salmo's Infinity Cast System (SICS) for exceptional casting range, even in strong winds, as well as an internal rattle chamber to call out big fish in low visibility conditions. Hand-crafted, each Hornet generates the pulsing vibration that have made these baits famous among anglers all over the world. MSRP is $10.99.
SPRO BBZ-1 Rat 25

SPRO is adding to its acclaimed BBZ-1 Rat family with the all-new BBZ-1 Rat 25. This downsized topwater bait produces a deep thumping sound when fished on a steady retrieve, or an erratic side-to-side action when fished in a stop-and-go. The Rat 25 measures 2.5 inches in length and weighs 5/16 ounce, making it usable with light baitcasting gear. It comes in all five BBZ-2 Rat colors, and includes a replacement tail section. MSRP is $19.95
Westin Danny Duck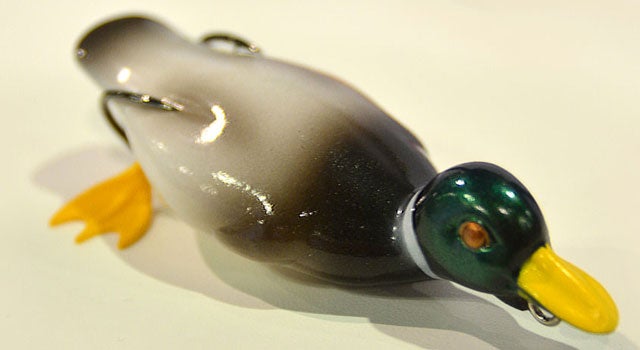 Westin's Danny Duck is a hollow-body surface bait designed to drive big bass crazy. Completely weedless, it's meant to be fished in heavy cover in a stop-and-go, twitching retrieve. A steady retrieve produces an enticing bubble trail that can draw punishing strikes. The soft hollow body collapses on the strike, providing a high percentage hookup ratio. MSRP is $11.99.
Yo-Zuri 3DR Series

Incorporating no less than 13 different styles from topwaters to suspending jerkbaits, Yo-Zuri's new 3DR Series baits all benefit from extremely realistic finishes that mimic top prey species across the US and Canada. Featuring black round bend nickel hooks and durable polycarbonate bodies, the 3DR series comes in six finishes per style, all of which should be in stores this fall. MSRP is $8.99.