Hands-on: Remington 870 Tac-14 in Marine Finish
Jon Stokes 08.29.17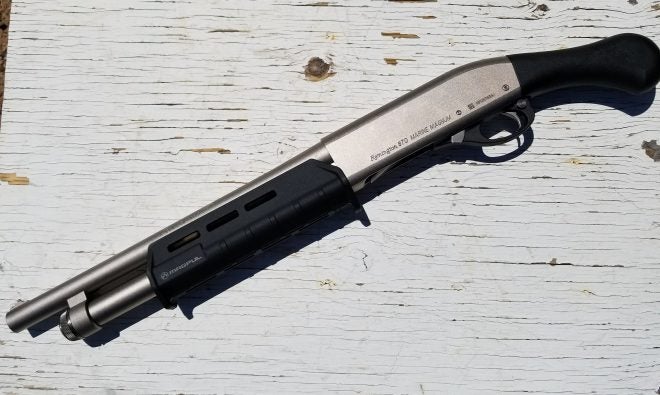 I'm out at Gunsite this week, and I've had the chance to shoot a lot of great guns and learn a ton. I'll be writing more about the event later this week and next, but for now I wanted to share this quick look at a gun that I had a blast running yesterday on the range.
The Tac-14 is Remington's answer to the Mossberg Shockwave—a short-barreled shotgun that has been blessed by the ATF and doesn't require an NFA stamp. (As always, check your local gun laws for legality in your state.) This particular model is coated inside and out with an electroless nickel finish that resists saltwater corrosion; all of the internals are coated, and the action cycles really smoothly.
As I say in the video, I have a Mossberg 590a1 Mariner that I really like, but I can tell you that the fit and finish on this Tac-14 is superior. I'm going to get one for review and do a side-by-side comparison.
I think this gun retails for about $450, but I'll double-check with Remington and update if I've got the price wrong. Edit: Update from Remington is that the price of $850 that the original version of this post had was correct. The finish more than doubles the price of this gun. I'll talk more about that in a future piece.
This would make a great truck or boat gun, because you can toss it into your vehicle and forget about it and not worry too much about corrosion. I'll also say that when it's run with Remington's soon-to-be-released managed recoil buckshot loads that are specially designed for the Tac-14, it's extremely manageable. Anyway, more on this when I get the gun and the loads in my hands for a real review.