Having a Stream at the Bug Out Location
Kevin Felts 08.31.17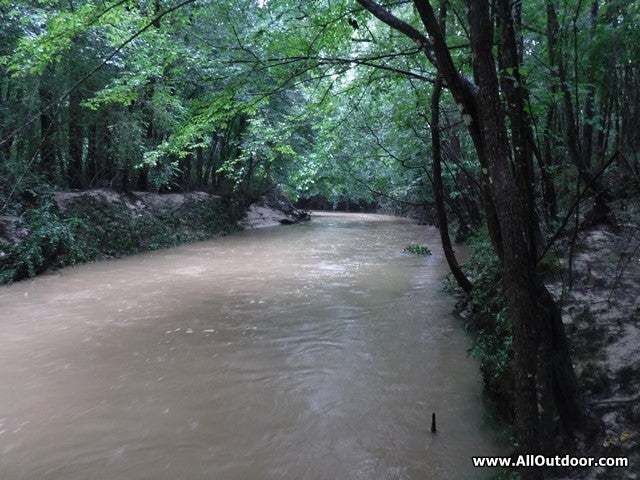 When it comes to picking a bug out location, access to water is usually one of the first considerations. Does the land have access to a pond, lake or stream? However, being next to a body of water is a double edged sword. While a stream could offer filtered drinking water, or water for livestock, there is also the possibility of flooding.
Before buying land, talk to the neighbors about flooding. Property may be zoned for certain types of floods. If there is a home on the property, is flood insurance available? Sometimes, the cost of flood insurance makes owning a home in a certain area cost prohibitive.
Here on the farm there is a stream that flows year round. As far as I know, it has not gone dry in the past 100 years. For the creek to get out of its banks, there has to be at least nine inches of rain an hour for several consecutive hours. Several days of drizzling rain is not enough for the creek to flood. Even with all the rain from Hurricane Harvey, the creek stayed in its banks. This was because the rain from Harvey in my area was mostly drizzle and not a pouring rain.
If the property were to flood, where would you go? Are there any friends or family members nearby you can stay with?
Is there a possibility you and your family could become trapped on the property? Meaning, is there a bridge that could be washed away?
Let's say worse comes to worse and you have to call for help, would rescue crews be able to find you? Some rural areas are a maze of back roads. If someone does not know the area, they will not know where to go. Even modern day GPS navigation is unable to help.
A few months ago a stranger drove down to the farm looking for a certain family. I had never heard of the family and there was no such address on the road. His dash mounted GPS said he was in the right location, but the GPS was wrong. Good thing this was not an ambulance.
Water is essential to life, but is also poses the threat of flooding.