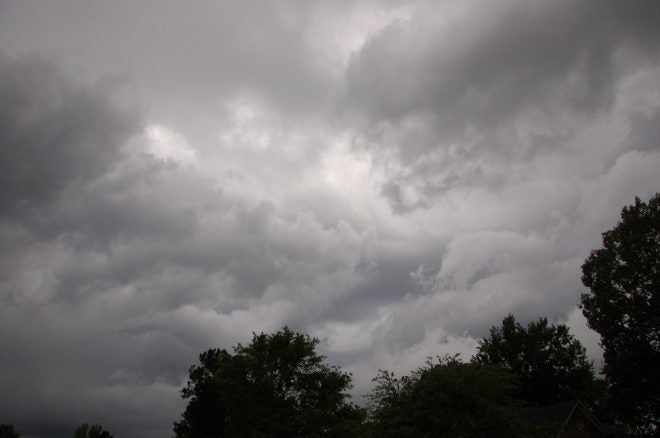 Bugging out is one thing, but having to bug out in bad weather certainly ups the ante on being uncomfortable. Having to live and survive under such conditions is no party. It means that preppers have to make plans for all of these contingencies and then hunker down until conditions improve.
When I awoke this morning, it had been raining since last night. The rain gauge is at nearly two inches. The outside temperature is sitting at 65 degrees with a humidity of 89 percent. The wind vane is barely moving right now. Weather predictions are for rain all day, better tomorrow, then another round over the weekend. Prescription? Nasty.
My first thoughts on these weather conditions was, what it would be like out there in the woods somewhere, maybe in a tent, maybe under a tarp. Sure, those are austere living conditions, but I know of a lot of preppers that are set to live out a SHTF in this manner, because of the flexibility of set up and the control of housing costs.
Certainly if you were in a camping trailer, a pop up camper or a good waterproof tent, then conditions could be made bearable under heavy precipitations. A regular housing option would be better even if it were a marginal cabin, barn or other out building, something fixed with walls, floor, and a roof. Under such conditions, preppers could make do.
However, if your thinking is to "rough it" then absolutely plan on some kind of ground cover and an overhead cover. Shelter building ideas should plan on enough materials to shed water and wind as best as possible. Use care and thought where you construct such a shelter. Placing it slightly downhill to provide a natural drain is smart. Perhaps attach something to your vehicle? Stay away the banks of creeks or rivers to avoid potential flooding issues.
Use strong rope, cable or paracord to string a tight support between trees to lap a cover over for a makeshift roof. Tack down the sides or place wood/logs on the edges to cast off winds. Again do this over a ground cover, maybe more than one. A cot off the ground would be best.
Prepping is tough enough. Enduring days of rain, cold, ice, snow and other inclement conditions will really test your prepping execution. Practice in advance and make some trial runs.