Review: Hoyt Carbon Defiant Bow (plus Video)
Lucas Cooney 09.14.17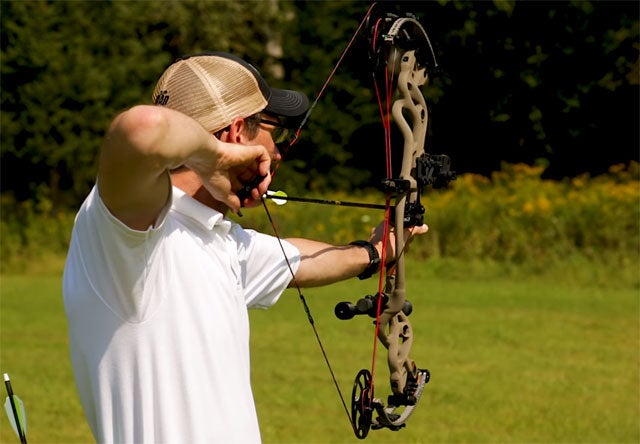 The Hoyt Carbon Defiant is one of six flagship hunting bows I've had a chance to test for AllOutdoor.com's sister site, ArcheryTalk.com.
This was my first opportunity to spend some real time with a carbon bow, so I was excited for the opportunity.
The Carbon Defiant has an axle-to-axle length of 31 inches, brace height of 7 inches, ATA rated speed of 331 feet per second and mass weight of just 3.6 pounds. This is the most expensive bow I tested this year, with a retail price of $1,449. The Hoyt Pro Defiant has similar specs and an aluminum riser, which will save you about $450.
Fit and finish are excellent. The textured Buckskin finish on the riser is eye-catching. It can flatten a bit in places that get a lot of wear, but you have to look hard to see it. After months of shooting, the string, cables, and serving are in remarkably good shape, which is impressive considering I think this was a demo bow before I got my hands on it.
The Hoyt Carbon Defiant feels incredibly light in the hand. For hunters who do a lot of walking to their stands or just like to get out and spot and stalk, shedding ounces is important. But more important to me, as somebody who hunts in northern climates, is that carbon doesn't get as cold as aluminum when temperatures drop. I speak from experience when I say that holding onto an aluminum riser on a frosty morning can be a little unpleasant.
The grip of the Hoyt Carbon Defiant is wider than I prefer, but I actually came to enjoy it more than I expected. It's the only one of my test bows with an entirely wooden grip and it narrows nicely at the throat. I typically find wide grips to feel a bit less stable when I'm at full draw, but I didn't have that problem with this bow.
Drawing the bow back is a pleasure. The draw cycle is a hair on the stiff side for a bow in this speed range, but is a nice and smooth draw with just the slightest dump into the valley. The valley itself feels generous, but I wouldn't say you can relax totally like you can with some other hunting bows. I find this bow performs best when you pull consistently against the back wall. The wall itself is softer than some, but I've always preferred that. If you prefer a rock-solid back wall, this might not be the bow for you. All told, this is a bow I can shoot for hours on end, and I did just that on many occasions.
After the shot, the bow stays fairly quiet and vibration hasn't been an issue for me.
Despite being the second-shortest bow I tested, it feels very stable at full draw. During a long test session at 60 yards with all six bows, I was most consistently accurate with the Hoyt Carbon Defiant.
Tuning the bow was also fairly straightforward. I didn't have any trouble getting bullet holes through paper. And once that was accomplished, getting my QAD Exodus fixed-blade broadheads hitting with field points at 20 yards was a snap.
To test for speed, I ran the Hoyt Carbon Defiant through a chronograph. With the bow set at 60 pounds of draw weight and a 29.5-inch draw length, my 398-grain Gold Tip Valkyrie arrow saw an average of 283 feet per second. Not exactly a speed bow, but with a draw this smooth and far and a generous seven-inch brace height, I was very happy with those numbers.