Expensive knives are nice and all, but sometimes nothing beats a beater. Such was the rationale behind my purchase of the $50 Gerber StrongArm, a full-tang model known throughout the survival community as a top-tier budget blade. I've tested it alongside several other knives in the sub-$100 range and, like the knife itself, I just keep coming back for more.
The Specs
Here's what your $50 gets you: 4.8-inches of 420HC cutting steel, with a glass-filled nylon and rubber overmold handle adding an addition five. That works out to just under 10-inches of knife in a 7.2-ounce package. The hard plastic sheath and nylon webbing brings the total weight up to 10.9-ounces. That's fairly beefy for a camp knife, but certainly not unheard of for a hard-use companion. The blade is manufactured by Gerber's American division, while the sheath hails from China.
The Shortfalls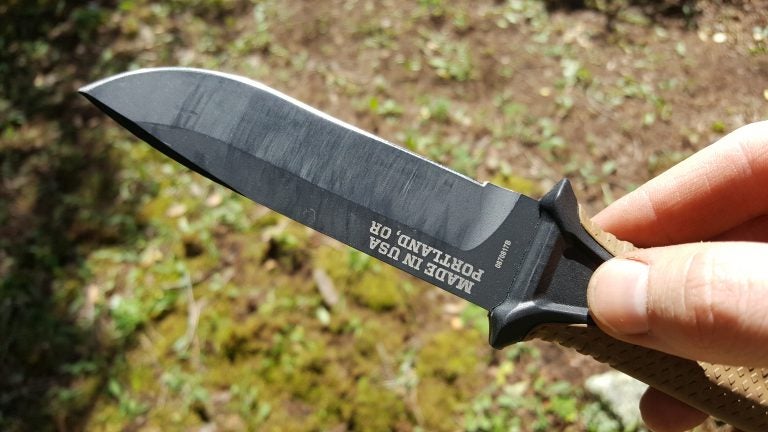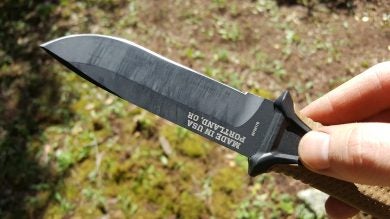 Let's start with some limitations. As mentioned, the knife is composed of 420HC stainless steel. Mine came toothy and dull from the factory, but a session with the Spyderco Sharpmaker helped set things right. Still, this will never be a steel that's high on edge retention. It's fairly soft, even compared to the 9Cr18MoV on my Steel Will Druid 205.
Then there's the ceramic coating, which began to show wear almost immediately. This isn't a big deal for me, since the blade's stainless nature should help ward off rust. And truly, I enjoy a bit of patina on my hard-use tools. But if you're expecting this thing to hold its out-of-box appearance, you're in for an unpleasant shock.
Lastly (and this is a matter of personal taste), I don't understand why the Coyote tan model shown here costs almost $10 more than the boring black-on-black. It's a nitpick, yeah, but that's almost a 16-percent markup for a cosmetic difference. It doesn't make sense to me.
The Victories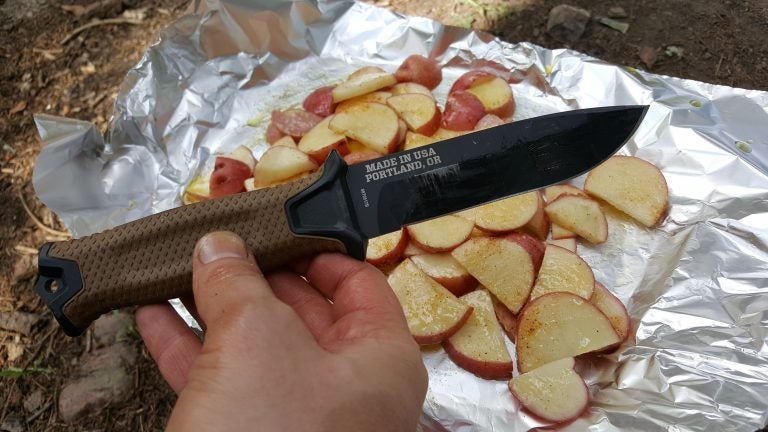 SHOP NOW
So, what's good about the
StrongArm
? Literally everything else. Look, this is a budget blade. While 420HC may not be the world's best steel, its soft nature makes it very well suited for damage duty. Yes, it'll bend and blunt, but it won't chip like a harder material. It's also very easy to strop or sharpen back into shape in the field, which isn't something I'd care to try with D2 or M390.
For all its brutish appearance, the Gerber StrongArm is also an incredibly ergonomic knife. The diamond texture of its rubberized handle locks my hand into place, lending solid confidence during use. Its full-tang construction further cements its place as a well-designed budget beater. Speaking of the tang, Gerber has included a glass-breaker on the pommel. It's a nice touch, though out of the range of my normal use.
No discussion of the StrongArm would be complete without a few words on its sheath. Gerber has packed an incredible amount of options into its modular plastic affair. While I prefer to carry it through the standard belt loop, users can choose from a variety of horizontal and vertical configurations, as well as employing the included snap-in MOLLE strap.
In the field, the StrongArm is a solid all-around player. I've batoned with it, prepared dinner, and even struck a firesteel. While it's not as suited to bushcraft duty as a cheaper Morakniv, its bullheaded nature certainly got the job done. It's thin enough to slice, sturdy enough to strike, and just nimble enough to carve a feather-stick.
The Bottom Line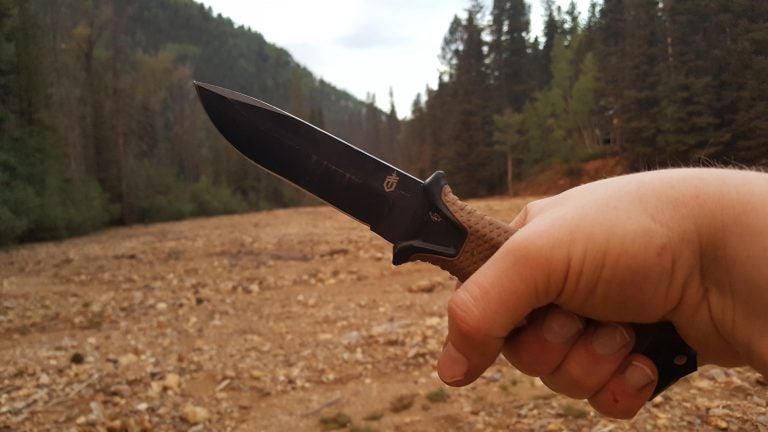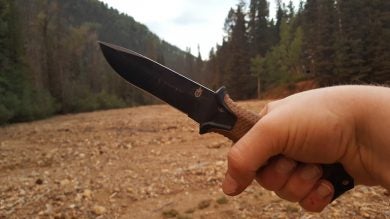 This is just a fun knife to use. It's rugged, dependable, and easy to whip back into shape. Add in its price appeal,
Lifetime Limited Warranty
and American made pedigree and, really, what more can you expect from an outdoor tool? If you're looking for a companion knife that can take a beating, check out the Gerber StrongArm.
SHOP NOW