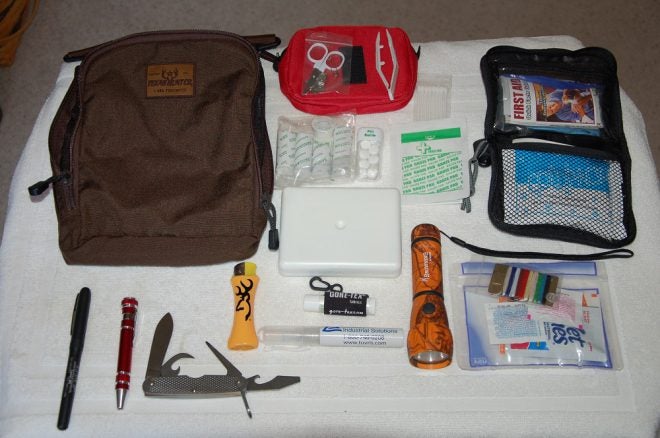 While it may seem like preppers are bagged to death that is actually a good thing. Having bags packed with stuff is a good idea. We never know when weather conditions might suddenly change, when an accident locks down the interstate going home, or some societal disenfranchisement march might lock down the city. There are many forms of being prepared.
Much is touted about the classic Bug Out Bag or BOB. It is a benchmark essential piece of gear to have and to have packed and ready to grab out the garage door, or stored in the back of a vehicle. But there are other options for other scenarios. One of those is to create a smaller bag, lighter, easier to grab and tote for short term emergency needs.
Many think of a Jump Bag as a sort of diaper bag for flash emergencies. If you have an infant and you get caught away from home without a diaper bag, then you know literally how nasty things can get real fast. Well, SHTF events can turn out that way, too.
Actually, it seems the idea of a "jump bag" might have come from the backup parachute that is attached to the front of the conventional shoulder harness parachute. If the main does not deploy, then the smaller backup chute is there to save, well, you know what.
In this purpose the jump bag could be tied into another backpack or pack via Molle® attachments or other mode of hanging the accessory bag onto a larger bag or pack. Or as many will do, just have the jump bag as a secondary EDC or stored in the office or vehicle.
What to put in a jump bag? Admittedly space permitting, this is a small tote bag, intended for a one-way support mission from work to home, home to a rendezvous point or some other short term, short distance escape. Though it is not really intended for multiple day support with the right stuff, it sure could be relied upon for a day or two.
In this bag should be water, a bottle or two or canteen bottle. Two to three power bars or high energy food sources, a knife, super mini-med kit, flashlight, matches, and a personal protection handgun, small, a Glock 43, SIG or similar in 9mm or .380 ACP or .38 Special revolver.
Again, think small, think concise, think short term. Just enough to get you to an appointed place quick and light.